Anna McGoldrick Feature (active 1968-present)
Photo Gallery - Discography - Audio samples - Where Are They Now?
The Story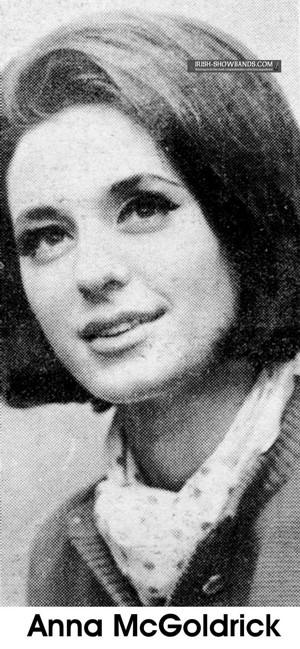 Our thanks to Anna McGoldrick for taking the time to talk to us.
Anna was born in Castleblaney, Co. Monaghan which, for some unknown reason, is a town which has produced more than its fair share of Irish showband talent. She came to prominence on the Irish scene in 1968 when she sang Gleann Na Smol, an entry in the 4th Annual Irish National Song Contest.
In a recent interview, Anna told us how she got to take part in the contest. "My mother saw a little story in the paper that RTE was looking for singers to sing some of the sixteen songs in the National Song Contest and she entered my name. I was mortified when she told me what she had done, however, in my day you had to do what you were told, certainly in my house we had to do so!"
The contest had previously featured established showband stars such as Butch Moore, Sean Dunphy and Dickie Rock. Anna added, "with all those established stars singing in the contest, my knees were knocking at the thoughts of them saying, "who the heck is this one." At the time, Anna was working in public relations in a company in Dublin and told us she had never considered a career in entertainment, but "my mother felt, if God gave out special talents, something should be done with them," Anna added.
Anna, who had previously only sang Gaelic songs in the Feiseanna at school, was chosen to audition and selected to sing Gleann na Smol (which was in the Irish language). A nice song, Anna came in 5th, finishing ahead of such established stars as Gregory Donaghy of the Cadets, Tony Kenny and Roly Daniels. The winning song that year was Chance of a Lifetime, sung by Pat McGeegan (aka Pat McGuigan also from County Monaghan). The song became Anna's single and launched her on the Irish cabaret circuit.
It was also the night Hughie Green was in the audience and after her performance in the National Song Contest, he asked he to appear on Opportunity Knocks, although it would be almost a year before she appeared on the show. In the meantime, she did some gigs in Clontarf Castle for about three months during the summer season of 1968.
Anna's major break came in February 1969 when she finally featured on the Opportunity Knocks programme on ITV in the UK which was a precursor of today's X-Factor type show. Contestants featured on the show would be voted to return or not and success was measured by the number of weeks you remained on the show. Anna was there eight weeks, making her one of the longest running contestants in the show's history. In Ireland, the only way to see the program at the time was on UTV which was available in only a small portion of the country (this was long before cable and satellite TV).
Her first win on the show brought a flood of offers for recording contracts and gigs, which just kept growing with every subsequent week she was kept on by the voters at home. In a recent email, Anna told me, "there were those who constantly suggested to me and to Michael, my husband, that I should have a band around me, in those early years. I did not like that idea at all and wouldn't do it."
Anna continued, "there were cabaret venues in the north of Ireland before they opened up in the south and I got into cabaret in the north when we were contacted by the owners of cabaret venues to come and do an appearance in their cabaret lounge. In 1969 it was all cabaret in the night clubs in England, there was so much work in those clubs, it was unbelievable. Lovely back up bands and I just had to bring my musical arrangements with me and those guys could sight read the music the first time they saw it at rehearsals."
The rest of Ireland did not really get to see much of Anna until she was asked to appear on an RTE series in 1969 when she was featured alongside two of the biggest Irish folk/cabaret acts at the time, Danny Doyle and The Pattersons. After the success of that series, Anna was asked by RTE to star in five of her own series between 1971 and 1977.
Anna would also appear in the 1970 National Song Contest singing Dá sheoilfainn an domhan, however, that was also the year Dana won Ireland's first Eurovision with All Kind of Everything. 1970 would be Anna's last involvement in the Irish song contest. However, she was also a guest artist at the Castlebar Song Contest in 1971.
Anna takes up the story again. "I was offered my 7th TV series with RTE for 1978, but I was also offered my first TV series with CBC television in Canada and my husband, who was my manager, decided it might be a good plan to break new ground and so we accepted the 18 week TV series with CBC and that lead to three further TV series with CBC in Canada in the following 4 years."
The seventies saw Anna doing all kinds of appearances across Ireland and England, but after the success of her CBC series in Canada, she began to tour regularly there as well. Adds Anna, "I was working all over those three countries well into the 80s and then I was asked to do a 45 city tour of the USA with Hal Roach on two years during the 80s."
Anna would also do another RTE series in 1988.
More to come...
click on thumbnails for full image
| | | | | |
| --- | --- | --- | --- | --- |
| | | | | |
| Anna - 1968 | Anna - 1968 | Anna - 1970 | Anna - 1971 | Anna's TV Show - 1971 |
| | | | | |
| Anna's TV Show - 1971 | Anna's TV Show - 1971 | Anna - 1971 | Anna - 1972 | Anna - 1972 |
| | | | | |
| Anna - 1972 | Anna - 1973 | Coming Soon | Coming Soon | Coming Soon |
| | | | | |
| Coming Soon | Coming Soon | Coming Soon | Coming Soon | Coming Soon |
Gleann Na Smol / Robert Emmet
Emerald Records - MD 1104 - April, 1968
An Old Maid In The Garrett / If You Believe
Emerald Records - MD 1122 - May, 1969
The Humour Is On Me Now /
Dolphin Records - DOS 48? - November, 1969
Spinning Wheel /
Polydor Records - Unknown - October, 1971
Beautiful Bella Notte /
Polydor Records - Unknown - November, 1973
Let There Be Peace / - #3 Irish Charts
Bonus Records - Unknown - October, 1976
When A Child Is Born / - #4 Irish Charts
Bonus Records - Unknown - December, 1976
Why Me Lord / Sonny's Dream
Bonus Records - BNSC2 - 1979
Coming Soon
| | |
| --- | --- |
| | Band Member: Any never had a band, preferring to travel with her own music and use the "house" bands wherever she performed. |