Blue Boys (1969-1973)
Photo Gallery - Band Lineups - Discography - Audio samples - Where Are They Now?
The Story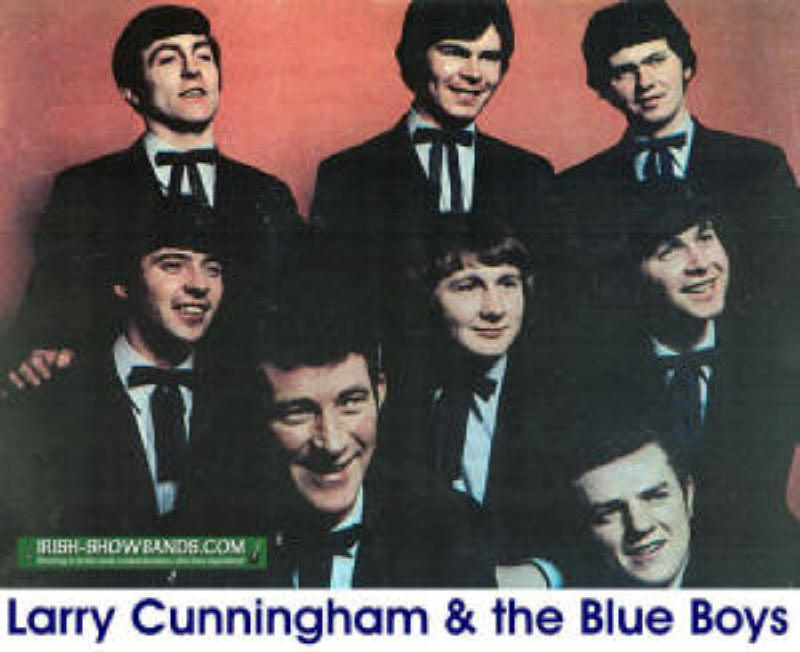 The story of the Country Blue Boys starts when two lead singers decided it was time for a change. Gary Street left the Fairways to join with the Tom Kelly Sound and Larry Cunningham, after nearly a decade, decided it was time to leave the Mighty Avons and go out on his own. Larry had been the star of the Avons from its inception until his departure in late 1969. The band enjoyed a lot of success with Larry, but he announced his last gig would be on August 31, 1969. Despite rumours that he was leaving the band to get married, Larry explained in a quote in Spotlight that it was "purely a personal decision for the sake of my health and my business." Ever the shrewd entrepreneur, Larry owned both a supermarket and dry cleaning business.
As he left the Avons, Larry released a single from his own Ramblin Irishman LP, The Ballad of James Connolly and went on a short tour of England as a "special guest" with the Plainsmen (both artists were managed by Mick Clerkin) before returning to Ireland to form his own band, The Blue Boys, which soon added "Country" to their name.
The Blue Boys were actually four members of the previously mentioned Fairways with the addition of a new drummer and guitarist/fiddler. The Blue Boys were launched on St. Stephen's Night, 1969 at the Fairyland Ballroom in Roscommon. The original lineup was: Pat Cleary (keyboards), Ollie Kennedy (bass), Mike Bryan (guitar) and Bobby Clarke (trumpet) (all of the Fairways), along with newcomers Aidan Cunningham (guitar/fiddle), and Terry Reynolds (drums). In the Spotlight issue dated February 13-20, 1970, the band lineup was listed in detail and included Michael Kane (formerly with the Rhythm Stars) on sax, expanding the band to an eight piece.
As an aside, in September of 1969, the Avons announced 24 year old Gene Stuart would take over as the band's new lead singer and his first appearance with them was in Tullamore on Friday, September 19th, 1969. Gene had previously been with the Regents Showband.
Building on Larry's success, the band was an immediate hit and their first single, Don't Let Me Cross Over, reached Number 7 in the Irish Charts, which was no surprise as Larry had already had 9 top ten hits with the Avons in the 60's. An article in the March 27, 1970 issue of Spotlight reported that Larry's Blue Boys were being forced to change their name as the late Jim Reeve's backing band of the same name were still touring despite the singer's passing. Apparently adding the word "country" to their name would be enough and the band carried on as Larry Cunningham and his Country Blue Boys.
On 25th of April, 1970, tragedy struck when Mike Bryan passed away (we are unsure how he died at this point, but will try to find out). Stunned, the band had to go on and brought in guitarist Tony Treacy, an important addition to their ranks as he would later release a chart single himself for the band. Around this time (we're not sure when) the band also dropped its brass section and continued as a six piece. In 1970 and 71 the band released more singles, which charted but did not crack the top ten. Then late 1971, Larry released Slaney Valley which would go to Number one in the charts and remain one of his all time greatest hits. Strangely, after this success, Larry decided to make a major change in his life.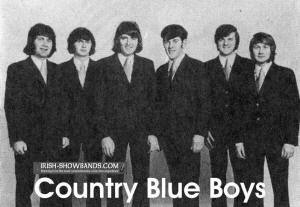 In a Spotlight interview in August, 1971, Larry stated he would "quit the day I get married." In the January 8th, 1972 issue of the magazine, he restated his commitment as he prepared to marry Beatrice Nannery, the Manageress of Larry's home town supermarket. Said Larry, "I may continue recording and doing the odd spot in cabaret or concert, but the ballroom scene is out." Larry was married on February 9th after undertaking a "Farewell Tour" of the Irish clubs in Britain between the end of January and two days before his wedding. True to his word, he left the Country Blue Boys and Mattie Fox was brought on board to fill Larry's shoes.
In March, 1972, an advert is Spotlight announced the coming of the Country Blue Boys with 2 great singers, Mattie Fox and Tony Treacy (although Tony had been playing guitar with the band since 1970). They were advertised as "starting St. Patrick's Night." During his relatively short tenure with the band, Mattie released a couple of singles, Does My Ring Hurt Your Finger and Crystal Chandeliers. Both singles reached the charts and the band continued to do well, however, Mattie's time with the Blue Boys would be short lived.
Mattie would leave the band in July of 1973 and he moved over to The Grassroots, the band which had featured Tracy and Des Wilson. Tracy made the move (as many were doing in the early 70's) to cabaret. An article in Spotlight in June, 1973 speculated that it was not clear whether the Blue Boys would continue on. However, they did and their next single featured guitarist Tony Treacy singing To Love A Lady, which reached a respectable number 17 in the Irish Charts. However, without a front man, the band could not draw as it had done in the past and in a fairy unusual move, Larry came out of "retirement" and rejoined the band in mid 1974.
There were a couple of lineup changes as Ollie Kennedy had gone with Mattie to the Grassroots and he was replaced by John Sheridan. Pat Cleary also left and was replaced by Donegal's John McGarrigle, who had played with the Richie Fitzgerald Band. The band, now a six piece, was back in demand and Larry was still as popular as ever.
More to come.....
click on thumbnails for full image
| | | | | |
| --- | --- | --- | --- | --- |
| | | | | |
| Larry - 1969 | Blue Boys - 1969 | Blue Boys - 1970 | Blue Boys - 1970 | Blue Boys - 1970 |
| | | | | |
| Blue Boys - 1970 | Blue Boys - 1971 | Blue Boys - 1971 | Blue Boys - 1974 | Blue Boys - 1973 |
| | | | | |
| Blue Boys - 1973 | Blue Boys - 1972 | Blue Boys - 1971 | Country Blue Boys (RF) | Country Blue Boys (RF) |
| | | | | |
| Country Blue Boys (RF) | Country Blue Boys (RF) | Country Blue Boys (RF) | Country Blue Boys (RF) | Country Blue Boys (RF) |
| | | | | |
| Country Blue Boys (RF) | Country Blue Boys (RF) | Country Blue Boys (RF) | Country Blue Boys (RF) | Country Blue Boys (RF) |
| | | | | |
| Country Blue Boys (RF) | Country Blue Boys (RF) | Country Blue Boys (RF) | Country Blue Boys (RF) | Country Blue Boys (RF) |
| | | | | |
| Country Blue Boys (RF) | Country Blue Boys (RF) | Country Blue Boys (RF) | Country Blue Boys (RF) | Country Blue Boys (RF) |
| | | | | |
| Country Blue Boys (RF) | Country Blue Boys (RF) | Coming Soon | Coming Soon | Coming Soon |
Years
Vocals
Guitar
Bass
Drums
Steel Gtr
Keyboards
Sax
Trumpet
Dec
1969
Larry
Cunningham
Mike
Bryan
Ollie
Kennedy
Terry
Reynolds
Aidan
Cunningham
Pat
Cleary
Bobby
Clarke
1970
Larry
Cunningham
Tony
Treacy
Ollie
Kennedy
Terry
Reynolds
Aidan
Cunningham
Pat
Cleary
Mike
Kane
Bobby
Clarke
1972
Mattie
Fox
Tony
Treacy
Ollie
Kennedy
Terry
Reynolds
Aidan
Cunningham
Pat
Cleary
1974
Larry
Cunningham
Tony
Treacy
John
Sheridan
Terry
Reynolds
Aidan
Cunningham
John
McGarrigle
Discography (Partial)

Singles:
Don't Let Me Cross Over / A Church, A Courtroom Then Goodbye - #7 Irish Charts
Release Records - RL.529 - December, 1969
Mother, The Queen of My Heart / The Lady Ninety Years Old - #13 Irish Charts
Release Records - RL.534 - May, 1970
If You Should Come Back Today /
Release Records - Unknown - 1970
Pride of the West / San Antone/If You Should Come Back Today - #17 Irish Charts
Release Records - RL.560 - January, 1971
Slaney Valley / I Was Coming Home To You (Larry Cunningham) - #1 Irish Charts
Release Records - RL.608 - December, 1971
Does My Ring Hurt Your Finger / I'm Just Me (Mattie Fox) - #5 Irish Charts
Release Records - RL.646 - September 1972
Crystal Chandelier / The Miles You Travel (Mattie Fox) - #14 Irish Charts
Release Records - RL.663 - March, 1973
To Love A Lady / Get Out of Town / Last Night Was the First Time / The Price I'll Have To Pay (Tony Treacy) - #17 Irish Charts
Release Records - RL.696 - November, 1973
This Time Of The Year / (Larry Cunningham) - #3 Irish Charts
Release Records - Unknown - January, 1974
Lovely Leitrim / There's That Smile Again - #19 Irish Charts
Release Records - Unknown - June, 1974
My Kathleen / Boys - #3 Irish Charts
Release Records - RL.775 - 1975
Hello Mr. Peters - Larry with Margo - #15 Irish Charts
Release Records - Unknown - December, 1975
Yes Mr. Peters / As Soon As I Hang Up The Phone - Larry with Margo
Release Records - Unknown - 1976
Annagh Down / - #6 Irish Charts
Release Records - Unknown - September, 1976
Where The Blue and Lonely Go / - #19 Irish Charts
Release Records - RL.903 - April, 1977
Where The Grass Grows Greenest / Don't Let Me Cross Over / Water For My Horse
Release Records - RL.1012 - 1980
The Story of My Life / - #16 Irish Charts
Ritz Records - Unknown - June, 1983
Galway and You / - #30 Irish Charts
Ritz Records - Unknown - November, 1983
Walk On By / - #26 Irish Charts
Ritz Records - Unknown - August, 1984
Albums:

Country My Way - Larry and the Country Blue Boys
Release Records - SRL.3004 - May, 1970
This Is Larry Cunningham - Larry and the Country Blue Boys
Release Records - BRL.4009 - Unknown
Songs Fresh From Nashville - Larry and the Country Blue Boys
Release Records - Unknown - 1972
Larry Cunningham In Concert - Larry and the Country Blue Boys
Release Records - BRL.4036 - 1973
Tribute To Jim Reeves - Larry and the Country Blue Boys
Release Records - Unknown - 1974
Come Back To Erin - Larry and the Country Blue Boys
Harp Records - HPE.629 - 1980
Coming Soon
Where Are They Now? (More to come)
Larry Cunningham:

Mike Bryan-RIP

: One of the four members of the Fairways who formed the foundation of the Blue Boys when Larry broke away from the Mighty Avons, Mike sadly passed away on 25th April, 1970, only five months after the band played its first gig.
Ollie Kennedy:
Terry Reynolds:
Aidan Cunningham:

Pat Cleary-RIP

: Pat sadly passed away 16th October, 2009.

Bobby Clarke - RIP:

Tony Treacy:
Mike Kane: