The Cathal Dunne Story (active in Ireland 1974-1981)
Photo Gallery - Band Lineups - Discography - Audio samples - Where Are They Now?
Bands: Stateside • The Formula • Solo
The Story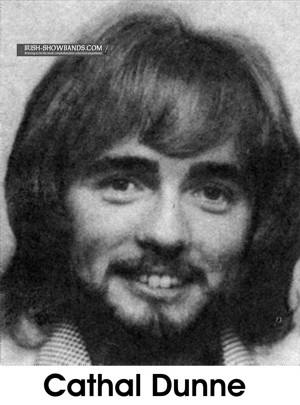 The first reference to Cathal Dunne we could find in our research was in October, 1969 when he sang an entry in the Silk Cut Ballad session at the Castlebar International Song Contest. In 1970, Cathal was singing in local clubs around the Cork area. By 1971, he was the Musical Director of the Montfort Singers. During this period the Montfort Singers released a record, Butterfly, written and sung by Cathal.
Cathal, a Cork native and nephew of former Irish Taoiseach, Jack Lynch, first came to nationwide public attention when the song Shalom, which he co-wrote with Roy Bishop (lyrics) won the Castlebar Song Contest on October 11th, 1974. Just months earlier, Cathal had graduated with a degree in music from University College, Cork. Shalom was released on Rex records, but didn't make the charts. After his win, Cathal made the jump to becoming a headliner on the cabaret scene and started gigging further away from his native Cork.
Two years later, he was Ireland's entry in the Yamaha World Song Contest with Lover, Not Just A Wife. In fact, Cathal was no stranger to the showband scene, either, as he had been touring Ireland with his band, Stateside, for several years prior to his trip to Eurovision starting in 1977. Managed by Guy Robinson, of Dublin, they played "the usual" dates around the country.
The late 1970's were an exciting time for Irish entertainment in Europe, and specifically the country's involvement with the Eurovision Song Contest. In 1978, Colm Wilkinson placed fifth with his composition, Born To Sing. In 1980, Johnny Logan sang the Shay Healy song, What's Another Year? and won Ireland's second Eurovision crown. It had been ten years since Dana won. Johnny then went on to win twice again...once as a performer and once as the composer of the winning song.
On February 4, 1979, Cathal placed his name forever in the record books by winning Ireland's National Song Contest with his self-penned number, Happy Man. Just weeks later, Cathal Dunne was seen by millions across Europe when he represented Ireland at Eurovision. Click here to see video of his performance. Although the contest was won by host country Israel, Cathal performed very well, did his country proud, and came back to a hero's welcome. His face was on magazine covers and his song was all over the radio.
Eurovision looked like it was changing everything for Cathal. On May 21, 1979, following his success, Cathal launched his new band, The Formula at a reception in the Tudor Rooms at Barry's Hotel. Shortly after, Ireland's newly crowned "Happy Man" hit the European circuit with a new manager, Jackie Johnston of Dublin. Cathal and his band spent the next year touring both Europe and playing the ballroom circuit around Ireland.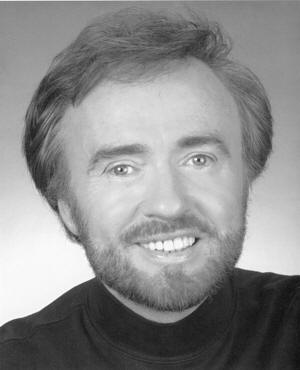 But by the end of 1981, less than two years after his trip to Eurovision, Cathal had disappeared from the Irish dance scene. A feature story which appeared in Woman's Way magazine in December, 1981, reported that Cathal was "working harder than ever." In fact, Cathal was busy, but he was focusing on his songwriting skills and looking further afield than the Irish ballroom scene.
In a recent email, Cathal explained, "I received a call from a friend in Michigan who was looking after his brother's golf club...he wanted to turn the club into a Dublin-like cabaret scene and he invited me over. I got to Chicago and got a gig playing for two months starting Feb. 1982. I returned home, did the Christmas / New year gigs and sold my equipment and have been here since."
"Here," we are happy to report, is Pittsburgh, Pennsylvania, where Cathal now lives with his American wife and their son Ryan, born in 1990. Now known in the States as Cahal Dunne (he dropped the "T" as no Americans could pronounce his name), he entertains thousands of fans across the United States with his special brand of music and comedy.
Since moving to the States, Cathal has appeared with Bob Hope, Sophia Loren, ABBA, Denis Day, Hal Roach, Carmel Quinn and Frank Patterson, to name a few. His television appearances include the David Letterman Show, Entertainment Tonight, the Nashville Network, and PBS.
Cathal hasn't slowed down creatively either. He has recorded seven CD's and three videos over that time and plays mostly up and down the East coast of the United States, featuring a repertoire that includes Irish standards, American patriotic music, songs of inspiration, and comedy! Hear a snippet of his original song, Home Again, from The Very Best Of Cahal Dunne CD, by clicking here.
If you want to learn more about what's happening with Cathal, see where he is appearing, or order some of his CD's, videos, or DVD's, you can visit his website at www.cahaldunne.com.
More to come.....
click on thumbnails for full image
| | | | | |
| --- | --- | --- | --- | --- |
| | | | | |
| Cathal - 1972 | Cathal - 1974 | Shalom Wins Castlebar | Cathal - 1974 | Cathal - 1976 |
| | | | | |
| Stateside - 1978 | Cathal & Stateside | Cathal Dunne (RF) | Cathal in 1981 | The Formula |
| | | | | |
| Cathal & Sophia | Woman's Way Article | Cathal & The Formula | Cathal & The Formula | Cathal (PH) |
| | | | | |
| Cathal in 1979 | Cathal in 1979 | Cathal in 1979 | Cathal in 1979 | Cathal - 1982 |
| | | | | |
| Best of Cahal | Cathal Today | Coming Soon | Coming Soon | Coming Soon |
Years
Vocals/Keys
Guitar
Bass
Drums
Keyboards
Vocals
Unknown
Stateside
1974
Cathal
Dunne
Andreas
Grimminger
Unknown
Johnny
Dwyer
Unknown
Raphael
Ward
Unknown
The Formula
1979
Cathal
Dunne
Les
Archibold
Unknown
Bocker
Keogh
Unknown
Unknown
Singles:
Butterfly (Montfort Singers featuring Cathal Dunne)
Unknown Records - Unknown - August, 1971
Shalom
Rex Records - R.11098 - 1974
Hey Noddy Day / Chelsea Girl
Rex Records - R.11102 - 1975
Danny / Because You're Beautiful - #8 Irish Charts
EMI Records - IEMI 5039 - April, 1976
Lucky Child / Lover, Not Just A Wife
EMI Records - IEMI 5058 - 1977
1984
EMI Records - Unknown - December, 1977
Suspicious Minds / Sweet Woman of Mine (Cathal Dunne & Stateside)
Bandbox Records - BAB.101 - September, 1978
Happy Man / Sweet Woman of Mine - #3 Irish Charts
CBS Records - CBS 7190 - February, 1979 - Ireland's Eurovision Entry
Albums:

Bad Boy
EMI Records - Unknown - 1976
That Time In Stockholm
(Ireland and Europe) 1980
The Very Best of Cahal Dunne
(EJF Records) 1997
Peace In My Land
(Rego Irish) 1996
Salute to Broadway
Take My Hand
Jig Don't Jog
What Color is the Wind
1997
The Christmas Album
(EJF Records) 1997
Songs of Inspiration
The Menopause Song/Comedy
The Funny Side of Cahal Dunne
A Little Bit of Irish
Videos:
Jig Don't Jog
Thank You America
(Rego)







Audio Clips (click on photo or title to listen)
Cathal Dunne: Shortly after his Eurovision success, Cathal headed to the United States, settling in Pittsburgh, Pennsylvania, where he still lives today. He eventually dropped the "t" from his name and now goes under the name "Cahal." He still plays regularly in the States, splitting his time between the retirement circuit in Florida and the Irish circuit in the Northeast. He plays a one man show with the piano and backing tracks. He also travels to Ireland several times a year, bringing groups of tourists with him to visit his native Cork. He is married with a son born in 1990.

Johnny Dwyer - RIP

: A native of Riverstown, Co. Sligo. We received an email in 2012 from Johnny's cousin, Fergal Benson, who told us that Johnny sadly passed away suddenly on April 4th, 1993. If you know more, please let us know.
Andreas Grimminger: If you know more, please let us know.
Raphael Ward: If you know more, please let us know.
Les Archibald: If you know more, please let us know.
Bocker Keogh: If you know more, please let us know.