All About The Agents/Fairways (1966-1983)
Photo Gallery - Band Lineups - Discography - Audio samples - Where Are They Now?
The Story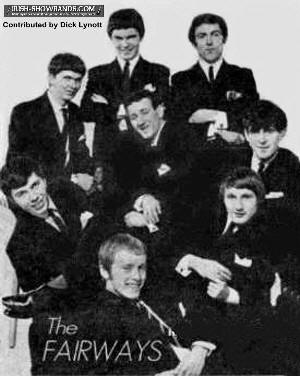 Stage 1: The Agents/Fairways from Offaly
The story of the Fairways actually starts in Edenderry, Co. Offaly with the Agents Showband. The band was formed in early 1966 and made the decision to turn professional a year later. They headed off to Germany to hone their skills and returned to Ireland with a new lead singer, Gary Street (aka Joe Conway). Gary and guitarist Mike Bryan had started writing songs together and had one recorded in Germany by another group.
They returned to Ireland had started putting together their act for the ballroom scene. They included a new original Flippidy Flop, a Bryan/Street composition. Legend has it that they were playing a gig in Courtown Harbour which was attended by the Might Avons. So impressed was manager Charlie McBrien and Larry Cunningham that they signed them to the new King Records, of which Larry was Director. Actually, the label had start in London decade earlier, but opened an Irish office after recording many Irish artists over the years.
In 1967, Mick Clerkin (then head of King Records) took over management of the band and changed their name to the Fairways. The band signed a recording contract with King Records and released their first single in January of 1968, Flippidy Flop.
The record, written by lead singer, the late Gary Street and guitarist, the late Mike Bryan, was an instant success and reached number ten in the Irish Charts. By the middle of the year, Clerkin had formed his own Release Records and the band's next release, The Invisible Reilly, was also the first for the new record company which would change the face of the Irish Entertainment scene.
With Clerkin's astute management, the band started to make inroads with the big bands and started to play the bigger ballrooms across the country. Sadly, Mike Bryan passed away just two years later in April, 1970.
Along with Gary and Mike, the rest of the original lineup included Ollie Kennedy (bass), Danny Slevin (trombone), Michael Moore (sax), Bobby Clarke (trumpet), P.J. Walsh (drums) and band leader Pat Cleary (keyboards).
Over the next two years, the band continued to work regularly and released three more singles, but none did as well as their debut disc. During this period, the band got a lot of attention, especially with every new single they released as almost all their material was original, which was unusual for the time. Sadly though, none of their follow up records made the charts and although the band started with high promise it never quite broke into the big time. In the November 21st, 1969 issue of Spotlight, the Insight column reported that the Fairways were breaking up, with Gary determined to go it alone. What had actually happened was that most of the band were going to join former Mighty Avon Larry Cunningham's new outfit, The Blue Boys.
Michael Bryan (guitar), Ollie Kennedy (bass), Pat Cleary (keyboards), and Bobbie Clarke (trumpet) were joined by Terry Reynolds and Aidan Cunningham (guitar) to form Larry's new band which hit the road on St. Stephen's Night, 1969 in the Fairyland Ballroom, Roscommon.
Stage 2: The New Fairways from Ballina
Meanwhile in Ballina in July, 1969, Tom Kelly had just formed the Abilene Showband. The band was an expanded version of the Tom Kelly Four. The original lineup was: Tom Murphy (drums), Noel Kilcullen from Enniscrone (lead guitar), Noel Barrett (RIP - rhythm guitar), P.J. Clarke (bass), Des McDonald (trumpet), Gerry Duffy (sax) and Tom himself on keyboards and lead vocals. The band release a record called, "I'm Not The Boy I Used To Be" featuring Tom on lead vocals. The band did well locally, but Tom knew he needed a real front man if the band was to make it outside of Mayo.
In December, after the break up of the original Fairways, Gary was left without a band and Tom asked him to come to Ballina to join the the Abilene. Gary moved to Ballina and there was another change in the lineup as Aidan Kerins, from Sligo, replaced P.J. Clarke on bass. PJ went on to form local group, The Richmonds, and was on the road until 2000.
At that time the late Andy Creighton managed the band and Tom changed the band's name to Gary Street and the Tom Kelly Sound. In an article in Spotlight in March, 1970, the changed was explained by founder Tom Kelly, "With a country and western image, Abilene was fine, but since Gary joined we've been doing a lot of pop and we had to start thinking of a new title."
The band released its first single in June called "The Next Time that I Cry" on the Pye label. It didn't do much for the band, or its lead singer, but they were playing steady gigs around the country and building their reputation.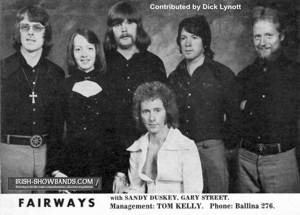 This continued with the name for a short time until Tom was able to get permission from Mick Clerkin to use the name, Gary Street and the New Fairways. In the Fall of 1970, the band was still struggling to make it on the national ballroom scene and drummer Tom Murphy agreed to manage the band, which he did for the next six months.
With things slowly improving, the band underwent a major change in personnel and format in early 1971. Alec DeGabriele joined the band on lead guitar, Mike Kelly (Tom's brother) replaced Aidan Kerins on bass, and John Crean (RIP) joined on drums. The band decided to move away from the showband format and dropped their brass section entirely. They then recruited a female singer, Karen King (real name, Mary Kay O'Toole) from Cleveland to join Gary out front. The band's programme moved from standard brass dominated music to a slightly edgier, rock sound. However, in 1972, the band's first single with the new lineup was Is Anybody Goin' To San Antone, a country number which was not an accurate reflection of the band's musical direction at the time.
At that point, Tom Murphy left the band entirely and Tom Kelly reluctantly started to manage the band (when nobody else would). Business slowly built up over the next couple of years. However, about a year later, Alec and Karen emigrated to Cleveland and got married.
Stage 3: Gary Street and Sandy Duskey
In May 1974, Tom heard about a new female vocalist who had just returned from Wales and was making a name for herself on the cabaret scene in and around Sligo with her band Easy Listenin'. The singer was Philomena Ellis, who had chosen the stage name, Sandy Duskey. Sandy accepted the chance to tour on the ballroom circuit and signed with the Fairways. She played her last gig with Easy Listenin' on the 5th of June, 1974 and started with the Fairways two nights later.
Sandy immediately began to attract media attention and although the band was billed as Gary Street, Sandy Duskey, and the Fairways, a shift was definitely underway. The band hit the road in July, but within a few months (October) a change took place in the lineup when guitarist Hugh McCormick left and was replaced by Tommy McDonagh, additionally, Sandy's first cousin, Marian arrived in Ireland from Wales and joined the band, using the stage name Nina Duskey. The band was now one of the few to feature two female singers and even more unusual, three singers who did not play any instruments. Although cousins, Nina was advertised as Sandy's sister, thus paving the way for the Duskey Sisters name which would come later in the band's history.
Even though they had three lead singers, the band did not release a single for almost two years. It was January, 1976 when their first record released on the Hawk label with Sandy was Come Back Billie Jo, a country number, which again wasn't really indicative of the band's programme, which had been mostly pop with some rock thrown in (including a surprisingly heavy version of the Animal's House of the Rising Sun). The single climbed to number 13 in the Irish charts and was gone as quick as it came. However, it got a lot of airplay and helped established Sandy as the driving force behind the band's success.
As Sandy garnered more and more press, it was almost inevitable that Gary would leave the band and in 1976, he did just that. Gary went to England where he played for many years in a resident band. Gary sadly passed away in 2003 in England.
The band continued to release records that featured Sandy including Hey Jude and Let It Shine. In a way, the band also continued to suffer from an image problem as their recordings were very much in a soft pop or country vein, while their programme was still mainly chart material. Although we are not sure of the dates, it was during this period when cousin Nina left the band and returned to Wales.
After Gary's departure, Tom and the band focused on pop music. In 1978 Tom retired from playing live with the band to focus on management and they brought Sandy's real sister, Barbara Ellis, into the band along with a female keyboard player, giving them one of the only three girl lineups in the country.
However, a split occurred in the band in November of 1978. Three members departed leaving Michael, Sandy and sister Barbara remaining. While the band scrambled to find replacements, Tom Kelly tapped his new act, the Kim Newport Band, to play with the Fairways for the best part of a month. The lineup featured Kim Newport (vocals), Gerry Gallagher (guitar), Seamie McGowan (guitar) and Dick Lynott (drums) from the Kim Newport Band (both Dick and Gerry had played with Sandy in Easy Listenin), along with Sandy (vocals), Barbara (vocals) and Mike Kelly (bass) from the Fairways.
Stage 4: The Duskey Sisters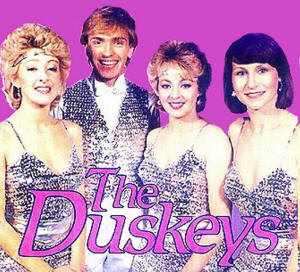 In the meantime, the Fairways recruited Sandy's cousin, Marian (aka Nina Duskey), back into the band and she brought with her former BBC orchestra percussionist, Lyndon Keylock, who would later marry Marian. As one of the few girl trios ever to front a showband (Sheeba and Maxi, Dick and Twink being the only other ones of which we are aware), the girls became very popular with punters and the band continued to hit new heights. Dave Moriarty rounded out the lineup on keyboards and the band was a seven piece again.
In the early 80's the band left Hawk records and struck out on their own releasing Don't Feel Like Dancing which they recorded in the new Greenfield's Studios in Headford and released on the Gerry Gallagher's Sligo-based Sunset Records. Although the record did not do very well, it was reflective of a growing trend for bands to record and release their own material without relying on the Dublin recording studio scene.
The early eighties saw the Duskey Sisters become so popular that Tom finally decided to drop the Fairways name altogether. In 1981, they sang former Miami trombonist, Danny Ellis', entry in the National Song Contest, "Where Does That Love Come From." Unfortunately they lost out to the "other" trio of females, Sheeba, who won with their rendition of "Horoscopes. "
However, they were back again in 1982, and this time won the Irish National Song Contest singing Sally Keating's song, (and Ireland's entry in Eurovision) "Here Today, Gone Tomorrow." Although the song didn't finish in the Top Ten, the exposure helped the band on the ballroom circuit and also gave Sandy a glimpse of success on the International scene which she would move to a few years later. For the song contest and a short period on the road, they added another Duskey to their ranks, cousin Danny.
Although the Fairways name was gone, it was not until 1983 when the band officially ceased to exist. After a serious road accident, the band went off the road for a prolonged period while Sandy recuperated and they never returned. Sandy would change to her married name, Sandy Kelly, and form a country outfit, The Sandy Kelly Band. The Fairways disappeared into showband history.
Click on thumbnails for full images
| | | | | |
| --- | --- | --- | --- | --- |
| | | | | |
| Agents (RF) | Agents - 1967 | Fairways - 1968 | Fairways - 1968 (DL) | Fairways - 1968 |
| | | | | |
| Fairways - 1969 | Fairways - 1969 | Fairways - 1969 | Gary Street - 1969 | Fairways - 1969 |
| | | | | |
| Fairways - 1969 | Fairways (RF) | Fairways (RF) | Fairways (RF) | Gary Street signs with Tom Kelly (LR) |
| | | | | |
| Abilene - 1969 | Abilene - 1970 | Tom Kelly Sound - 1970 | Tom Kelly Sound - 1970 (DL) | I Will Follow The Rain - B-side 1972 |
| | | | | |
| Fairways - 1972 (RF) | Fairways - 1973 | Fairways - 1973 | New Fairways - 1973 | Fairways (RF) |
| | | | | |
| Fairways - 1974 | Fairways (RF) | New Fairways-1974 (DL) | Fairways - 1974 | Sandy Duskey - 1974 |
| | | | | |
| Fairways - 1974 (DL) | Fairways - 1975 | Fairways - 1977 (PH) | Duskey Sisters - 1980 | Duskey Sisters - 1981 |
| | | | | |
| Duskeys - 1982 | Duskeys - 1982 | Fairways (RF) | Coming Soon | Coming Soon |
| | | | | |
| Coming Soon | Coming Soon | Coming Soon | Coming Soon | Coming Soon |
Year
Vocal
Rhythm/Vcl
Guitar
Bass
Drums
Keyboards
Trmpt/Vcl
Trombone
Sax
Original band based in Edenderry - Agents became the Fairways in late 1967
1966
Mike
Bryan
Ollie
Kennedy
P.J.
Walsh
Pat
Cleary
Bobby
Clarke
Danny
Slevin
Michael
Moore
1967
Gary
Street
Mike
Bryan
Ollie
Kennedy
P.J.
Walsh
Pat
Cleary
Bobby
Clarke
Danny
Slevin
Michael
Moore
1969
Gary
Street
Mike
Bryan
Ollie
Kennedy
Kid
Graham
Pat
Cleary
Bobby
Clarke
Danny
Slevin
Michael
Moore
Gary Street contracted to Tom Kelly and the Tom Kelly Sound of Ballina
1970
Gary
Street
Noel
Barrett
Noel
Kilcullen
P.J.
Clarke
Tom
Murphy
Tom
Kelly
Des
McDonald
Gerry
Duffy
1970
Gary
Street
Noel
Kilcullen
Aidan
Kerins
Tom
Murphy
Tom
Kelly
Des
McDonald
Gerry
Duffy
Renamed the New Fairways around 1971
1971
Gary
Street
O'Toole,
Mary Kay
Alec
DeGabriele
Michael
Kelly
John
Crean
Tom
Kelly
July
1974
Gary
Street
Sandy
Duskey
Hugh
McCormick
Michael
Kelly
Murrough
O'Brien
Tom
Kelly
Oct
1974
Gary
Street
Sandy
Duskey
Tommy
McDonagh
Michael
Kelly
Murrough
O'Brien
Tom
Kelly
Nina
Duskey
1976
Barbara
Duskey
Sandy
Duskey
Tommy
McDonagh
Michael
Kelly
Murrough
O'Brien
Tom
Kelly
1977
Barbara
Duskey
Sandy
Duskey
Stephen
McNulty
Michael
Kelly
Steven
Dorian
Patricia
Boyle
1978
Barbara
Duskey
Sandy
Duskey
Unknown
Michael
Kelly
Lyndon
Keylock
Dave
Moriarty
Nina
Duskey
1982
Barbara
Duskey
Sandy
Duskey
Pierce
Unknown
Michael
Kelly
Lyndon
Keylock
Dave
Moriarty
Nina
Duskey
Danny (Vcls)
Duskey
Flippidy Flop / Hold Me Closer (Gary Street) - #10 Irish Charts
King Records - KG.1071 - January, 1968
Invisible Riley / Hey Child (Gary Street)
Release Records - RL.501 - 1968
Yoko Ono / I Don't Care (Gary Street)
Release Records - RL.510 - 1969
Kangaroo Hop / Sad Tales (Gary Street)
Release Records - RL.526 - 1969
The Next Time That I Cry / Love's A Burnin' Fire (as Gary Street and the Tom Kelly Sound)
Pye Records - 7N.17953 - 1970
The Thought Of Losing You / Tuesday's Child (as Gary Street and the Tom Kelly Sound)
Pye Records - 7N.45038 - 1971
Is Anybody Goin' To San Antone / I Will Follow The Rain (Gary Street)
Emerald Records - MDS.1164 - 1972
Come Back Billie Jo (Sandy Duskey) / Koko's Drum (Gary Street) - #13 Irish Charts
Hawk Records - HASP.378 - January, 1976
Love Me Just A Little Bit More / Can't You See I Love You (Sandy Duskey) - #8 Irish Charts
Hawk Records - HASP.386 - July, 1976
Not With You / I'm Alive Again (Sandy Duskey)
Hawk Records - HASP.418 - 1978
Hey Jude (Sandy Duskey)
Hawk Records - HASP -
Let It Shine (Sandy Duskey)
Hawk Records - HASP - May 16, 1979
Don't Feel Like Dancing / Closer Closer (Duskey Sisters)
Sunset Records - SUN 002 - 1980
Here Today, Gone Tomorrow / Instrumental Version (Duskey Sisters) - #12 Irish Charts
Crashed Records - CAR 20 - 1982
We Got Love / Don't Leave Baby (Duskeys)
Crashed Records - CAR.23 - 1982
Coming Soon
Gary Street: RIP

(Real name-Joe Conway). In 1968, his own composition (along with Mike Bryan) Flippidy Flop reached No. 10 in the Irish Charts and stayed in the charts for five weeks. After leaving the Fairways in 1976, he moved to England where he fronted a resident band for a number of years. Later, he moved to Vienna before returning to England where he sadly passed away in 2003.

Mike Bryan

: RIP

Mike sadly passed away in April, 1970.
Ollie Kennedy: Ollie left the Fairways to join Larry Cunningham's Country Blue Boys and spent the next few years playing with various combinations which included Larry and Mattie Fox. Finally in the mid 70's as the cabaret scene was taking off, he joined with Mattie in a group called Misty. In 1982 he joined Foster and Allen's touring band and along with writing several hits for them, has released his own CD's as well. He continues to tour the world with Foster and Allen these days.
P.J. Walsh: Unknown - if you have info please email us
Pat Cleary: Unknown - if you have info please email us
Bobby Clarke: Unknown - if you have info please email us
Danny Slevin: Danny Slevin wote us in Oct, 2011 to tell us he worked as an electrician after leaving the band, but continued to gig with Pauraig Browne around Ireland. He currently lives in Newbridge and continues to write songs
Michael Moore: Unknown - if you have info please email us
Noel Kilcullen: Noel left the Fairways in 1970 and joined the Stardust Showband in Glasgow with Vin Brogan, former front man of the Sanantones Showband, Foxford, Co. Mayo. He returned to Ireland and joined Gerry and the Ohio in late 1971. He left The Ohio in 1973 and played in many local bands in Ballina. He now plays with a former band member, Jerry Duffy, and a former band member of the Ohio, Eamon Mangan as Champagne.

Noel Barrett:

RIP

Noel played with a number of local bands. He was an outstanding harmony singer and his rendering of "Honey" was a feature of the Tom Kelly Trio. He sadly passed away.
P.J. Clarke: P.J. left the Fairways and formed the successful local group, The Richmonds. They played in the Mayo region until P.J. hung up his Fender bass in 2000. He now dedicates his time to researching local history and has just completed his first book on the First World War called ""Mayo Comrades of the Great War".
Alec DeGabriele: Alec married Mary Kay O'Toole and they both emigrated to Cleveland, Ohio. Together, they performed Irish ballads in the Cleveland area. Alec then formed a band called Darby's Folk a few years later. In 1995, Alec teamed up with John Delaney, founder of the Barleycorn who emigrated to Cleveland in a new band called (what else) The New Barleycorn.
Karen King: Real name, Mary Kay O'Toole. Karen and Alec married and emigrated to Cleveland, Ohio where they still live today.
Gerry Duffy: Gerry left the Fairways and played with local bands in the Ballina area. He is still playing today with a group called Champagne.
Des McDonald: Des played with the Roly Daniels band after leaving the Fairways but rarely performs these days. Our thanks to P.J.Clarke for the info on several band members.
Tom Murphy: Tommy is still playing drums and you will find him in P.J. Duffy's pub in Ballina on a Tuesday night still punching out the rhythm to the usual jazz tunes. He is also a successful presenter on late night radio on Midwest Radio (MWR).

John Crean:

RIP

Johnny was killed in a fatal traffic accident outside Killala, Co. Mayo on July 25th, 1979 after a successful career which saw him play drums with both the Fairways and previously with the Jack Ruane Showband.
Aidan Kerins: Aidan retired from the showband scene and continued to live and work in Sligo in the automotive industry. He continued to play in local bands. In the early 2000's Aidan was playing around the northwest with singer Hughie Lowry and guitarist Terry Lenehan (brother of Francie Lenehan) doing pubs, weddings and corporate events. He currently runs his own garage in Sligo. As of 2015 he plays with Sligo group, The Quay Street Band.

Tom Kelly: Tom retired from the Fairways in the late 70's and managed the Duskey Sisters as well as the Kim Newport Band, Brotherly Love, Pat Ely and several other acts. He also managed several venues during this time. In the early 80's he returned to the stage with a one man band for a short while. These days, he manages the affairs of Brendan Grace and Bernadette Ruddy from his home in Ballina.

Michael Kelly: Michael played with The Sandy Kelly Band for many years, but stopped performing some years ago and went into sound for the stage. He now operates a successful sound company based in Sligo. He provides sound for a wide variety of bands touring both in Ireland, the UK and other parts of the world. Recently he has been doing sound for Scottish singer, Isla Grant, and in March, 2007, he joined forces with sister-in-law, Barbara Ellis to form Champagne, a wedding and corporate band based in Sligo. As of 2015 he was soundman for Gerry Guthrie.
Hugh McCormack: After leaving music as a fulltime profession, Hugh returned to his native Drogheda and took up practice as an accountant, which has been doing for over twenty years. In a recent email, he told us he now has a band call Two Tone Blues band which he tells us, does "a lot of work in Monaghan, Dundalk, Northern Ireland" The four piece lineup includes lead, bass, jazzy drummer and great blues harp player.
Murrough O'Brien: Unknown - if you have info please email us
Sandy Duskey: Sandy changed to her married name, Sandy Kelly in the mid 80's and switched to country music. She went on to perform as Patsy Cline and Tammy Wynette in London shows for many years. She had her own TV series on RTE for a while and was close to Johnny Cash before his death, singing several duets with him. She is currently working on a book about her life story and has also been negotiations for a Broadway show based on the same. She splits her time between Sligo and Dublin and plays in country concert shows around Ireland on a regular basis.

Tommy McDonagh - RIP

: Tommy had always been working, either in bands, groups and as a backing musician. Tommy came to Ballina from Sligo and joined the Jack Ruane Showband, later the Fairways. After years on the road he settled into the group scene around Mayo and played for many years with Dermot Hopkins. He was active on the music scene in Ballina up until the time of his death which sadly occurred 18th January, 2015.
Barbara Ellis: Barbara continued to play with the Sandy Kelly band and then fronted her own band for a time. Today she lives in Sligo with her daughter and still performs with Sandy from time to time when they do the Grand Ole Opry touring show with George Hamilton IV. In March, 2007, Barbara formed a new band called Champagne based in Strandhill, Co. Sligo to play corporate and wedding gigs. The band lineup also included Michael Kelly (formerly of the
Fairways) on bass, but Barbara went off the road again in 2009.
Dave Moriarty: Dave is still in the Sligo area and until around 2009 was playing keyboards with local bands including Lisa Stanley, daughter of the late Maisie McDaniel and Fintan Stanley. Last news is that he has retired from music and works full time in the transportation industry with Bus Eireann.
Lyndon Keylock: Lyndon continued to play for a while, but now runs a carpentry firm in the United kingdom where he lives with wife, Marian.
Marian "Nina" Duskey: Marian is married to Lyndon Keylock and she continues to sing cabaret in the United Kingdom.