Fruupp Photo Gallery (1971-1976)
Photo Gallery - Band Lineups - Discography - Audio samples - Where Are They Now?
The Story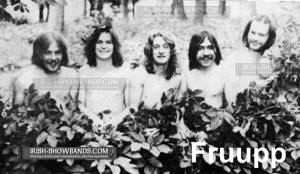 Fruupp started life as a heavy rock group in either 1970 or 1971, we are not sure. Even members of the band seem to have problems pinpointing the band's beginnings although it is agreed that the name Fruupp was adapted by one of the early lineups which featured Vincent McCusker. Contrary to stories circulated about the name coming from a ghost in a rehearsal studio, manager Paul Charles has admitted it came from a sheet of Electraset letters in which the only remaining letters were F,R,U,and P. The band added an extra U and P and FRUUPP was born.
Vince left Belfast to go to London in early 1971 to meet up with long time friend and future manager, Paul Charles. In his absence, a variety of musicians used the name Fruupp doing gigs. Apparently, Paul and Vincent had hoped to put together a band to play in England, but when things did not work out, Vincent returned to Belfast and formed the lineup which became Fruupp.
The first reference we can find to the band is in the June 26th, 1971 issue of Spotlight magazine in the Wee North column, written by Colin McLelland. He reported that the band had gotten back together after breaking up earlier in the year and added a new bass player and drummer. The "new" lineup was: Miles McKee (aka Tinhead-vocals), Steve Houston (keyboards), Vincent McCusker (guitar), Martin Foy(e) (drums) and Peter Farrelly (bass).
Miles had been involved with earlier lineups as had Vince. Steve was a classically trained pianist and been part of the BBC Youth Orchestra before joining the band (a decision not really appreciated by his parents we read). Martin had been in several Northern showbands before ending up playing drums with Fossett's Circus. Peter was a converted lead guitarist who it was reported took the gig because the band's original music would required a "lead" bass player.
The band had also changed it's musical direction from heavy rock to what was described as "Fruupp music" in the article. They were playing a mostly original set with the majority of songs being written by Vince and Steve. Colin reported that they would be making their debut in the Marquee Club in London on July 23rd, but might play some Irish dates in advance of that date. It is generally accepted that their first gig was July 21st in Belfast in support of Rory Gallagher. The band moved to London and throughout the rest of 1971, they split their time between London, Northern Ireland and Germany. They returned to Ireland in December for some dates at home and in the South.
By late 1971, the band was down to a four piece as lead singer Miles McKee had left the lineup just before Christmas. Pat Egan reported seeing the band live on their first tour of Ireland at Christmas (January 8th issue of Spotlight). Although his review was good, he felt they were weak on vocals and was hoping they would come down South more often.
As an aside, information on Northern bands can be difficult to uncover as they were generally not written about unless they were playing the Dublin scene on a regular basis. News from the Northern Ireland was sporadic at best, partially because Spotlight was mainly a Republic of Ireland publication and partially because the troubles in the North played havoc with the entertainment scene across the border.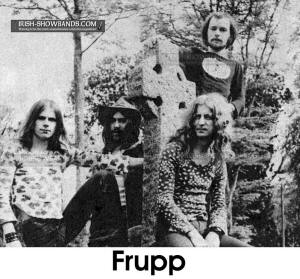 In early 1972, the band again played support to Rory Gallagher in the Ulster Hall, one of the country's biggest venues. In March, 1972, manager Paul Charles reported the band was finally beginning to move from supporting gigs to headlining some of the clubs they played. The next mention of the band we can find is in Pat Egan's Beat column in May, 1972 when he reported Fruupp were doing very well in London and were, in fact, the only Irish band playing the English clubs at the time (although we doubt this was strictly true). This was again reported in August, 1972 in another article. In late May they played with Skid Row in the Stadium in Dublin, although they were living and working in London full time. 1972 saw the band continue their pattern of mainly playing English gigs, but interspersed with occasional trips home to Ireland and short tours in places like Germany and Holland.
By 1973, the band was hitting its stride and were prepared to record their first album. They hade a very successful tour of Ireland but were still mainly playing the UK and the Continent. Signed to a recording deal with the Dawn Records, a subsidiary of the Pye label, they went into the studio to record the album in July. In October, 1973, Future Legends was released. It contained eight tracks, all written by Vince McCusker. It got mixed reviews and did not sell well, but the band would still go on to record three more albums. At Christmas, the BBC recorded one of the band's concerts for their "Ireland's Eye" series.
In early 1974, Fruupp announced plans for a second album and a change of producers. They reported David Lewis, former member of Andwella's Dream, would be working with them. Work on the new album was started in Kent. By late April, the new album, entitled Seven Secrets, was completed and released on the 19th. Plans were announced for a major Irish and English tour in summer, 1974. It was to be called Fruupp's Midsummer Dream. The band planned to promote the album as well as an extended stay in a house in Clonmel, during which time they would be writing and rehearsing material for a third album to be released later in the year.
As the title implied, the new album contained just seven tracks. Like other bands of the era, such as Genesis, Fruupp were experimenting with influences as diverse as jazz, classical and Irish traditional music. The results were longer tracks which featured heavy instrumental passages. Unfortunately, outside of their hometown, the band never really made it in Britain, or Ireland. Later in the year, the band would release it's third album, The Prince of Heaven's Eyes, which again would not sell very well. They also released a single in October, Prince of Darkness, this was followed up in December with The Prince of Heaven single. Neither one did much in terms of sales or airplays in Ireland.
In early 1975, founding member (and one of the main songwriters in the band), Steve Houston, left and was replaced by John Mason, a keyboard player who had previously played on the showband scene. An article in Spotlight a few months later in mid 1975 entitled, "Dark Horses Plod On" was a fairly pessimistic view of the band's progress to that point.
The article, written by Desmond Ilford, reported that, "after all this time away from home - going on three years - they have yet to make any real headway in Britain, and are still very much in the second league as regards the rock stakes in this country." However, the article praised the band for the fine music they were producing and their success in Belfast where they were able to sellout shows in large halls. The article ended with "fair dues to them, they plod on regardless. May 1975 is their year. Maybe."
Sadly, it would not. They released one more album, Modern Masquerades (1975) and within a year, the band was gone, splitting up in 1976. We have read online that their last gig was at the Roundhouse, London in September, 1976.
However, the story of Fruupp does not end there. Unlike most Irish rock bands who came and went with little notice, Fruupp's reputation seems to have only grown over the ensuing 38 years. All four of their albums are still available and have been re-released at several points in the 1990's and 2000's. Steve Houston continues to maintain a website at www.fruupp.com. There is also a site dedicated to the band at the UC Berkely College of Environmental Design.
Talk of a reunion gig was revived in the late 2000's, but apparently came to nothing. Fruupp are one of those bands that appear to be enjoying a much greater popularity in the modern age of the Internet than they did back in the gritty 70's when live gigs and vinyl were the only avenues open for fans to hear their unique brand of music.
click on thumbnails for full image
| | | | | |
| --- | --- | --- | --- | --- |
| | | | | |
| Fruupp - 1971 | Fruupp - 1971 | Fruupp - 1971 | Fruupp - 1972 | Fruupp - 1972 |
| | | | | |
| Fruupp - 1973 (LR) | Fruupp - 1973 | Fruupp - 1973 | Fruupp - 1973 | Fruupp - 1974 |
| | | | | |
| Fruupp - 1974 | Fruupp - 1974 | Fruupp - 1974 | Fruupp - 1975 | Fruupp - 1975 |
| | | | | |
| Fruupp | Fruupp | Fruupp | Fruupp | Coming Soon |
| | | | | |
| Fruupp - 1973 | Fruupp - 1973 | Fruupp - 1973 | Fruupp - 1974 | Fruupp - 1974 |
| | | | | |
| Fruupp - 1974 | Fruupp - 1975 | Coming Soon | Coming Soon | Coming Soon |
Years
Vocals
Guitar
Bass
Drums
Keyboards
1971
Miles "Tinhead"
McKee
Vincent
McCusker
Peter
Farrelly
Martin
Foy
Steve
Houston
1972
Vincent
McCusker
Peter
Farrelly
Martin
Foy
Steve
Houston
1975 to
Sept, 1976
Vincent
McCusker
Peter
Farrelly
Martin
Foy
John
Mason
Singles:
Prince of Darkness / Annie Austere
Dawn Records - Unknown - October, 1974
The Prince of Heaven / The Jaunting Car
Dawn Records - DNS 1087 - December, 1974
Janet Planet / Why
Pye Records - 7N.45615 - 1975
Albums:
Future Legends
Dawn Records - DNLS 3053 - 1973
Seven Secrets
Dawn Records - DNLS 3058 - 1974
The Prince of Heaven's Eyes
Dawn Records - DNLH 2 - 1974
Modern Masquerades
Dawn Records - DNLS 3070 - 1975
| | | | | |
| --- | --- | --- | --- | --- |
| | | | | |
| Coming Soon | Coming Soon | Coming Soon | Coming Soon | Coming Soon |
Coming Soon
| | |
| --- | --- |
| | Steve Houston: After converting to Christianity in November 1974, he left Fruupp and joined a Texan musical missionary group called Liberation Suite (managed by Miles McKee). He also played as a session musician. In the late 70's he went to Theological college and became an ordained Minister. Since then, he has traveled extensively speaking and even had his own TV show in Dallas, Texas. In the spring of 2012, Dr. Stephen Houston decided to base the main headquarters of Stephen Houston Ministries, his faith media network and his corporate identity head office in the United States. |
| | Miles McKee: After leaving the band in 1972, Miles turned down an offer to front a new band, "Tinhead's Battalion" which was put together by his brother Terence (Superkey). Miles became a believer in Jesus Christ and became the first promoter of Contemporary Christian Music in Ireland and managed the massively successful Liberation Suite. In 1978 he graduated from Bible College, and then was a pastor in Texas. He also started several Bible churches in Texas and Ireland. For many years Miles was the chaplain and speaker at the Creation Festival and he eventually developed a worldwide radio broadcast, The Gospel Truth with Miles McKee. Today, Miles and his wife, Gillian, live in Wexford where they started the Grace Church of New Ross and from which they run Miles McKee Ministries. |
| | Vincent McCusker: |
| | Martin Foy: |
| | Peter Farrelly: |
| | John Mason: |