Gene and the Gents Story (1964-70)
Photo Gallery - Band Lineups - Discography - Audio samples - Where Are They Now?
The Story
The band was formed in 1964, when 4 members of the Enniskillen based Skyrockets left to start a new band. The members were Paddy McDermott
(sax), Dermot Doherty (trombone), Peter Watson (drums) and Henry McCullough (lead guitar). They were joined by Tony Gallagher (rhythm guitar) and Barry Scully (bass guitar).
The Gents advertised for a lead singer. At that time, 21 year old Dushie Chetty had come to Dublin from his home town of Durban, South Africa in 1962 to study law....or so he thought. He was always keen on music and went regularly to the various dances in Dublin to hear different showbands. He became good friends with the members of the Sands who told him to watch the showband ads for a spot as a lead singer. When he saw the ad for a band in Enniskillen, he audition and landed the job.
Gene picks up the story, "Henry suggested we should be billed as Gene and the Gents, because at that time bands were advertised as: "The Royal featuring Brendan Bowyer" or "The Miami featuring Dickie Rock". I think we were the first band in Ireland with the lead singer named before the band. Before long most of the bands followed suit!" The band's manager, Fergus Sherlock, was the singer with the Gallowglass Ceili Band, but gave up singing to concentrate on full time management. Fergus left in 1968 and was replaced by Sammy Smyth, now a well known journalist and TV presenter in the North.
The new band made their debut in the County Hall, Monaghan on St Patrick's Day, 1964. Adds Gene, "Three busloads from Enniskillen traveled to Monaghan to give us support." Based in Enniskillen, they quickly built up an enormous following, especially in the North. They were voted among the Top 10 attractions in the North by Spotlight magazine in 1966 and the top 20 in all of Ireland.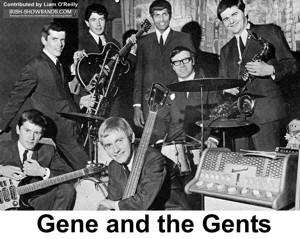 Henry McCullough left the band in 1966 and was replaced by Pete Cresswell. Henry went on to international fame appearing in bands such as Wings, Joe Cocker's Grease Band and Dublin Group Eire Apparent (which also featured Freshman Tiger Taylor at one point). Henry may also be the only former Irish "showband" musician to have appeared at Woodstock.
In 1966, the band released its first record Puppet On A String, which reached the Ulster top 10. They followed this up with The Way You Wrinkle Your Nose / I Came As A Stranger (penned by Barry Scully) in 1967 and finally C'mon Everybody / Hound Dog in 1968.
In 1968, Paddy McDermott left the band to start his won business and he was replaced Malachy (Mal) Kearns on sax. Mal had previously been with the Green Angels and was also an excellent singer.
The band continued to do very well, which Gene attributes to the fact that, "our attraction to the dancers was our live performances, which was good rock n roll and pop music."
Also in 1968, the band played support (as many showbands did in those days) to a top English group touring Ireland called Love Affair who had a No 1 hit at the time with Everlasting Love. Gene takes up the story...."Unfortunately their live performance was poor, unlike showbands who were used to playing live! The crowd booed and threw coins at them and called for us to return to the stage." Also in 1968 Davy Quinn replaced Barry Scully on bass (our thanks to Pete Cresswell for that info).
In the March 22, 1969 issue of Spotlight, an article on the scene in Northern Ireland announced that Gene would be leaving the band at Easter to form a new group called The Flames. The April 19th issue of Spotlight included an article about the new band and its members. The band included: Billy McKittrick (keyboards), Hugo Andrews (sax), Davy Quinn (bass), Gene Chetty (vocals), Gerry McIlduff (drums) and Pete Cresswell (guitar). The new band debuted on Easter Sunday at the Commercial Ballroom in Dungannon. Pete and Davy had also previously been with the Gents.
However, the new band didn't last long and according to Gene, "The big mistake in the Flames was putting too much accent on youth and not enough on experience." In May, they were selected by the BBC to guest on the Radio One Club show broadcast live from Belfast. However, the band was gone within 3 months. Gene left and Pete and Davy Quinn went on to form a new group called Sneaky Pete which started as a four piece and then was "re-launched" in October, 1970 as a six piece.
Pete takes up his story, "After that came Pat McGuigan and the Skyrockets and then I went back to London where Henry (McCullough) got me an audition with Eire Apparent, but that never happened in the end as they were making no money and I was asked to join the Cricklewood Club Big Band who knew me from playing there with the Gents. They were the resident big band and we supported all the visiting showbands. I was then asked to come back to Dublin by the Jim Farley Band which I did before getting married in 1970 and giving up touring." Pete would go on to play with many many bands here in Ireland.
Interestingly, we found a 1970 advertisement for a band called Gary Hynes and the Gents. Pete Cresswell tells us this was a short-lived attempt by the remaining members to carry on the band with the same name and a new lead singer. We are not sure how long the lineup actually lasted.
In August, 1969, Gene joined the Lions, sharing lead vocals with Tony Hughes after the tragic death of Danny Pearse. Tony would later go on to front the Cotton Mill Boys. The move was announced in the Insight column in Spotlight on August 2nd saying that Gene would handle pop vocals for the Lions while Tony specialised in country numbers.
However, Gene's time with the Lions was short lived and in January 1970, the Lions disbanded and Gene returned to his studies, completing a post grad in Business studies. Today he lives and works in Letchworth (near Cambridge), as a Management training consultant. The Gents spoke about a reunion concert 3 years ago but it did not materialise. Gene appeared in 2007's "Do You Come Here Often" concert tour organised by David Hull Promotions.
Finally in 2006, Henry McCullough, who has his own band, invited Gene to guest at his concerts in May. They performed in Enniskillen and Coleraine to a rapturous reception. Gene said "despite being away from the Irish music scene for nearly 35 years, I was "truly moved" by the reception in Enniskillen which was my home for 6 years. I am now hoping to do 10-12 concerts in Ireland next year. As Henry is busy with his tour to Poland, Japan etc., I am trying to get a band together or team up with an existing band!"
Sadly, in 2012 Henry suffered a heart attack which has left him disabled and unable to speak, although he can still see and hear.
More to come.....
click on thumbnails for full image
| | | | | |
| --- | --- | --- | --- | --- |
| | | | | |
| Gene and The Gents (BS) | Gene and the Gents - 1966 (LR) | Gene & the Gents (DC) | Gene & the Gents (DC) | Gene Chetty (DC) |
| | | | | |
| Gene & the Gents (DC) | Gene & the Gents (DC) | Gene and the Gents - 2002 (DC) | Gene & the Gents - 1967 | Gene & the Gents - 1966 |
| | | | | |
| Gene & the Gents (DC) | Gene and the Gents (LR) | Gene & the Gents - 1967 | Gene Chetty - 1967 | Gene Chetty - 1967 |
| | | | | |
| Pete Cresswell - 1967 | Gents (RF) | Gents (RF) | Gents (RF) | Gents (RF) |
| | | | | |
| Gents (RF) | Gents (RF) | Gents (RF) | Gents (RF) | Gents (RF) |
| | | | | |
| Gents (RF) | Gents (RF) | Gents (RF) | Gents (RF) | Coming Soon |
| | | | | |
| Coming Soon | Coming Soon | Coming Soon | Coming Soon | Coming Soon |
| | | | | |
| Coming Soon | Coming Soon | Coming Soon | Coming Soon | Coming Soon |
Years
Vocals
Guitar
Bass
Drums
Guitar
Sax
Trombone
1964
Gene
Chetty
Henry
McCullough
Barry
Scully
Peter
Watson
Tony
Gallagher
Paddy
McDermott
Dermot
Doherty
1966
Gene
Chetty
Pete
Cresswell
Barry
Scully
Peter
Watson
Tony
Gallagher
Paddy
McDermott
Dermot
Doherty
1967
Gene
Chetty
Pete
Cresswell
Barry
Scully
Peter
Watson
Tony
Gallagher
Malachy
Kearns
Dermot
Doherty
1968
Gene
Chetty
Pete
Cresswell
Davy
Quinn
Peter
Watson
Tony
Gallagher
Malachy
Kearns
Dermot
Doherty
1969
Gary
Hynes
Unknown
Mickey
Coburn
Peter
Watson
Tony
Gallagher
Malachy
Kearns
Dermot
Doherty
Puppet on a String / Sweet Little 16
Emerald Records - 1966
Wrinkle your Nose / Came As A Stranger (Barry Scully)
Emerald Records - MD.1073 - 1967
C'mon Everybody / Hound Dog
Target/Pye - 7N.17532 - 1968
Coming Soon
Gene Chettty: After the band split, Gene briefly fronted a new "pop" band called The Flames and six months later was asked to front The Lions, which he did for a short while. He then returned to his studies, completing a post grad in Business studies. Today he lives and works in Letchworth (near Cambridge) as a Management training consultant. He recently returned to Ireland to do a few concerts with Henry McCullough and the response was so good, he is thinking about doing more gigs. Gene recently set up a website at http://www.myspace.com/geneandthegents.
Henry McCullough: After his showband days, Henry joined Sweeney's Men for a short time and then left the band to join Joe Cocker's Grease Band and we think he may be the only ex-showband member to have played at the legendary Woodstock festival. He then joined up with Paul McCartney in Wings for a period and is credited with the moving guitar solo on My Love. In the early 80s, an accident almost cost Henry his livelihood, severing tendons in his playing hand. The road to recovery was almost complete when Henry started sitting in with the Fleadh Cowboys for their now legendary Sunday afternoon residency in The Lower Deck in Dublin. He then formed his own band and toured Ireland in 1988. In the 90's he moved back to Portstewart and formed a new band. Sadly Henry suffered a massive heart attack in 2012 and is now confined to a wheelchair and no longer plays.

Paddy McDermott

: Still living in Enniskillen where he now runs a healthy living company. Information courtesy Gene Chetty.

Dermot Doherty

: We understand from Gene Chetty that Dermot now lives in Derry where he runs a restaurant.

Peter Watson

: Still living in Enniskillen and Gene Chetty tells us that Pete is still active teaching drumming in local schools.

Tony Gallagher

: Gene tells us that Tony is still living in Enniskillen and is involved in the insurance industry.

Barry Scully - RIP

:

Barry Scully was based in Dublin and had his own band, Bee Bop Gold, which was in great
demand at weddings and corporate functions. A great supporter www.irish-showbands.com for several years, Barry
sadly passed away on December 10, 2007. He died of a heart attack at age 64.

Pete Cresswell

: Gene Chetty writes to say that Pete still lives in Enniskillen and has recently put together his own band to play local weddings and corporate gigs.

Malachy "Mal" Kearns

: Gene tells us that after the band broke up, Mal went on to join Derek and the Sounds in 1970. Mal now lives in Canada and plays with a local showband there.

Micky Coburn

: