Jan & Anne Lynch
Janvier "Jan" and Anne Lynch came from a very musical family and were raised in Pomeroy, Co. Tyrone. In fact, even their grandparents were involved in the Irish entertainment scene. The girls started playing in and around their home town before they were ten years old as part of The Lynch Family. The group included their father (an excellent accordionist), their mother, Jan, Anne, and their sister, Pat. Other family members, including brothers Barry and Liam, and younger sister Jacqui also joined the group in later years.
First to hit the showband scene was Jan, who met Top Rank owner, Tony Loughman, through family friend Dan O'Hara of the Country Flavour. Early in 1973, Tony put new band on the road, Frank Coll and The Big Valley (Frank was country star, Brian Coll's, brother). The band did well in their first summer and released a couple of records.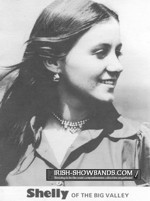 However, in November, 1973, Jan got her big break when Tony asked the sixteen year old to replace Frank as the band's lead singer. It was decided to change Jan's name to Shelly (it was often spelled Shelley as well) and she recorded her first single, Love at Eleven, which received instant recognition for the young star. For a short time, the band was billed as the Big Valley All Star Showband, but they soon became Shelly and the Big Valley. The band's lineup included Butch McNeill (drums), Tony Fox (keyboards), Jimmy Smith (guitar - Jimmy was Gloria's brother and would later gain individual fame as a founder of rock group, The Bogey Boys), Michael Lynch (sax - son of famous band leader, Maurice Lynch), Aidan McGuigan (bass), Martin Coll (guitar - Martin was brother of Frank and Brian of Buckaroos fame) and of course, Jan. Early on, she recorded her first album, Shelly Sings.
Not long after Shelly joined the band, Aidan McGuigan and Martin Coll left and were replaced by Jan's brother, Barry, on bass and Gerry Black on guitar and vocals. Gerry had previously fronted his own band, Gerry Black and the Seasons. The new "dynamic duo" were an instant hit with dancers across the country and the band went from strength to strength. They released another single, United We Stand, which consolidated their position as a top showband and a few months later they released an album, Just Two People, which featured four tracks written by band member, Tony Fox.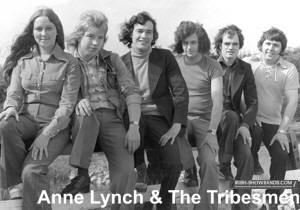 Anne's story starts shortly after sister Jan. Around this time, sister Anne, was getting her first taste of stardom when she joined The Tribesmen. Throughout 1974, both sisters were appearing regularly in the same venues, competitors on the dance scene. Both the Big Valley and The Tribesmen were successful with their own brands of country music.
In August 1975, Anne left the Tribesmen to join with Hugo Duncan in The New Tallmen.
page06Before long, Hugo went on to form The Ranchers, leaving Anne to start another band, The Swinging Marines within a few months.
On October 31, 1975 the new band made its debut in the Drumquin Social Centre. Along with Anne, the lineup was Peter O'Hara (guitar), Brendan Doran (guitar), Gerry Rae (bass), Pat Savage (drums) and Owen Smith (keyboard).
In November, 1975, Together with the band, Anne made her first album, Anchors Away, which was recorded in Castleblaney.
Around this time, Jan's band, Big Valley, called it quits, and Top Rank management decided it was time to bring the two sister's together. In 1976, members of both band's joined together to form Anne, Shelly, and The Marines.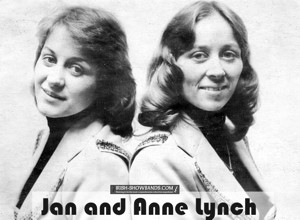 Together At Last:
Jan and Anne finally came together in 1976 when they joined forces as Anne, Shelly and the Marines. Members from both singers band, came together and appeared under the name which had been used by Anne's band, but dropped the "Swinging."
The Marines made an album which featured both sisters taking lead vocalist on alternating numbers. For a couple of years, the band did well, even though the scene in Ireland continued to decline, as more extensions and discos enticed dancers away from the ballrooms and marquees.
In 1978, Shelly went solo again and was fronting a band called Shelly and Startime. In 1980, one of Ireland's most famous country outfits, The Mainliners, tapped Jan to front the band, and for the first time, she was able to use her own name. Jan and The Mainliners made a few singles.
More to come.....
Jan's Photo Gallery
| | | | | |
| --- | --- | --- | --- | --- |
| | | | | |
| Jan at age six. | The girls sing with their Mother during a tour of the USA. | One of Jan's earlier handouts | Jan on the cover of the January issue of Top Rank News in 1974 | Spotlight, August 1975 |
| | | | | |
| Jimmy Smith of the Big Valley | Michael Lynch of the Big Valley | Seamus "Butch" McNeil of the Big Valley | Tony Fox of the Big Valley | Aidan McGuigan of the Big Valley |
| | | | | |
| Lynch Family in 1974 | The Big Valley - 1974 | Shelly's 1st release | 1974 Top Rank Ad | Shelley and the Big Valley - 1973 |
| | | | | |
| Mid seventies | More from boat photo shoot | Anne, Shelley & The Marines -1976 | Jan of the Mainliners | Shelly & The Big Valley- 1974 |
| | | | | |
| Shelly & Startime (PH) | Startime (PH) | Shelley - 1979 (PH) | Coming Soon | Coming Soon |
Anne's Photo Gallery
| | | | | |
| --- | --- | --- | --- | --- |
| | | | | |
| Anne in 1958 | Anne a few years later | Anne Lynch & Hugo Duncan (AL) | Launching the Tribesmen | The Tribesmen on stage |
| | | | | |
| Anne Lynch & The Tribesmen (AL) | Top Rank Festival - 1974 | Top Rank Festival - 1974 | Swanlinbar Carnival, 1974 | Anne & The Swinging Marines - 1975 |
| | | | | |
| Top Rank Dance Diaries | Star Award - 1974 | Off to Canada - Sept, 1974 | Anne of the Swinging Marines | Anne & The Swinging Marines - 1975 |
| | | | | |
| Anne in the mid 70's | Jan and Anne in 1976 | | | |
Discography:
Singles:
Jan:
Love At Eleven / Everybody Else is Doing It (with Jimmy Smith)
(Release RL 714) Dec. 1973
United We Stand (with Gerry Black)
(Top Spin TS S52) 1974
Shelly
(Click to enlarge)

Back of single
(click to enlarge)

Shelly & Gerry
(click to enlarge)

Back of single
(click to enlarge)

Albums:
Jan:
Shelly Sings
Top Spin Records - 1974
Just Two People (with Gerry Black)
Top Spin Records - 1975
Anne:
Anchors Away with Anne & the Swinging Marines
Top Spin Records TSLP 83 (1975)
Together:
Introducing Anne, Shelly & The Marines
Top Spin Records TSLP87 (1976)