Johnstons Story (1966-74)
Photo Gallery - Band Lineups - Discography - Audio samples - Where Are They Now?
The Story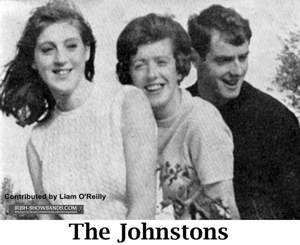 The Johnstons started life as a folk duo when sisters Adrienne and Lucy Johnston started singing. Talking to B.P. Fallon in the September 19, 1968 issue of Spotlight brother Michael said, "Adrienne and Lucy started off together as a duo with Aidey on piano." said Michael. "They did their own versions of current pops like Roses are Red and all the Del Shannon numbers like Searching and Swiss Maid."
Michael joined a short time later playing electric guitar . Said Michael, "We used to do stuff like If I Had A Hammer and a country and western version of I Hear A Bluebird Sing." The band released it's first single and scored a number one hit with Traveling People in July of 1966. The success of their first offering made the band a hit on the growing folk and ballad scene in Ireland at the time and they were well on their way.
The continued success of the band was assured when their second single, The Curragh of Kildare also made the charts, topping out at number 11. Around this time (mid 1967) they expanded to a four piece adding guitarist Paul Brady to the ranks to help fill out their on stage sound. Paul had been standing in with Sweeney's Men when he got the offer to join the Johnstons. Although Paul would later become one of Ireland's top song writers, he was not writing material for the band.
It appears there were some disagreement between Michael and his sisters (as reported in Spotlight magazine by Shay Healy on January 11, 1969). Michael left the band and a story was released to help smooth over the change by saying Michael had left to return to life as a farmer. Mick Maloney was recruited to take his place and the band continued on as a four piece. The group went from strength to strength and their music seemed to slowly shift from Irish folk to more soft pop as they released Joni Mitchell's Both Sides Now in late 1968. An article in the November 30th issue of Spotlight suggested the band was considering emigrating as their success started to grow abroad. Their next single, Give A Damn, written by Americans Scharf and Dorough, failed to chart, their first single not to do so.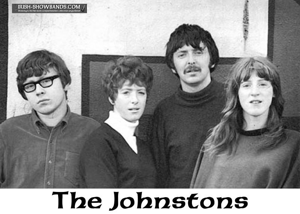 The band announced their intention to move to Britain after the Christmas of 1968. Touted by many as Ireland's most talented vocal group, it was thought they would follow the Dubliners into the upper echelons of world wide folk. It was reported that they had been signed by Brian Epstein's company, NEMS. The band finally relocated to London in early 1969, but Lucy did not make the trip, deciding to remain in Ireland. It was reported in Spotlight that they would be spending nine months of the years touring abroad, spending only short times at home in Ireland. They would stay in England for the next three years, but Lucy would eventually marry showband photographer Roy Esmonde. Later that year, the band released two albums on the same day: The Barleycorn, an album of traditional songs and instrumentals, and Give A Damn, a contemporary records featuring songs by Leonard Cohen, Joni Mitchell and others.
In October, 1971, an article in Spotlight magazine announced that Mick Maloney was leaving the band as he was thinking of going back to college. This left Adrienne Johnston (who had become Mrs. McCloud) and Paul Brady to carry on the group as a two piece, although an article at www.paulbrady.com reported that English musician Gavin Spencer joined the band for a year after Mick's departure, but we think this may have been only for stage appearances as picture sleeves of their singles showed only Paul and Adrienne.
Around the end of 1971 or early 1972, the band took off for the United States where they would stay for over two years. During this time they played regularly in the Northeast and were the first act to open the Bottom Line Club in New York City.
In late 1974 Paul left the band to replace Christy Moore in Planxty. This left Adrienne to carry on the Johnston's name alone. She released a single, So Long To Dublin, and planned to put together a new band.
More to come.....
click on thumbnails for full image
| | | | | |
| --- | --- | --- | --- | --- |
| | | | | |
| The Johnstons - 1966 (LR) | Johnstons - 1967 | Johnstons - 1968 | The Johnstons - 1967 | Johnstons - 1969 |
| | | | | |
| Adrienne & Mick-67 | Johnstons - 1968 | Adrienne Johnston - '67 | Coming Soon | Coming Soon |
Years
Vocals
Vocals
Guitar
Guitar
1966
Lucy
Johnston
Adrienne
Johnston
Michael
Johnston
1967
Lucy
Johnston
Adrienne
Johnston
Michael
Johnston
Paul
Brady
1967
Lucy
Johnston
Adrienne
Johnston
Mick
Maloney
Paul
Brady
Late
1969
Adrienne
Johnston
Mick
Maloney
Paul
Brady
Oct
1971
Adrienne
Johnston
Paul
Brady
Oct
1974
Adrienne
Johnston
Singles:
Traveling People / Going Home - #1 Irish Charts
Pye Records - 7N.17144 - July, 1966
The Alamo / Life Of A Rover
Pye Records - 7N.17205 - late 1966
The Curragh of Kildare / Leaving London - #11 Irish Charts
Pye Records - 7N.17315 - May, 1967
I Will Never Marry / Banks of Claudy - #8 Irish Charts
Pye Records - 7N.17430 - October, 1967
They'll Never Get Their Man / Dublin Jack of All Trades
Transatlantic Records - Unknown - May, 1968
Both Sides Now / Urge For Going - #12 Irish Charts
Transatlantic (Big T) Records - BIG 113 - June, 1968
Give A Damn / Walking Out On Foggy Mornings
Transatlantic (Big T) Records - BIG.116 - December, 1968
My House / The Wherefore and Why
Transatlantic (Big T) Records - BIG 121 - April, 1969
Gleanntain Ghlas Ghaoth Dobhair
Gael Linn Records - CES 010 - June, 1969
Streets of London / Spanish Lady
Transatlantic (Big T) Records - BIG 132 - April, 1970
Continental Trailways Bus / The Morning of Our Love
Transatlantic (Big T) Records - BIG 501 - March, 1972
So Long To Dublin / If Poems Died Like Promises
EMI Records - IEMI 5011 - December, 1974
Albums:
Traveling People
Marble Arch Records - MAL 808 - 1968
The Johnstons
Transatlantic Records - TRA 169 - May, 1968
Give A Damn
Transatlantic Records - TRA 184 - 1969
The Barleycorn
Transatlantic Records - TRA 185 - 1969
Bitter Green
Transatlantic Records - TRA 211 - 1969
Colours of the Dawn
Transatlantic Records - TRA 231 - 1970
The Johnstons Sampler
Transatlantic Records - TRA SAM 16 - 1970
If I Sang My Song
Transatlantic Records - TRA 251 - April, 1972

Audio Clips
Coming Soon
| | |
| --- | --- |
| | Lucy Johnston: Married to photographer, Roy Esmonde and living in Dublin. |
| | Adrienne Johnston: Sadly, Adrienne passed away in 1981. |
| | Michael Johnston: |
| | Paul Brady: After leaving the Johnstons, Paul spent a brief spell in Planxty before breaking out on his own. His amazing solo career has put him in the International spotlight both as a songwriter and performer. With songs covered by artists as diverse as Santana, Dave Edmunds and Tina Turner, Paul continues to be one of Ireland's greatest artists, selling out tours and new albums around the world. |
| | Mick Maloney: As well as continuing to perform, Mick holds a Ph.D. in folklore and folk life from the University of Pennsylvania. He has taught ethnomusicology, folklore and Irish studies courses at the University of Pennsylvania, Georgetown, and Villanova Universities, and currently teaches at New York University in the Irish Studies program and leads the Washington Square Harp and Shamrock Orchestra. Half of the year, the Limerick-born Moloney lives in Thailand, where he helps support the Mercy Center, a home for abandoned and orphaned children. . |