Las Vegas Feature (1975-1978)
Photo Gallery - Band Lineups - Discography - Audio samples - Where Are They Now?
The Story
(From Niall Power)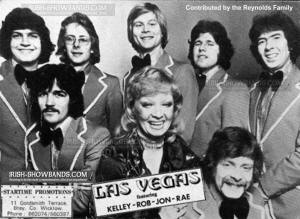 The short lived (just over 2 years on the road) Las Vegas showband was formed in Dublin in late Sept 1975 by Ray Doherty (ex Big 8). The band's first gig was on the 8th of November in Blackrock, Co. Louth. The following night, the band played a support spot to the Stylistics in the RDS show grounds in Dublin.
The band's line up was Ray Doherty (guitar) Rob Strong (bass guitar & vocals), Johnny Murphy (vocals), James Delaney (keyboards), Brendan Bannigan (sax), Kevin O'Brien (sax) and Niall Power (drums).
At Christmas, 1975, they were joined on vocals by Kelley. Kelley had previously been out front with the Nevada, but for part of 1974 and 1975, she was with the Big 8 in Las Vegas (where she had also played with Ray). Their first record was a duet with Rob and Kelley called, All The Loving People released on EMI records in 1976 and written by the Swarbrigg brothers.
Later in 1976 Kelley and Ray Doherty left the band to form a cabaret group called Kelley and Klass. Las Vegas continued to perform in the ballrooms through 1976-77 with various line up changes. James Delaney left to join the Swarbriggs and was was replaced by Anto Long on keyboards. Ray Doherty was replaced by Mark Costigan on guitar. Kevin O'Brien left and was not replaced, reducing the lineup to a six piece, which was pretty much the norm in the late 1970's.
A second record was issued called More Like The Movies in late 1976 on Release Records. This was a Dr Hook song and featured Rob Strong on lead vocals. An album was recorded in Big Tom's studio in Castleblaney but was never released.
The last show the band played was in the Castle Ballroom, Macroom, Co Cork on the 1st Jan 1978. Rob had decided he wanted to take his music more in the rock direction and along with Mark Costigan, left to form the Rockets in early 1978. James Delaney (who had left to join the Swarbriggs Band, would eventually also join the Rockets). Johnny Murphy would return to Tullamore and play the local circuit. That was the end of Las Vegas.
More to come.....
click on thumbnails for full image
| | | | | |
| --- | --- | --- | --- | --- |
| | | | | |
| Las Vegas (RF) | Las Vegas (RF) | Las Vegas (RF) | Las Vegas (RF) | Rob Strong & Las Vegas (BK) |
| | | | | |
| Las Vegas (RF) | Las Vegas (RF) | Coming Soon | Coming Soon | Coming Soon |
Years
Vocals
Vocals
Guitar
Bass
Drums
Keyboards
Sax
Sax
1975
Johnny
Murphy
Ray
Doherty
Rob
Strong
Niall
Power
James
Delaney
Brendan
Bannigan
Kevin
O'Brien
Dec
1975
Johnny
Murphy
Kelley
Ray
Doherty
Rob
Strong
Niall
Power
James
Delaney
Brendan
Bannigan
Kevin
O'Brien
1976
Johnny
Murphy
Mark
Costigan
Rob
Strong
Niall
Power
Anto
Long
Brendan
Bannigan
All The Loving People
EMI Records - Unknown - 1976
More Like The Movies / My Name Is Joe
Release Records - RL.841 - 1976
| | | | | |
| --- | --- | --- | --- | --- |
| | | | | |
| Coming Soon | Coming Soon | Coming Soon | Coming Soon | Coming Soon |
Coming Soon
| | |
| --- | --- |
| | Rob Strong: After taking the Plattermen in a totally new direction (pop/rock), and playing for several years with Las Vegas, Rob left the band to form The Rockets and eventually the Rob Strong Band. Today, Rob is still touring Ireland and recently appeared at the Cork Jazz Festival. He plays all across the country. |
| | Ray Doherty: Ray left the band in 1976 with Kelley to form Kelley and Klass, a cabaret group. We received an email in October, 2009 from Seamus Harrington telling us that he had met Ray playing in a pub in O'Connell Street in Dublin and that as well as playing, Ray now owns a company that makes specialized flight cases for musical instruments such as harps, bodhrans, bagpipes, keyboards, and custom cases for items like the Sam Maguire cup. |
| | Niall Power: One of the most versatile drummers of the era, after the end of the band Niall joined the Gibney & Donovan band in 1978 and then the Tony Kenny band, followed by stints with The Nevada, Sheeba, Stepaside, Johnny Logan, Eamonn Gibney (solo), Red Hurley, Zerra one, Les Enfants, Barry Devlin( starcodes project) Hazel O Connor, Westlife (2001) and finally Sir Bob Geldof for the last 25 years. |
| | Johnny Murphy: If you know more, please let us know. |
| | James Delaney: James left the band to join the Swarbriggs, but eventually ended up back with Rob Strong in the Rockets. If you know more, please let us know. |
| | Kevin O'Brien: If you know more, please let us know. |
| | Mark Costigan: Mark left with Rob at the beginning of 1978 to join the newly formed Rockets. If you know more, please let us know. |
| | Brendan Bannigan: If you know more, please let us know. |
| | Kelley (aka Eileen Kelly): Kelly left the band along with Ray Doherty to form Kelley and Klass which would focus on the growing cabaret scene in Dublin and around the country. If you know more, please let us know. |
| | Anthony "Anto" Long: After leaving the Miami he joined the Sands for a spell. Anto teamed up with Rob Strong, Kelley and Las Vegas before heading off with a band he formed to tour Mexico. After a stint there, he returned to Ireland and got back with Kelley in her band Klass and then on to Laurie Hartz' Band. Finally, he rejoined the Miami which eventually left Ireland to tour Mexico as the Europa Show. After a year, the band split but Anto remained in Mexico where he has been for the past 20 years. In 2003 he "retired" from live performing, although he still plays occasionally, but works full time in the tourism industry in Mexico. |