Millionaires Showband Feature (1964-1972)
Photo Gallery - Band Lineups - Discography - Audio samples - Where Are They Now?
The Story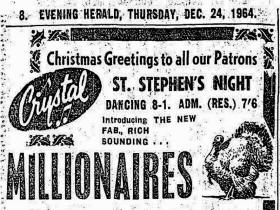 The Millionaires were launched in Dublin's Crystal Ballroom on St. Stephen's night, 1964 to great fanfare. They featured female vocalist Penny Trent (real name Bridget McAenerney), managed by Crystal owner Pat O'Flynn and the road manager was former showband drummer Johnny Devitt. Several other new showbands were slated to make their debut the same week including Earl Jordan's band and the newly revamped Maisie McDaniel and the Nevada.
The original lineup was: Penny Trent (vocals) from Cookstown, Co. Tyrone who had previously been with the Grafton Showband for several years, Michael O'Brien (drums), Gene Bannon (sax and band leader) from Cootehill, Co. Cavan who previously played with the Pat Campbell Showband, Billy Doyle (trombone) from Dublin who was previously with the Diamonds Showband, Tommy Walshe (trumpet) from Castleblaney who had previously played with the Jack Ruane Band and Paragon 7, Joe Doherty (bass) from Belfast, Mickey Conn (guitar) from Dundalk who had also been with the Grafton Showband as well as the Woodpeckers Showband.
In 1965, the band got a regular spot on RTE's Hoedown show which exposed to a nation wide audience and helped establish them as one of the major bands on the circuit, although they would never reach the status of bands like the Miami, Capitol or Nevada. They were doing good business, but still had no records to their credit. In January 1966, they would release the Merry Ploughboy as their first single, but it failed to chart.
In February, 1966, Penny left the band to join the Skyrockets Showband but was not replaced as Joe Doherty and Mick Conn sharing the spotlight as the "Yodeling Twins." A month or two later (or possibly as the same time), Tommy Walshe left the band and was replaced by Tuam man Jimmy Higgins, who had previously been with the International Showband. In November, 1967, it was announced that Johnny Devitt would take over managing band on a full time basis after serving as road manager since their inception.
In February, 1968, Alfie Kerrigan (from Dublin) took over on drums for Michael O'Brien who it was reported had gone to join an airline company in Toronto, Canada. Alfie had spent the previous two years with Enniskillen based Skyrockets Showband were Penny Trent (now known as Penny Starr) had gone after leaving the band in 1966.
In May 1970 rumours of the band breaking up were circulating on the entertainment scene and they did eventually call it quits. However, manager Johnny Devitt didn't waste any time in putting together a new Millionaires who hit the road in September, 1970. This new line-up included Mick Doherty (vocals) from Dublin formerly of the Airliners and Pennies, Ray Grant (guitar and vocals) a former solo artist, Jimmy O'Neill (trumpet), Noel Devine (bass), Willie Kelly (drums), Liam Kielty (sax), and Dennis Skerritt (keyboards). It appears this version of the band would only last a couple of years as we can find no mention of them in dance adverts across Ireland after August, 1972.
More to come.....
click on thumbnails for full image
| | | | | |
| --- | --- | --- | --- | --- |
| | | | | |
| Millionaires - 1964 (BS) | Millionaires (LR) | Millionaires Showband (JB) | Millionaires - 1967 | Millionaires (PL) |
| | | | | |
| Millionaires (PL) | Millionaires (RF) | Millionaires (RF) | Millionaires (RF) | Millionaires (RF) |
| | | | | |
| Millionaires - 1964 (RF) | Millionaires (RF) | Millionaires - 1964 (RF) | Millionaires (RF) | Millionaires (RF) |
| | | | | |
| Millionaires (RF) | Millionaires (RF) | Millionaires (RF) | Millionaires (RF) | Millionaires (RF) |
| | | | | |
| Millionaires (RF) | Millionaires - 1967 (RF) | Millionaires (RF) | Coming Soon | Coming Soon |
| | | | | |
| Coming Soon | Coming Soon | Coming Soon | Coming Soon | Coming Soon |
Years
Vocals/Gtr
Guitar
Bass
Drums
Trmbn/Keys
Sax
Trumpet
Dec
1964
Penny
Trent
Mickey
Conn
Joe
Doherty
Michael
O'Brien
Billy
Doyle
Gene
Bannon
Tommy
Walshe
Feb
1966
Mickey
Conn
Joe
Doherty
Michael
O'Brien
Billy
Doyle
Gene
Bannon
Tommy
Walshe
April
1966
Mickey
Conn
Joe
Doherty
Michael
O'Brien
Billy
Doyle
Gene
Bannon
Jimmy
Higgins
1967
Fergus
Burke (Gtr)
Mickey
Conn
Joe
Doherty
Alfie
Merrigan
Billy
Doyle
Jimmy
Malone
Harvey
Roche
Band broke up in mid 1970 and a new band went on the road in Fall, 1970
1970
Mick
Doherty
Ray
Grant
Noel
Devine
Willie
Kelly
Dennis
Skerritt
Liam
Kielty
Jimmy
O'Neill
Merry Ploughboy / The Sea Around Us
Pye Records / 7N 17190 / January, 1966
Winter Winds / Chime Bells
Pye Records / 7N 17208 / December, 1966
The Natural Thing To Do
Unknown
| | | | | |
| --- | --- | --- | --- | --- |
| | | | | |
| Coming Soon | Coming Soon | Coming Soon | Coming Soon | Coming Soon |
Coming Soon
| | |
| --- | --- |
| | Penny Trent: |
| | Gene Bannon: |
| | Michael O'Brien: |
| | Tommy Walshe: |
| | Mickey Conn: |
| | Billy Doyle: |
| | Joe Doherty: |
| | Jimmy Higgins: |
| | Alfie Merrigan: |