The Movement (1965-1969?)
Photo Gallery - Band Lineups - Discography - Audio samples - Where Are They Now?
The Story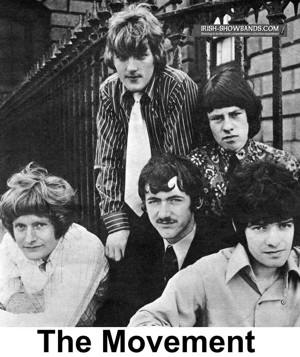 Originally from Cabra, on the Northside of Dublin, The Movement claims to be one of the true "rock" bands in Ireland and was the Northside's answer to The Creatures (who were from the Southside of Dublin). The band started, we think, around 1965 (according to Pat Quigley on an 2005 RTE radio interview a few years back). Founder and driving force behind the band was John Farrell, who came from a large family (8 brothers and 3 sisters). He grew up listening to the sound of Elvis and other rockers of the era on Radio Luxembourg. He knew he wanted to be a singer.
We think the band was put together around 1965 but we're unsure who the original lineup was other than John Farrell and Pat Quigley were in the band. Pat also had a full time job working for the POsts and Telegraphs (or P&T as it was known back then. Ireland's telephone company). We also think Dave Kearney and Maurice Long were with the band as they were childhood friends who lived across the street from each other. In the same RTE interview, Maurice said his nickname Moose came from games of cowboys and Indians he used to play with Dave.
The band did very well on the local scene initially was one of the first of the beat groups to played to big crowds. In fact, at one time it is said they were supported by Rory Gallagher on a gig. Alan Thunder came to the band a little later as he said he had replaced the original drummer who had been let go by John.
The group played to growing crowds, but sometime during 1967 it underwent another change when Maurice Long left the band and was replaced by Dayo Dillon on keyboards. The band received further accolades when they were voted the Number on beat group in the Spotlight 1966 reader's poll (we think) and Pat Quigley and Alan Thunder were voted tops on their respective instruments.
In the Fall of 1967, the band went into Eamonn Andrew studios to record a single. John Farrell recounted in 2005 that it was not a great experience as the band had neither the money or resources to do things properly. The band spent about 90 minutes recording the two songs for their debut single, which was released on Pye's Target label in Ireland. John was quoted in the RTE interview in 2005 that he was "never happy" with the single and actually never owned a copy of it. The single, "Tell Her" was a remake of the classic soul track, Tell Him, and was favourably reviewed by Larry Gogan in Spotlight.
Although other sources on the Internet have labeled the record a "hit," it actually never made the Irish Charts. In the 1967 Spotlight Pop Poll (published in January, 1968), the band was ranked number three behind the Strangers and Granny's Intentions. More importantly for their future, John Farrell was ranked as the number 10 top male vocalist in Ireland behind showband legends like Brendan Bowyer, Joe Dolan and Dickie Rock.
John's talents came to the attention of promoter Jim Hand, who contacted him asking if he might be interested in fronting a showband. As John said in the RTE interview he was very interested, "for the money" as he and everyone he knew was "broke." According to John, he met with Jim over lunch and was promised a share of the bands profits as a shareholder as well as final say on the members of the band, both of which he claimed never happened, although Jim Hand did buy him "two mohair suits" so that he would look the part of a showband star.
Rumours started in May, 1968 that John Farrell would be leaving the band. By this time, Scott Mulvey was also with the band playing keyboards (although Pat Egan called him "Paddy" in his Beat column. Around this same time, Dave Kearney left to join the Smokey Mountain Ramblers and Eddie Creighton joined. John's departure from the Movement was announced in Pat Egan's column of May 18, 1968.
In July, 1968, John was launched as the lead singer with the Dreams, which also featured future Thin Lizzy star, Eric Bell on guitar. The Movement was left without a lead singer. According to Pat Quigley in the same RTE interview, he and Alan were devastated...not only had they lost their lead singer, but in a friend as they had always spent a lot of time together socially.
The band recorded another single which featured two numbers written by Brendan "Brush" Shiels (his first recorded works according to www.irishrock.org. Once again they headed to Eamon Andrews Studios, but it is unclear exactly who was singing on the record. This is because the new lineup of the band, which included Eddie Creighton and Scott Mulvey was in place just a John was leaving to form the Dreams. We will do our best to find out who the singer was.
In January 1969, the band's lineup was Scott Mulvey (keyboards), Alan Thunder (drums), Eddie Creighton (guitar) and Pat Quigley (bass). As far as we know, this was the final lineup of the band although we don not know exactly when they called it quits.
More to come...
click on thumbnails for full image
| | | | | |
| --- | --- | --- | --- | --- |
| | | | | |
| Movement - 1967 | John Farrell - 1967 | The Movement -1967 | Movement - 1967 | John Farrell - 1967 |
| | | | | |
| Movement - 1967 | Movement - 1967 | Movement - 1967 | Movement - 1967 | Movement - 1968 |
| | | | | |
| Movement - 1968 | Movement (RF) | Coming Soon | Coming Soon | Coming Soon |
| | | | | |
| Coming Soon | Coming Soon | Coming Soon | Coming Soon | Coming Soon |
Years
Vocals
Guitar
Guitar/Keys
Bass
Drums
1967
John
Farrell
Dave
Kearney
Maurice "Moose"
Long
Pat
Quigley
Alan
Thunder
1967
John
Farrell
Dave
Kearney
Dayo
Dillon
Pat
Quigley
Alan
Thunder
1968
Eddie
Creighton
Scott
Mulvey
Pat
Quigley
Alan
Thunder
Tell Her / Something You've Got
Target Records - 7N.17443 - December, 1967
Head For The Sun / Mr. Man (both songs written by Brush Shiels)
Big T Records - BIG.112 - July, 1968
Coming Soon
John Farrell: John left the band in 1968 to form the Dreams. The band had quite a few successes, but John left after just two years and was replaced by Eric Murray. These days we know that John is a business man who splits his time between Ireland and Spain. If you know more, please let us know.

Dave Kearney - RIP

: Dave left the Movement to join the highly successful Smokey Mountain Ramblers, and also played with the Sandie Jones Band. In 1971 he left the Smokeys for a while and then returned in 1972 when the Smokeys regrouped under the name The Rocky Tops. Dave emigrated to Canada around 1980 where he lived until he sadly passed away on January 14, 2010.
Maurice Long: If you know more, please let us know.
Pat Quigley: We are unsure whether Pat played with another band after the Movement. We do know that he was employed by Posts and Telegraphs and in more recent years (as of 2005) he had become a taxi driver in Dublin. If you know more, please let us know.

Alan Thunder - RIP

: According to an interview Alan gave on RTE in 2005, he left the Movement to join the Dreams (around the same time as John Farrell departed the band. In the early 1980's Alan joined up with the Joe Cuddy Band. Along with touring with Joe, the band was also "hired out" to back other artists on tours of Ireland and England during these years. Finally in 1984, he gave it up, sold all his equipment and move to Cork. During this time, he suffered ill health and was close to death on at least one occasion. Finally in the 90's Alan bought back his own set of drums and started playing locally. Sadly, Alan passed away on December 8, 2010.
Dayo Dillon: If you know more, please let us know.
Scott Mulvey: If you know more, please let us know.
Eddie Creighton: We know that Eddie joined the Chessmen in 1971, shortly before that band called it quits. We are unsure what he did after that. If you know more, please let us know.