Patterson Gallery (1965-1975?)
Photo Gallery - Band Lineups - Discography - Audio samples - Where Are They Now?
The Story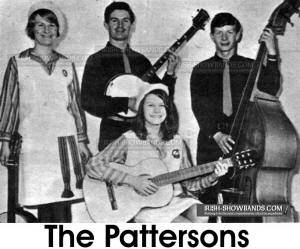 Riding on the crest of the folk and ballad scene, the Pattersons came to national attention in July, 1967 (according to one of their album covers). With their clean cut good looks, family image and vocal harmonies they quickly became one of the darlings of the mature set and were regulars on TV for most of the next decade.
The family group had been singing together since their childhood in Co. Donegal. From Letterkenny, brothers Ronnie (guitar) and Billy (bass) along with sisters Dorothy and Christine (guitar), provided a very tame version of ballads in comparison to some of their contemporaries such as the Dubliners. In fact, the liner notes on their debut album described them as Ireland's answer to the Trapp family (from the Sound of Music).
The same sleeve notes told us that the group first appeared in public in 1965 when they performed at a neighbor's sing song. The neighbor, was so impressed, he offered to manage them and things started happening.
However, as Christine was born in 1950, she was only 15 at the time and still in school. So, the band waited until she turned 17 to turn "professional." Before that Dorothy (aka Dot) had been a secretary by day. According to the sleeve notes The Pattersons Again, Billy, the eldest sibling (eight years older than Christine), was a "policeman" before turning pro. We have to assume this means he was a Garda in Donegal.
In 1967, they began talking about turning professional and eventually entered the Kilkenny International Ballad Festival where they placed in the top six out of 165 acts. They were invited to perform in the United States and ended up staying for six months, returning to Ireland at Christmas time in 1967. We think they appeared on local TV in the Las Vegas area (we're checking our facts on this). Upon their return home they started preparing to make their first record.
In 1968, they released their first single, Drill Ye Tarriers, Drill on the CBS record label. The record didn't make the Irish charts, but established the group as major players on the Irish entertainment scene. It was reported that the record was number one with RTE's programme, Ten of the Best. At the same time, they also released their first album, Travelling People. Their repertoire was basically Irish folk with staples like Irish Soldier Laddie, The Unicorn and Whiskey on a Sunday. A few months later, in October, they released their second single, I Don't Want to Be A Memory which not only further enhanced their reputations as performers, but became a major hit, reaching number 2 in the Irish charts.
1969 would be the year the band hit is big. With a hit single under their belts (which would sadly be their only major hit in Ireland), they attracted the attention of Irish and UK television producers. In June they released a second album, Pattersons Again and were poised for international stardom. By now, the band had more or less left their Irish folk music roots behind and were recording a wide variety of songs from Montego Bay to Gentle On My Mind and Scarboroough Fair.
As the new album came out, in June, 1969, sister Dorothy got married and decided she could not raise a family and stay on the road. She announced she was leaving the group. The remaining siblings were unsure what to do next. Said Billy at the time, "When Dorothy decided to go we did quite a bit of heart searching as to whether we should call the whole lot off, continue as a threesome, or bring in someone new." Fortunately for their fans, they continued as a trio and their fortunes continued to grow.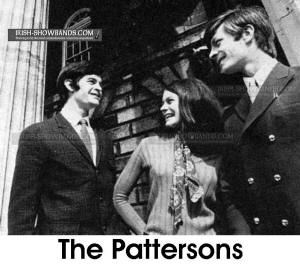 1969 also saw the release of three more singles on CBS, Montego Bay, An Cailin Deas and World Of Love, none of which managed to crack the Irish charts. They also released their second album, The Pattersons Again. After one more album in 1970, I Can Fly, the group switched from CBS to the to the newly formed Mam Records. The new label was formed by Manager Gordon Mills and Tom Jones and featured stars like Engelbert Humperdinck and Gilbert O'Sullivan.
Around this same time (late 1969), they were featured on the legendary Morecambe and Wise TV Show in the UK. Their two appearances were so well received, they were booked to returned for the series' winter run. This lead to concert dates supporting acts like Val Doonican and Rolf Harris, two of the UK's greatest easy listening stars at the time. They toured all over the UK and the continent, but still remained based in their home town of Letterkenny.
Said Christine in a 1970 Spotlight interview, "The fact that we never stay long away from home helps keep our feet firmly on the ground. Getting back to Letterkenny within hours of sampling some of the glamour of London show business is a marvelous way of keeping things in perspective." As their popularity grew, so too did the variety of songs they were singing. Original a strict "folk" act, they were soon singing, folk, pop and ballads. They continued to gain favour with the TV producers at home and abroad.
In July, 1970, the band were featured every week on the RTE series "A Handful of Songs" which also featured Danny Doyle and Anna McGoldrick. The regular spots helped build their reputation as "wholesome" entertainers. At the same time, they had their own series on the BBC, "Patterson People." On one storied Saturday night, they appeared on all three major networks, RTE, UTV and BBC, a rare feat for any entertainer.
In 1970 and 1971, although record success eluded the band, their concert and travel schedule grew more and more hectic. They undertook a tour of the USA and were encouraged to include some original material by their American agent and Irish manager.
The result was several original numbers written by (and with) Christine's husband, Michael O'Dowd. Along with Christine, he also wrote the follow up, If I Were Dreaming. A story in Spotlight in May 1973 credited Christine as having written the song, though she had let it sit after making a great start. Said Christine, "He (Michael) is a prodigious worker and hates to see things left unfinished. Some gentle bullying and a lot of encouragement resulted in me completing If I Were Dreaming."
We can find little information about the Pattersons after this period. In 1973 they seemed to be going gangbusters having appeared in the Albert Hall in London and done several more TV shows on the continent, including the Knokke Television Festival in Belgium.
We are pretty sure If I Were Dreaming was their final single release, although Polydor Records did released another album, The Pattersons At Home, in late 1974. With the release of this, their final album, the band had returned to their folk roots. Many of the songs they recorded were Irish standards like Lagan Love, Carolan's Concerto and Gortnamóna. The Pattersons had come full circle.
It is our understanding that despite numerous offers to reunite the band, they never did so. Sadly, Dorothy passed away in 2009 after a lengthy illness. Billy, Christine and Ronnie are still alive and well and living in Ireland split between Co. Donegal and Co. Galway. They all have several children and have settled back into civilian life.
More to come.....
click on thumbnails for full image
| | | | | |
| --- | --- | --- | --- | --- |
| | | | | |
| Pattersons (LR) | Pattersons-1970 (KS) | Pattersons - 1970 | Pattersons - 1973 | Pattersons - 1970 |
| | | | | |
| Pattersons - 1968 | Pattersons - 1970 | Pattersons - 1970 | Pattersons - 1970 | Pattersons - 1970 |
| | | | | |
| Pattersons - 1969 | Pattersons - 1968 | Coming Soon | Coming Soon | Coming Soon |
Years
Vocals
Guitar/Vocals
Bass/Vocals
Guitar/Vocals
1965
Dorothy
Patterson
Christine
Patterson
Billy
Patterson
Ronnie
Patterson
1969
Christine
Patterson
Billy
Patterson
Ronnie
Patterson
Singles:
Drill Ye Tarriers, Drill / The Hills of Connemara
CBS Records - CBS 3524 - June, 1968
I Don't Want to be a Memory / The World Will Never Turn Again - #2 Irish Charts
CBS Records - CBS 3749 - October, 1968
Montego Bay / My Friends The Sea
CBS Records - CBS 4032 - March, 1969
An Cailin Deas / Don't Answer Me
CBS Records - CBS 4570 - September, 1969
World Of Love / Diddle De Dum
CBS Records - CBS 4642 - November, 1969
I Can Fly /
CBS Records - CBS 5083 - June, 1970
Lord Make Me An Instrument of your Peace / Images of You
Mam Records - Unknown - 1971
William / Slieve na mBan
Polydor Records - 2078 024 - 1972
If I Were Dreaming / Broken Down Gambler
Polydor Records - 2078 028 - April, 1973
Albums:
Travelling People
CBS Records - CBS 63335 - October, 1968
The Pattersons Again
CBS Records - CBS 63532 - June, 1969
I Can Fly
CBS Records - CBS 64064 - 1970
The Pattersons
MAM Records - AS 1007 - 1970
The Pattersons At Home
Polydor Records - 2908 012 - December, 1974
| | | | | |
| --- | --- | --- | --- | --- |
| | | | | |
| Coming Soon | Coming Soon | Coming Soon | Coming Soon | Coming Soon |
Coming Soon
Christine Patterson (O'Dowd): Christine married Dr. Michael O'Dowd and we think retired from performing to raise her family sometime in the mid-to late 70's. She has four children, Katy, Clare, Michael and David and makes her home in Barna, Co. Galway. (Wikipedia)
Billy Patterson: Billy Patterson married Carmel Gallagher and had three children, Aran, Iona and Adam. They now live in Manorcunningham, County Donegal. He also has three daughters from his first marriage Kiera, Jacqueline and Lizzie.(Wikipedia)
Ronnie Patterson: Ronnie Patterson married Rhona Duffy and they have two daughters, Stephanie and Gillian. He retired from RTÉ and now lives near Ramelton, Co. Donegal.(Wikipedia)

Dorothy Patterson (RIP):

Dorothy left the band to raise her family in 1969. She married Bill Orr and they had three children, Tory, Ailsa and Christopher. They resided in Rathmullan before the family moved to Lower Keadue in Burtonport, Co. Donegal. Sadly, Dorothy passed away in St. Vincent's Hospital, Dublin on November 23, 2009. She was only 65 years and had been in ill health. Our sincere sympathies are extended to her family and friends.