Reform Feature (1968 - 1984)
Photo Gallery - Band Lineups - Discography - Audio samples - Where Are They Now?
The Story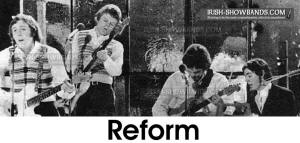 Reform have to be one of the most unique bands that ever played the Irish ballroom circuit: 1) Because for most of their long history, they were only a three piece group. 2) They played the ballroom circuit successfully as a trio and 3) They were not from Dublin (a rarity on the Irish group/rock scene).
Formed in Limerick in early 1968. The original line up featured Don O'Connor (drums, vocals), Noel Casey (bass), Joe Mulcahy (rhythm guitar) and Willie Browne (vocals, lead guitar). Willie had previously played with Limerick's Berwyn Showband. The group's first gig was as part of a concert in what is now the Belltable Arts Centre, it was then known as Amharaclann na Feile. For the band's early history, they handled their own affairs with Don O'Connor responsible for bookings and publicity. In some early outings, the band were billed as "Willie Browne and the Reforms" and sometimes, "The Reforms."
The first mention of the band we can find in Spotlight was in August 1969, when their picture appeared in Pat Egan's Beat column. Though the band was named under the photo, it was not mentioned in the column itself. It would be May, 1970 before they received a mention in Pat's column and he identified them as a "Belfast band." It appears the band may still have been a four piece at this time as the photo shown included the four original members.
As an aside here, it is important to mention that although showbands received good coverage in Spotlight no matter where they originated, rock bands from outside the Dublin scene had a lot tougher time getting a mention, at least in the early days. The insular Dublin scene had enough groups without bringing in rural groups until they became big outside their own home towns. Such was the story with Reform.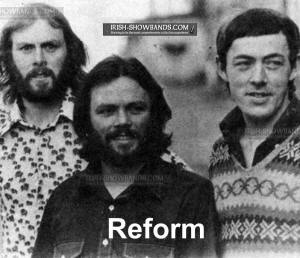 By late 1970, the band had undergone what might be termed a "major change" when bass player Noel Casey left and Joe Mulcahy moved from rhythm guitar to the bass, now making the band a trio. This would be the line-up for the rest of their time together.
We can find little info at this time about the band's early days. We can only assume they toiled away in relative obscurity (from a national perspective) continuing to hone their skills and build a following around their native Limerick and the Southwest. However, in November, 1971, Pat Egan stated in his column that the band was "Ireland's most popular pop rock band. In every dancing venue outside of the ballroom circuit, the Limerick band are the biggest draw. Having checked ten country venues about who were the most popular group for dancing, the Reform came out on top."
In 1972, they received the honour of being only the second Irish group (after Alyce) to be featured on the prestigious "Ken's Klub" radio programme on RTE (hosted by Ken Stewart). The programme usually featured showbands who came into the studio and performed 4-6 songs "live" for later broadcast. It was unique in that it was as "live" as most bands were ever heard (other than seeing them in person).
They also decided to get a manager as the work of getting bookings, touring and writing and recording became too much for them to handle themselves. Enter manager Oliver Barry, whose organisation also looked after the Freshmen and the Wolfe Tones. The band was playing a mixture of all music genres including pop, progressive reggae, and some traditional Irish tunes. It also appeared the band was ready to release their first single. Pat Egan reported in February that their debut single might be a reggae version of Buddy Holly's Learning the Game, as he had heard some of their demo tapes. But this not to be.
In February, the group performed their own composition, I'm Gonna Get You in the Originality Spot on the RTE television programme "Spin Off." The song overcame stiff competition from artists such as The Times and The Others to be voted number one. I'm Gonna Get You was released on CBS's Young Blood label in August of 1973, and was produced by Billy Brown of the Freshmen, stable mates under manager Oliver Barry. Although they had signed a five year deal with CBS, in an interview, they admitted they weren't that happy with the single, but thought it might do well sales-wise.
By the time they released their first single, the band had been on the road long enough to be supremely confident about their music and their reputation. Said Don in a Spotlight interview in September, "We're a good time band and by that I mean we play music to give people a good time whether dancing or just listening." Added bassist Joe, "Take into account that we have had no record, very little publicity and only one major concert gig with Focus. There's not a hall in the country where you could say we played bad gigs."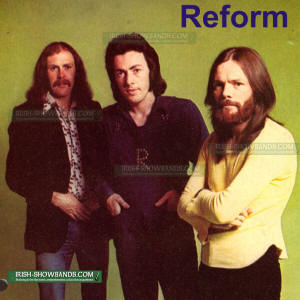 "Not only that," added Willie, "we're walking a musician tightrope in that we don't play any chart numbers yet still manage to have people shouting for more." Concluded Don, "We're a commercial rock band and have proved we can hold our own with even the best visiting British bands." Strong words for a three piece group from Limerick at the time. Their confidence was well founded as their single made the Irish charts, rising to number 12 and barely missing a top ten spot, a rarity for an Irish rock group outside of another trio, Thin Lizzy.
In April, 1974 the band released their second single, One For The Boys, which despite a major publicity campaign, did not follow its predecessor into the charts. Later that year, the band caused some controversy when leader Don O'Connor was featured in Spotlight complaining to the weekly entertainment magazine that their "rock" coverage was heavily influenced by a non existent Dublin rock scene. "We are faced each week," wrote Don, "with this stuff about the break-up of some previously unheard of rock group or a write-up on some Cat's Pyjamas or others who haven't got the price of a van." Meanwhile, rural working bands like Reform were totally ignored (full article below).
In 1978, Reform performed their own composition, "You Gotta' Get Up", in the National Song Contest but were pipped by Colm Wilkinson performing "Born To Sing". Colm went on to represent Ireland in that year's Eurovision Song Contest. The band's recording of the song made the Irish Top ten peaking at number 3. At the time, still an unusual feat for an Irish rock Band, especially one based outside of Dublin.
To mark the 25th Anniversary of Buddy Holly's death in 1984, the group were invited by the Limerick Rock 'n' Roll Club to top the bill at their Buddy Holly Convention. To honour the memory of Buddy Holly the group recorded a medley of Holly's tunes. This recording was never issued commercially.
Reform played their final gig on August 31, 1984 at the CYMS Hall, Killorglin, Co. Kerry.
Our thanks to the late Eddie Kelly for his help with the information in this article.
More to come.....
click on thumbnails for full image
| | | | | |
| --- | --- | --- | --- | --- |
| | | | | |
| Reform - 1969 | Reform - 1969 | Reform - 1970 | Reform - 1973 (LR) | Reform - 1973 |
| | | | | |
| Reform - 1973 | Reform - 1973 | Reform - 1973 | Reform - 1973 | Reform - 1973 |
| | | | | |
| Reform - 1973 | Reform - 1973 | Reform - 1974 | Spotlight, 1974 | Reform - 1974 |
| | | | | |
| Reform - 1974 | Reform | A - Reform - 1979 | B - Reform - 1979 | Show of Hands - 1981 |
| | | | | |
| 1973 | Coming Soon | Coming Soon | Coming Soon | Coming Soon |
Years
Guitar
Bass
Drums
Guitar
1968-1970
Willie
Browne
Noel
Casey
Don
O'Connor
Joe
Mulcahy
1970-1984
Willie
Browne
Joe
Mulcahy
Don
O'Connor
Discography (supplied by the late Eddie Kelly)
Singles:
I'm Gonna Get You / Story of My Life - #12 Irish Charts
Young Blood/CBS Records - YB 1054 - August, 1973
One For The Boys / Salt Away
Young Blood/CBS Records - YB 1066 - 1974
Gotta' Get You Into My LIfe / Matty Groves
Dolphin Records - DOS 131 - 1975
Keep Music Live / Tell Him So
CBS Records - CBS 5191 - 1977
You Gotta' Get Up / Brainwashed - #3 Irish Charts
CBS Records - CBS 6326 - 1978
Tail of the Dog / It's For You
CBS Records - CBS 7877 - 1979
Show of Hands / Man of the World
CBS Records - CBS 1253 - 1981
Million Dollar Man (I Wish I Was) / On My Way Back Home
Little Black Records - LBS 002 - 1983
Album:
One For All
CBS Records - CBS 83668 - 1979

| | |
| --- | --- |
| | Don O'Connor: After the break up of Reform, Don formed his current group, Don O'Connor's Celtic Fusion, which has travelled the world. Recently, they toured in Africa (where the photo left was taken) and have appeared at festivals in Switzerland and Germany, as well as in Ireland. Over the past couple of years Don has been involved in a compositional and performance capacity with a European Cultural Outreach Programme. |
| | Joe Mulcahy: |
| | Willie Browne: |
| | Noel Casey: |