Susan McCann Feature ()
Photo Gallery - Band Lineups - Discography - Audio samples - Where Are They Now?
The Story
Susan McCann first came to the attention of Ireland's entertainment scene with her first hit single, "Big Tom Is Still The King." Although the record was more of a gimmick (aimed at the reigning King of Country and Irish at the time) it caught on and topped the Irish charts in 1977, establishing Susan as an artist whose time had come.
Prior to bursting onto the Irish scene, Susan and husband, Dennis Heaney had a three piece group that played the local pubs and cabaret spots around her home in Newry, Co. Down. The success of the single led to the formation of her band, The Storytellers.
In 1979, Susan was invited to perform at the Royal Albert Hall in London. She rose to the occasion thrilling 4,000 fans in Britain's most prestigious concert venue. 1980 was the year Susan went to Nashville to record an LP at Porter Wagoner's studios. The sessions so impressed Porter that he asked he to appear with him at The Grand Ole Opry and on his TV program!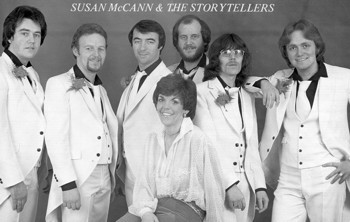 1980 was also the year Susan made her first appearance at the famous Wembley International Festival of Country Music. She appeared with country music idols, Tammy Wynette, Crystal Gayle and Emmylou Harris, among others. Susan's subsequent appearances at the Wembley Festival were in 1981, 1985, 1989 and 1991.

This was followed up with appearances in Germany, Holland and more of continental Europe. Meanwhile back at home, the album, Susan McCann in Nashville, was racking up the sales, consolidating her position as one of Ireland foremost country music stars. In fact, in 1979, Susan received a Gold Record for sales exceeding 100,000 copies. (Click on picture at right)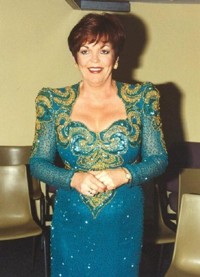 Her acceptance as an international star was well proven in 1982 when she won two major awards in Europe and the USA. She won the European Gold Star Award beating off competition from a dozen or so other European countries. Later that year, Susan won the top international female accolade presented by the International Country & Western Music Association at its awards presentation in Fort Worth in Texas. Susan repeated this success the following year.
In 1990 she signed a recording contract with top British label Prism Leisure and she has had a string of best selling albums, videos and singles on that label since then. Then, in 1995 Susan teamed up with popular Irish singer Sean Wilson and they have had many highly successful UK tours. Their album "King and Queen of Irish Country Music" attracted a gold disc for sales in excess of 250,000.
Today, Susan still packs them in with her brand of down home country. Her latest release in called Let's Go To Vegas, and she currently tours top cabaret venues in Ireland, England, and beyond. To learn more about what Susan is up to these days, you can visit her website at http://www.susanmccann.com. After 27 years, Susan continues to prove herself as one of Ireland's most enduring and talented country superstars.
More to come.....
click on thumbnails for full image
| | | | | |
| --- | --- | --- | --- | --- |
| | | | | |
| Susan McCann | Susan McCann (RF) | Susan McCann (RF) | Susan McCann (RF) | Susan McCann (RF) |
| | | | | |
| Susan McCann (RF) | Coming Soon | Coming Soon | Coming Soon | Coming Soon |
| | | | | | | | |
| --- | --- | --- | --- | --- | --- | --- | --- |
| Years | Vocals | Guitar | Bass | Drums | Keyboards | Sax | Trumpet |
| | | | | | | | |
| | | | | | | | |
| | | | | | | | |
| | | | | | | | |
Singles:
Santa and the Kids
Top Spin Records - 1977
Big Tom Is Still The King - #1 Irish Charts
Top Spin records - April, 1977
Hi Fi to Cry By
Fortune records - November, 1978
Seeing Is Believing
Top Spin records - October, 1979
Someone Is Looking For Someone Like You
Top Spin Records - February, 1980
Rockabilly Can Rock - #20 Irish Charts
Top Spin Records - TSS 150 - May, 1982
When I Was Making Love To You - #18 Irish Charts
Top Spin Records - October, 1982
When The Sun Says Goodbye to the Mountain - #3 Irish Charts
Top Spin Records - March, 1983
The Blossom Will Flower - #18 Irish Charts
Homespun Records - June, 1985
Fantasize My Freedom - #15 Irish Charts
Music City Records - June, 1986
Old Dublin In My Tears - #14 Irish Charts
Music Box Records - April, 1988
Give Me More Time - #13 Irish Charts
Music Box Records - October, 1988
Thank God For Kids - #30 Irish Charts
Music Box Records - December, 1988
Broken Speed of the Sound of Loneliness - #16 Irish Charts
MBS Records - July, 1989
String of Diamonds - #27 Irish Charts
Play Records - July, 1991
Albums:
Santa And The Kids
Top Spin Records - 1978
Down River Road
Top Spin Records - 1979
Good N' Country
Top Spin Records - 1979
Susan McCann In Nashville
Top Spin SSLP 501 - 1980)
| | | | | |
| --- | --- | --- | --- | --- |
| | | | | |
| Coming Soon | Coming Soon | Coming Soon | Coming Soon | Coming Soon |
Coming Soon
| | |
| --- | --- |
| | Band Member: |
| | Band Member: |
| | Band Member: |
| | Band Member: |
| | Band Member: |
| | Band Member: |