St. Mary's Ceili Bandshow (1964-1967)
Photo Gallery - Band Lineups - Discography - Audio samples - Where Are They Now?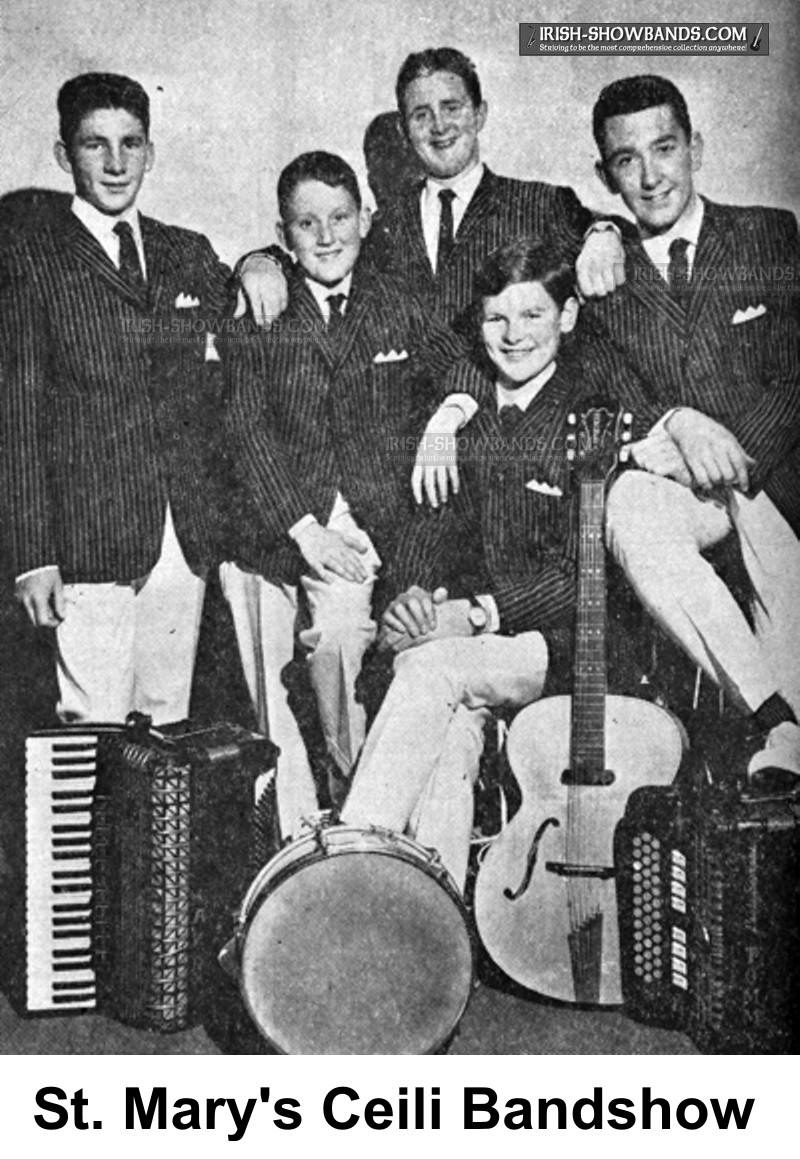 The Story
In the early 1960's this band was formed by students from St. Mary's National School. The one constant in the band would be Tommy Higgins, bandleader and compere who played accordion and drums. The first incarnation of the band (shown at right in 1965) included Andy Healy (then 17 on harmonica, accordion and guitar), Padraig McManus (then 16 on sax, clarinet and piccolo), John Bray (then 15 on drums), Ray Wickham (the old man of the group was 19 and played guitar) and finally Tommy who was 18.
The band got their start when they were asked in June of 1964 to play a five hour dance session in the Hangar Ballroom in Salthill, Galway. Their success there prompted them to go for the bright lights of Dublin and after an audition with Ray Allen, owner of the famous Irish Club, they landed a gig in the nation's capitol.
The band went from strength to strength and in late 1966 they made the decision which faced all bands in Ireland, whether or not to turn pro. Doing so created several changes to the band's original lineup. Said sax player Padfriag in 1966, "We felt more drive was needed in the rhythm section so we signed up bass guitarist Sam Devins." Shortly after, drummer John Bray left to pursue a college scholarship in Galway and Bernie Fallon came in on drums. The fonal addition was local singer Padraic Fox on guitar and vocals expanding the band to a six piece. Andy Healy also switched to organ. The band struck out on the pro circuit up against the likes of the Royal Showband and Miami.
A couple of years later, the band would call it quits as Tommy and Bernie teamed with singer Pat Ely in the Smokey Mountain Ramblers
More to come.....
click on thumbnails for full image
| | | | | |
| --- | --- | --- | --- | --- |
| | | | | |
| St. Mary's Ceili - 64 (RF) | St. Mary's Ceili - 1964 | St. Mary's Ceili (RF) | St. Mary's Ceili (RF) | St. Mary's Ceili - 1966 |
| | | | | |
| St. Mary's Ceili - '66 (TH) | Coming Soon | Coming Soon | Coming Soon | Coming Soon |
Years
Vocals
Guitar
Guitar/Bass
Drums
Keyboards
Sax
Vocals
1964
Ray
Wickham
Andy
Healy
John
Bray
Tommy
Higgins
Padraig
McManus
1966
Padraic
Fox
Ray
Wickham
Sam
Devins
Bernie
Fallon
Tommy
Higgins
Padraig
McManus
1966
Padraic
Fox
Tony
O'Donnell
Sam
Devins
Bernie
Fallon
Tommy
Higgins
Padraig
McManus
Mickey (temp)
Feeney
S - #3 Irish Charts
M
| | | | | |
| --- | --- | --- | --- | --- |
| | | | | |
| Coming Soon | Coming Soon | Coming Soon | Coming Soon | Coming Soon |
Coming Soon
Tommy Higgins: Founding member of the band, Tommy went on to also feature in the legendary Smokey Mountain Ramblers and Rocky Tops in the late sixties and early 70's. After leaving the Rocky Tops, Tommy opened a record store in Sligo, followed by a shop in Galway called Star Records. He eventually sold the stores and concentrated on his business as an agent for Ticketmaster. He eventually took over the running of Ticketmaster Europe, from which he recently retired. He still lives in Rosses Point, Co. Sligo and was part of the 2012 Smokeys reunion tour.
Andy Healy: Unknown
Sam Devins: Unknown
Padraig McManus: Unknown

Bernie Fallon - RIP

: Bernie stayed with Tommy through the Smokeys years and after leaving the Smokeys originally, he played with George Kaye, ending up in George's Bluegrass Roadshow playing upright bass. With the demise of that band, he rejoined Pat Ely (along with George) in the newly formed Rocky Tops which brought together the original Smokey Mountain Ramblers again. In later years, he returned to his native Sligo where he played the pub scene for many years with local groups. He retired from performing in the 1980's and sadly passed away in 2008.
Tony O'Donnell: One of the best know guitarists around Sligo in the late 60's and early 70's, Tony had previously been in the Stylos Showband and ended up joining Dee Leydon and the Powermen in the early 70's. Following the demise of that band, he joined with his siblings to play in the O'Donnell Family band for a few years around the Northwest before retiring from the music scene. For the past 20 years he has run his own electrical repair and maintenance business in Sligo.
Ray Wickham: Unknown
John Bray: Unknown