Taste Feature (1967-1970)
Photo Gallery - Band Lineups - Discography - Audio samples - Where Are They Now?
The Story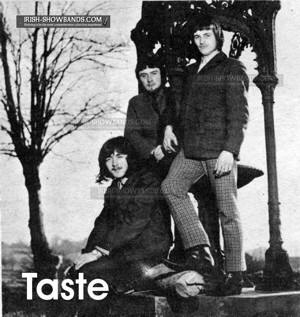 There is little that can be said or written about Rory Gallagher, arguably the greatest guitarist Ireland has ever produced, which hasn't been covered elsewhere, in more depth. On this page, we will limit our discussion to his career as part of the showband era and Irish rock groups, but he spent such a short time in the ballrooms it will be a short feature.
Rory was born in Ballyshannon, Co. Donegal, but the Gallagher family moved to Derry the following year and on to Cork when he was only seven. He started playing very young and by the age of twelve, Rory won a local talent contest, taking the money and putting a down payment on his first electric guitar, a Rosette, Solid Seven. He would still owe £25 which would not be paid off for four years.
In 1963, Rory got a job with his first showband, the Fontana Showband. Shortly after joining the band, he purchased the 1961 Stratocaster which he would play until he passed away in 1995. Rory's brother, Donal, tells the story of Rory purchasing the guitar in a great article at the website www.roryon.com. If you are interested in reading the story, please follow this link: http://www.roryon.com/fenderstrat254.html. Originally owned by Jim Conlon of the Royal Showband, the guitar was traded in for a red Strat which would better match the Royal's new uniforms (or so the legend goes) and match Hank Marvin's signature red Strat. One way or another, the guitar became Rory's trademark and a symbol of the hard working musician whose hard driving career was reflected in ever scratch and dent on his trusty axe.
The Fontana was a regional showband at the time, playing mostly from Cork to Limerick. The band's lineup was: Bernie Tobin (trombone), his brother Oliver Tobin (bass), Rory (lead), John Lehane (sax), Eamon O'Sullivan (drums) and Declan O'Keefe (rhythm). In 1964, the Fontana headed of to England as all showbands did during Lent and Rory got a taste of the London scene.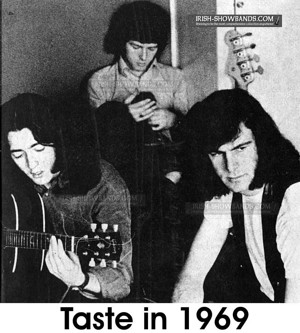 The Fontana decided to change their name to the Impact Showband in 1965. They added Michael Lehane on keyboards and John Campbell replaced Eamon on drums. As Rory started to establish himself as one of the country's premier guitarists, the band incorporated more blues and rock n' roll into their programme. The same year, they performed on RTE's Pickin' The Pops.
With their new blues and rock programme, the Impact went to London and played extensively at the US air bases across Europe. However, before the end of the year they split and Rory, Johnny Campbell and Oliver Tobin went on to Germany to play the Hamburg clubs. In 1966, Rory returned to Cork and formed the first Taste, a trio featuring Eric Kitteringham on bass and Norman Damery on drums. The band lasted only a couple of years, spending an increasing amount of time in the UK.
In 1968, Rory formed his second Taste which featured John Wilson on Drums and Richard McCracken on bass. In an article in Spotlight, it was stated that even then, Rory was unsure whether he would retain the name "Taste", which he eventually did. This lineup would move to London and enjoy success touring the US and Canada, playing support to major acts and releasing two albums, Taste and On The Boards. In 1970, Taste performed at the Isle of Wight Festival.
In October, 1970, Rory and Taste came home to Ireland for a short tour. They played a series of gigs around the country ending up in Belfast at the Queen's University Hall prior to which Rory announced it would be their last gig. According to drummer John Wilson in an article in the Spotlight issue of October 23, 1970, the split in the band was over money. According to the article, written by Donal Corvin, Rory wanted to put the two boys on wages while he took the lion's share of earnings. Said John, "after playing together for so long and looking back on the days when we were paid only 12 pounds a show, Richard and I were very hurt by this suggestion."
In the aftermath of the split, of course Rory went on to even greater international fame with his own band which he formed with Wilgar Campbell and Gerry McAvoy. In the meantime, McCracken and Wilson formed the band, Stud, which released three albums but only lasted for about eighteen months.
More to come.....
click on thumbnails for full image
| | | | | |
| --- | --- | --- | --- | --- |
| | | | | |
| Taste - 1967 | Rory - 1967 | Taste - 1968 | Young Rory - 1968 | Rory - 1968 |
| | | | | |
| Taste - 1969 | Taste - 1969 | Taste - 1970 | Taste - 1970 | Taste - 1970 |
| | | | | |
| Taste - 1970 | Taste - 1970 | Taste - 1970 | Taste - 1970 | Taste - 1970 |
| | | | | |
| Taste - 1970 | Taste - 1970 | Taste - 1970 | Rory - 1970 | Taste - 1970 |
| | | | | |
| Taste - 1970 | Taste (RF) | Taste (RF) | Taste (RF) | Wilgar Campbell (JK) |
| | | | | |
| Coming Soon | Coming Soon | Coming Soon | Coming Soon | Coming Soon |
Years
Guitar/Vocals
Bass
Drums
1967
Rory
Gallagher
Eric
Kitteringham
Norman
Damery
1968
Rory
Gallagher
Richard
McCracken
John
Wilson
1970
Rory
Gallagher
Gerry
McAvoy
Wilgar
Campbell
Taste
Blister On The Moon / Born on the Wrong Side of Time (Single)
Major Minor Records - Unknown - 1968
Born On The Wrong Side of Time / Same Old Story (Single)
Polydor Records - 56313 - 1970
Taste (Album)
Polydor Records - 583-042 - 1970
On The Boards (Album)
Polydor Records - 583-083 - 1970
Live Taste (Album)
Polydor Records - 2310-082 - 1970
What's Going On / Railway and Gun (Single)
Polydor Records - 2058-008
Coming Soon
Rory Gallagher - RIP

: Of course, after Taste, Rory went on to be one of the greatest blues guitarists arguably in the world and definitely in Europe. From humble beginnings in an Irish showband, Rory blazed a trail across Ireland's musical landscape and has been cited by many international musicians as inspirational. Of course, countless showbands were also influenced as young guitarists (including myself) learned their craft listening to his licks over and over again. Sadly Rory's hard living lifestyle caught up with him and he died after undergoing a liver transplant of a staph infection on June 14, 1995. His stamp on the world and especially Irish pop and rock music is undeniable.
Eric Kitteringham:
Norman Damery:
Richard McCracken:
John Wilson:
Gerry McAvoy: Gerry ended up playing with Rory for twenty years. In 1991, with Rory's health having deteriorated to the point where he had all but given up touring and recording, Gerry reluctantly left the band to help reform English R&B legends Nine Below Zero, with whom he has recorded nine successful albums. Nine Below Zero continue to tour Europe almost incessantly and remain one of the UK's hardest working bands. Today, Gerry plays with the band he created called Band of Friends - an informal reunion of ex-Rory Gallagher band members play tribute concerts and festivals all over Europe.

Wilgar Campbell - RIP

: After he left Gallagher, Campbell played with Terraplane, and then formed The Wildcats. In 1976 he joined the 1950s-style rock and roll band Yakety Yak, with whom he stayed until 1980. In 1981 several members of Yakety Yak, including Campbell, formed another 1950s-style band called the Dragons, who subsequently changed their name to Sonny King & the Sons of Swing in 1982. Campbell continued to play with them till 1987. Wilgar sadly died on October 1, 1989 after suffering from alcohol-related illnesses.