All About Teddie Palmer (stage career 1962-1985)
Photo Gallery - Band Lineups - Discography - Audio samples - Where Are They Now?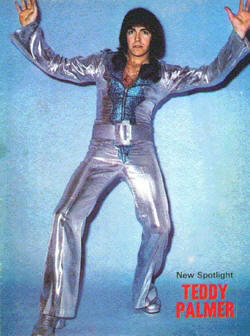 The Story
The early seventies were a turbulent time in music as rock and roll began mutating in a thousand different directions. Musicians experimented with a variety of new genres, from the country rock of the Eagles to the "glam rock" of David Bowie, Queen, and Gary Glitter. Teddie Palmer and his Rumble Band emerged from Northern Ireland around this time to become Ireland's own masters of glam rock.
But Teddie's story started many years earlier when he began his career playing the clubs in Belfast. It was 1962, and the Beatles were still unheard of when Teddie formed his first trio, The Beathavens. They just played locally doing gigs like the Youth Guild Panto. Never really getting anywhere, Teddie soon left the trio and moved onto his first "real" group, The Spectres.
The Spectres didn't take long to make a splash and released a single, The Facts of Life, recorded for The Queen's University Rag Day to raise money for charity. Teddie penned the lyrics to the song and the single was a local classic. It is now valued at £280 according to the "Rare Record Collector." Over the next few years, Teddie would struggle to find himself musically, rarely staying long with any one band.
The Spectres broke up in 1966 with lead guitarist, John Bell, going his own way forming a three piece combo which he still called The Spectres. Meanwhile, Teddie and the rest of the band found a new guitarist, Dave Storey, and called themselves The Exiles.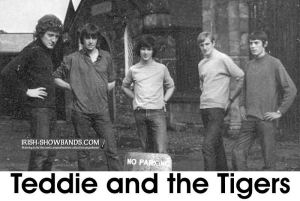 In 1966, Teddie went pro and formed Teddie and the Tigers, a pop group that played everything from the Beatles to Hendrix and featured guitarist Tiger Taylor, who would later become a key member of the Freshmen. Tiger had previously been a member of Northern group The Banshees (featuring Dinky O'Day), who went on to become The Sinners, as well as Sam Mahood and Just Five prior to joining Teddie. The band built up a great following in Belfast, but rarely ventured outside the city limits in those early years. Teddie and the Tigers released a single, First Love Never Dies b/w Hold On, I'm Coming.
During this period, the group scene in Belfast was exploding with local groups competing for the "top spot" on the club scene. Teddie and the Tigers were regularly compared to Van Morrison's famous group, Them and, in fact, beat them out, being named the top group in one poll. Although the scene was vibrant and drew a lot of attention, the bands were not getting paid with £25 being the average fee for a rock group in those days.
However, before long, Teddie and the band split up, Tiger joining the Freshmen and Teddie joining his first real "showband," The College Boys based in Belfast in November, 1967. The College Boys made a bit of a splash and released the single, Simon Says, but Teddie was soon on the move again.
In November, 1968, Teddie left The College Boys and formed his own band, the Teddie Palmer Trend. In a Spotlight interview at the time, he said he had only been singing 1/3 of the songs with the band and got bored standing around. The five piece band was one of the first groups in Ireland without brass to play showband gigs (as opposed to groups who formerly played in ballrooms on special 'group' nights, usually mid weeks). Chips later became the first non-brass group to conquer the national ballroom circuit in Ireland, and as Teddie says, "we only scratched the surface." The Trend released a single, Stay With Me Baby on Dolphin Records. However, the group's name was short lived (late '68-early '69) as the Musicians Union in Belfast had allowed Teddie to register the name, not knowing the Derry branch had already registered Peter Boy and the Trend in Derry. Teddie was forced to change the group's name, but he also added two sax players (Hugo Andrews and James McCorristan) bringing the band from five to seven members and made the big jump from being a group to a showband, and The Rumble Band was born.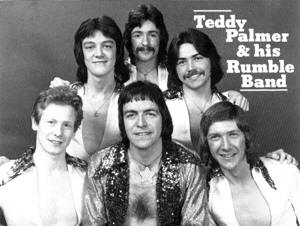 It was October 3, 1969 when The Rumble Band hit the road with their first gig in the Embassy Ballroom, Derry--coincidentally the home town of the previously mentioned Trend. The move also jump started Teddie's career "outside" Northern Ireland. The band played pop and good old rock and roll and made great inroads in Dublin, playing in the Television Club, 5 Club, and numerous other prestigious gigs. On September 3, 1970, the band took part in a bit of Irish music history when they appeared at the Dublin Music Festival held at Richmond Park. On the same bill that day were: Mungo Jerry, Granny's Intentions, White Magic, Thin Lizzy, Blues House, Gypsy, Portrait, and Teddie Palmer and the Rumble Band.
Although things were going well, Teddie still wasn't satisfied with his success in the South and in 1972, he signed with new manager, Peter Bardon, who in October 1970 had purchased Thin Lizzy's management in a deal for £150 along with Brian Tuite from Terry O'Neill. Peter suggested a new "glam rock" look for the Rumble Band and once Teddie and the boys donned their glitter suits, they became an instant hit across the country. In early 1972, guitarist Billy McCoy left to join Lyttle People and was replaced by Victor McCullough who had previously been with The Dreams. In August, 1972, Billy would leave Lyttle People and return to the band for a short while.
Teddie's next single, Teddy Bear, was released in several countries and the Rumble Band not only played in Ireland, but traveled to Canada as well to play the Maple Leaf Ballroom in Toronto. Within months, the band's LP, also called Teddy Bear, was released in Ireland, Canada and the U.S. by Polydor records. Soon after another single, Hell Of A Fuss On The Late Night Bus was in the shops.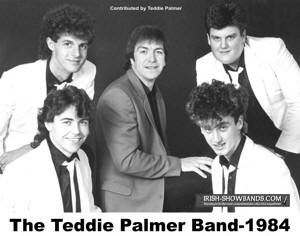 Although neither single made a dent in the charts, they did introduce Teddie and the band to a new audience in the South. In fact, his next three singles all entered the Irish Charts, giving Teddie his only "hits" in the South. Endless Sleep, released in 1976 became Teddie's biggest hit, topping out at Number 10 in the Irish Charts.
Over the next few years, Teddie and the Rumble Band went from strength to strength and reached their peak in terms of popularity. However, by the late 1970's the era of glam rock had ended and Teddie changed once again. This time, he dropped the Rumble Band name and played as The Teddy Palmer Band.
In 1978, Teddy released his second album, a solo effort titled simply, "Teddie." Produced by Bill Whelan, who later went on to world fame as the composer of Riverdance. Bill also played piano on the album and did all the arrangements. He used his Trend Studios house band, and then in the final takes, history repeated itself, as Teddie's former bandmate, Tiger Taylor was brought in to add some rockin' feel to most of the numbers, playing rhythm and lead on most of the tracks.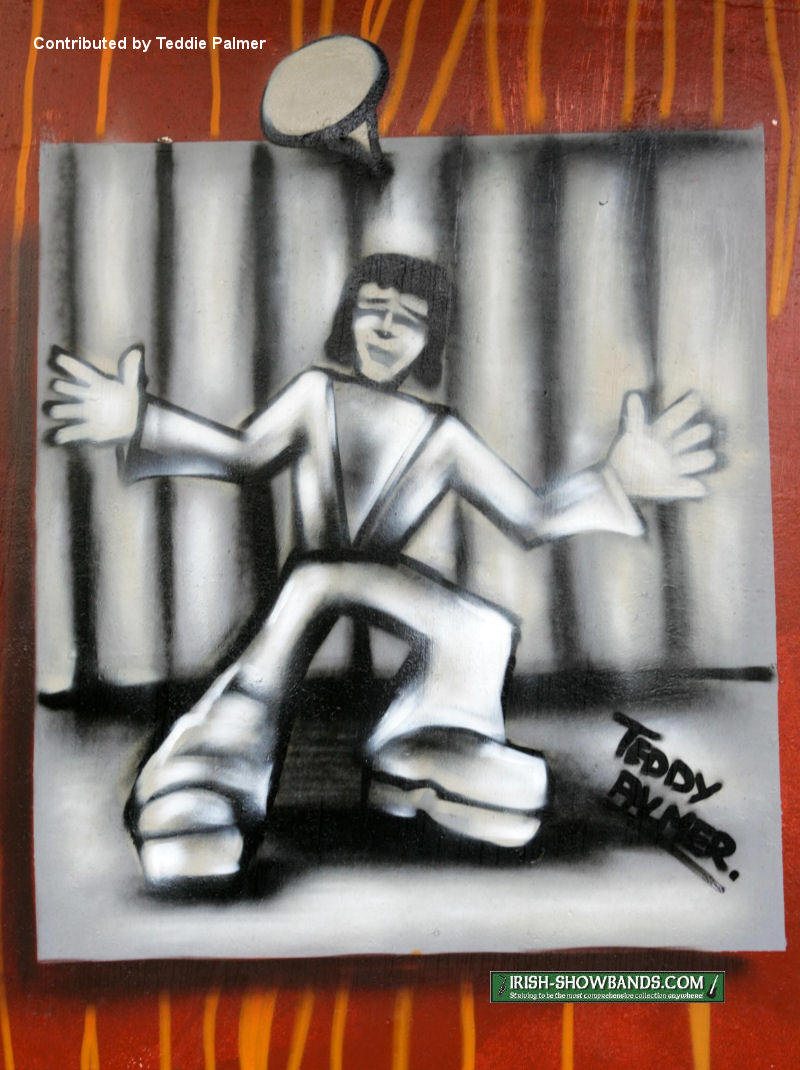 In 1985, after over 20 years on the road, Teddie hung up his microphone for good and retired from performing, but he didn't leave the entertainment industry. In fact, he replaced himself with lead singer Gina Dee and the band continued to play under the name, The Teddie Palmer Band featuring Gina Dee.
The TP Band would play for another 13 years, before calling it quits in 1999. The band was initially fronted by Gina Dee, who was replaced around 1986 by Janet Ryan, who would play with the band for five years. Other members included David Maguire (drums), Trisha Boyd (vocals), Colin Maguire (guitar), Dee McQuillen (bass), and Mickey McGreevy (keyboards).
Today, Teddie runs Entertainments Unlimited and manages the fortunes of a new generation of entertainers in Ireland and abroad. You can visit his site at www.ents-unltd.com to see more about what Teddie is up to these days.
In 2001, Teddie was invited, along with a host of other Irish entertainers from the era, to a special presentation in Dublin where President McAlese hosted a reception at the Aras an Uachtarain to thank them for their contributions to Ireland's musical history. Click here to see story: Part 1 Part 2. These days, Teddie splits his time between England and Spain where he has homes. He also visits Ireland frequently. On the right is a photo of artwork recently commissioned by Larne County Council to decorate pillars on a flyover in the town. Only two showband artists are featured: Billy Brown and Teddie.
click on thumbnails to see full size images and additional info
Newspaper Articles & Miscellaneous 1965-1984
Vocals
Vocals
Guitar
Bass
Drums
Keyboards
Sax
Sax
1963
Beathavens
Teddie
Palmer
Jim
Gibb
Davy
Simpson
Bertie (Gtr)
Gillieland
1965
Exiles
Teddie
Palmer
David
Storey
Ivan
Pepper
John
Smyth
Ronnie
Morris
Albert (Gtr)
Mackenzie
1966
Tigers
Teddie
Palmer
Tiger
Taylor
Ivan
Pepper
Tommy
McKernin
Willie
Crawford
1967
College Boys
Teddie
Palmer
Gerry
Martin
Wills
McKinney
Lindsay
Luney
Ronnie
Parks
Joe (trmpt)
Campbell
Joe (trmbn)
McGreavey
1968
Trend
Teddie
Palmer
Billy
Burns
Ray
McCullough
Brian
Scott
Ronnie
Morris
1969
Rumble Band
Teddie
Palmer
Billy
Burns
Ray
McCullough
Brian
Scott
Ronnie
Morris
Hugo
Andrews
James
McCorristan
1972

Teddie
Palmer
Billy
McCoy
Ray
McCullough
Ronnie
Kelly
Ronnie
Morris
Denis
Stanley
1972

Teddie
Palmer
Victor
McCullough
Ray
McCullough
Ronnie
Kelly
Ronnie
Morris
Denis
Stanley
Aug.
1972
Teddie
Palmer
Billy
McCoy
Ray
McCullough
Ronnie
Kelly
Ronnie
Morris
Denis
Stanley
1973
Teddie
Palmer
Paul
Creaney
Brian
Wallace
Ronnie
Kelly
John
Mason
Denis
Stanley
1975
Teddie
Palmer
Paul
Creaney
Brian
Wallace
Kevin
McKeown
Denis
Woods
Tom
Moore
1979
Teddie
Palmer
Paul
Creaney
Ray
Murray
Kevin
McKeown
Bob
Wilson
Tom
Moore
1981
Band
Teddie
Palmer
Desi
Hughes
Desi
McDonald
Terry
McKeown
David
McIntyre
Tom
Moore
1983
Teddie
Palmer
Colin
Maguire
David
Simpson
Phillip
Simpson
Tom
Moore
1984
Teddie
Palmer
Colin
Maguire
Ray
Murray
David
Maguire
Tom
Moore
1985
T.P. Band
Gina
Dee
Colin
Maguire
Dee
McQuillen
David
Maguire
Tom
Moore
1987
Janet
Ryan
Colin
Maguire
Dee
McQuillen
David
Maguire
Mickey
McGreevy
Trisha Boyd
- dancer
Singles:
The Facts of Life / Whirlpool (The Rag Record) - The Spectres
UED Label - 1965 (UED-Ulster Electronic Developments)
First Love Never Dies / Hold On, I'm Coming - Teddie & The Tigers
Spin Records - SP 2004 - 1967
Simon Says / White Cliffs Of Dover - College Boys
Dolphin Records - DOS.3 - 1968
Stay with me Baby / Good Times - Teddie Palmer Trend
Dolphin Records - DOS.27 - 1969
Maybe We Can Get It Together / High School Confidential - Rumble Band
Dolphin Records - DOS.70 - 1970
Only You/Love Me Tender/First Love Never Dies (Maxi Single-EP) - 1971 - Rumble Band
R & O Label (Release and Outlet) - RO.1014 - 1972
Hound Dog/Mean Woman Blues/Great Balls of Fire/One Night With You - Tremblin' Ted & The Rockers
R & O Label (Release and Outlet) - RO.101 - 1973
Teddy Bear / Strangers Talk - Rumble Band
Polydor Records - 2078 042 - 1974
Hell Of A Fuss / There's A Place - Rumble Band
Polydor Records - 2078 045 - 1974
Is Everybody Happy / All Roads - Rumble Band - #15 Irish Charts
Polydor Records - 2078 056 - May, 1975
Summer Love / My Way of Living - Rumble Band - #17 Irish Charts
Polydor Records - 2078 060 - July, 1975
Blue Christmas / Telephone Girl - Rumble Band
Polydor Records - 2078 064 - November, 1975
Endless Sleep / My Love Song - Teddie Palmer - #10 Irish Charts
TAP Records - TAP 001 - May, 1976
World Without Love / Burning Bridges - Teddie Palmer
TAP Records - TAP 004 - 1976
Boogie Woogie Man / It's Alright Now - Teddie Palmer Band
ID Records - IDSS 028 - 1979
You Got Love / Play My Love Song - Teddie Palmer Band
ID Records - IDSS 024 - 1980 (also featured Tiger Taylor and Anne Mooney--a.k.a. Lola)
You Don't Know What You've Got / What Love Means - Teddie Palmer Band
Sine Records - SSN1001 - 1980 (recorded live in Flamingo Ballroom, Ballymena)
It's Late / Runaround Sue - Teddie Palmer Band
Sine Records - SSN1002 - 1980
Nobody Loves Like an Irishman / First Love Never Dies - Teddie Palmer Band
Mint Records - CHEW 75 - 1982 (rearranged after 18 years)
The Purple People Eater / The Golden Girl - Teddie Palmer Band
Sine Records - SSN1003 - 1982
Someone / Rock n' Roll Express - Teddie Palmer Band
Sine Records - SSN1004 - 1982
Fool's Paradise / The Magic Child - Teddie Palmer Band
Sine Records - SSN1014 - 1983
[an obscure Buddy Holly number suggested by Eddie Kelly of Longford (president of The Friends of Holly) who liked 'You've Got Love'. The record was dedicated to the 25th Anniversary of Buddy's death.]





Click on an image for full picture
Albums:


Teddy Bear - Teddy Palmer and the Rumble band
(Polydor 2908 016)-1974
(Released in 17 countries, and some tracks featured in the film 'Confessions of a Pop Performer',
note Teddie's name spelled incorrectly. )


Teddie - Teddie Palmer
(ID Records IDLP2014) - 1978
(Finally got his name right!)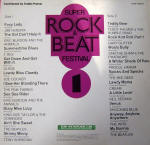 Teddy Bear included on this German compilation of 80's Rock and Beat music.
(The album also features tracks by Jimmy Hendrix, The Animals, T-Rex and Slade,
putting Teddie in some pretty good company!)
Our thanks to Teddie Palmer for assistance with the following info.
Teddie Palmer: Teddie retired from the road in the mid 80's, although the band kept going as the TP Band. Teddie moved into management. Today, Teddie has relocated to the United Kingdom and runs Entertainments Unlimited where he manages the fortunes of a new generation of entertainers in Ireland and abroad. You can visit his site at www.ents-unltd.com to see more about what Teddie is up to these days.
Tiger Taylor: Tiger later went on to play guitar with Billy Brown and the Freshmen in the 1970's and relocated to Dublin. He continues to play both solo gigs and with a variety of bands.
Dave Storey: Dave emigrated to England where he lives and still plays on the cabaret scene with a comedy vocal duo.
Ivan Pepper: Ivan emigrated to Canada as as far as we know, is still living there.
Willie Crawford: Willie became a teacher and still lives in Belfast.

Tommy McKernin-RIP:

Tommy's daughter, Courtney McKernin, emailed us in October, 2008 to let us know that
Tommy sadly passed away in 1999. He moved to Canada in 1972 when he was a member of the Signs and was last
in Belfast in 1998, just a year before he passed away.

Billy Burns -

RIP:

. Emigrated to Canada and eventually came back to Belfast where he sadly passed away several years ago..
Ray McCullough: Now living in Belfast, not sure if he is still playing.

Brian Scott - RIP:

Brian sadly passed away after emigrating to Canada.
Ronnie Morris: Living in Belfast, not sure if he is still playing.
Hugo Andrews: Living in Belfast doesn't play.
James McCorriston: Went to Canada with Muriel Day and still there.
Billy McCoy: Billy McCoy became a stalwart of the Belfast music scene. His (left handed) guitar playing is both tonally and technically exquisite as he has demonstrated in his years with Just Five (featuring soul legend Sam Mahood), Otis and The Elevators and jazz funksters Apartment. He is also kept busy as a session player, both in the studio and on television. He has recently formed the Tim Cobain/Billy McCoy Band with ex Swingtime Ace bassist, Jackie Flavelle, Tim Cobain and drummer Paddy Lavin. He still lives in Belfast.
Ronnie Kelly: Lives in Antrim Town and plays drums with various bands.,
Denis Stanley: Lives in Antrim Town doesn't play

Paul Creaney:

Sadly, Paul passed away in November, 2006.
Brian Wallace: Still lives in Antrim, but doesn't play bass anymore.
Kevin McKeown: Believe to be living in Vancouver.
Denis Woods: Went to Sheeba where he co wrote Sheeba's 1984 Irish Song Contest entry with Irene McCoubrey (Maxi) called "My Love and You." He then went on to compose and play keyboards with Maire Brennan in the late 1990's. As far as we know, he is still living in Dublin and producing music with top artists.
Tom Moore: Teaches in Warrenpoint and plays in a 2 piece.
Bob Wilson: Still playing - Bob is John Wilson's brother (of Rory Gallagher's Taste). Robert was in Clubsound and now plays with a duo around Belfast.
Ray Murray: Believed to be in Dublin
Desi Hughes: Last heard of in Belfast no longer playing
Desi McDonald: Believe to be in Belfast
Terry McKeown: Went to Canada and returned to Antrim

David McIntyre - RIP:

Although we had word that David was believed to be living in Belfast, we received an email from Eamon Hanna telling us that David sadly passed away April 13, 2012.
Colin Maguire: Colin still lives in Belfast and plays with the James Peake Band. He has become a talented song writer and wrote an entry for the Irish National Song Contest in 2001, "Who Said I Pray" among others.
David Simpson: Lives in Doagh, Co. Antrim and still plays in duos
Phillip Simpson: Lives in Doagh, Co. Antrim and still plays in duos
Damien McQuillen: Unknown
Janet Ryan: Played in various combos and lives in Crumlin, Co. Antrim
Mickey McGreavey: Unknown
Trisha Boyd: Unknown
Gina Dee: Lives in Portsmouth in England