Thin Lizzy Feature (1970-1983)
Photo Gallery - Band Lineups - Discography - Audio samples - Where Are They Now?
The Story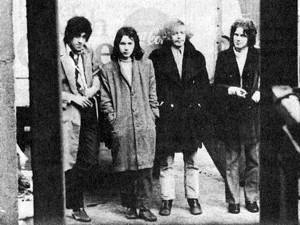 Obviously, much has been written about the legendary history of Thin Lizzy, who, along with U2, Van Morrison and Rory Gallagher are among the most successful Irish rock acts ever. A complete history of the band is well beyond the scope of the site and its main objective of covering bands that played the Irish ballroom circuit, but as Lizzy did get their start there, we feel we should cover the band, especially the early years.
Thin Lizzy's lead vocalist, songwriter, and bassist Phil Lynott started singing with the group The Black Eagles in Dublin around 1965 when he was just 16. However, his career started in earnest as lead singer with Brush Shiels' group Skid Row in 1968. Brush had been with the Up Town Band and broke away to form his own group. Brush has often suggested that it was during this period that he taught Phil how to play bass. During his stint with Skid Row, Phil was purely the lead vocalist and front man and was one of the biggest stars on the local Dublin beat group scene in the late sixties. In mid 1969, Phil left the Skid Row and formed Orphanage which included Brian Downey (drums), Joe Alexander (guitar), Pat Quigley and a guest member at times, Terry Woods.
Orphanage was a short lived band as they were approached by Eric Bell at the end of 1969. In an interview in the May 24, 1973 issue of Spotlight, Eric recounted how the band got started. "One night I went down to Belfast with Eric Wrixon (one time keyboard player with Van Morrison). After a half hour I really got into listening to the band who were playing - Orphanage." At the time Eric was looking for a bass player and drummer to form his own group after leaving the Dreams. After the gig, he approached Phil Lynott, whom he had known previously.
"I kept asking them if they knew any good drummers, but they were just shaking their heads. There were only four of us there-Phil Lynott, Brian Downey, Eric Wrixon and myself. So anyway, I said goodnight and started to walk out but Phil called me back, just turned to Brian and asked him if he fancied quitting Orphanage and getting something together with me. It was as sudden as that," he recalled. "Eric was there so he just assumed he was in it too." The name "Thin Lizzy" came about when Eric was reading a Beano or Dandy kid's comic book. "There was a robot bird in the comic named Tin Lizzy. So we just added a "h" to mess people about. So that was that," he remembered.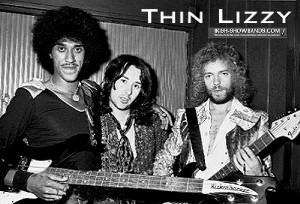 Pat Egan's "Beat" column in Spotlight of February 20, 1970 described Thin Lizzy as "Eric Bell's band" as Eric, who had been lead guitarist with showband The Dreams, left them to start a new group and drafted Lynott and Downey from Orphanage and previously Sugar Shack, along with former member of Them, Eric Wrixon on keyboards (Eric had also been with Them prior to joining the Dreams). The band played their first gigs in late February, 1970, but were not immediately seen as the powerhouse they would become.
In fact, early reports were that the band was rather loose and would have to work hard to make it on the Dublin scene. Slowly, their reputation grew and at one point, Pat Egan wondered whether they might be the next "Skid Row." In fact, at the time, Skid Row (Brush Shiels, Noel Bridegman, and Gary Moore) were far and away the biggest group based in Ireland as Rory Gallagher's Taste had settled in England sometime earlier. The band toiled away on the local Dublin scene, refining their sound and were on their way to establishing themselves as the top group in Ireland when Eric Wrixon left the band in August to go to Sweden reportedly over a "dispute over music policy." In a 1974 Spotlight interview, Eric said, "he went off with some Swedish chick and we were three."
The band decided not to replace their keyboard player and continued on as a power trio. The band released its first single in August, shortly after Eric's departure. The Farmer was released by EMI records in Ireland only and is reported to have only sold a few hundred copies (which was not unusual for Irish rock group records at that time). Despite their lack of recording success, the band's live show went from strength to strength as Phil continued to develop his "rocker" image which was to carry the group in the future. They started to travel further a field and regularly made trips to the four corners of the country to play at teen dances, student hops and other small gigs (usually for very little money).
In October, 1970, a report in Spotlight magazine said the band was changing management. Terry O'Neill, a seventeen year old who had been the road manager for Skid Row, had been managing the band and sold his interest to Peter Bardon and Brian Tuite. In an August 1974 Spotlight interview Phil said, "I organised the first group transfer fee in history of Irish groups. Our manager then was Terry O'Neill and Brian Tuite wanted to manage us. I arranged for Terry to get £200." Bardon and Tuite had also managed the fortunes of Skid Row before the relocated to London under manager Clifford David. Probably the most interesting article I have come across was one in Spotlight magazine dated January 30, 1971 in which is was reported that Decca Record Manager, Frank Rodgers, announced the band would be changing its name to Tin Lizzy, dropping the "h." The move lead to a series of advertisements and publicity sporting the name Tin Lizzy, but of course, the name did not stick.
Eric picks up the story, "We fixed a gig in Zhivago and he came in, real cool, and looking as if he was saying: Okay impress me! So we weren't really into what we were doing. Then Ditch Cassidy got up with us to jam and we began to enjoy ourselves and forget about this cat from London. Next thing we knew, he'd arranged for us to go to London the following week to record an album." Once in London, the band was earning £8 a week plus rent paid. Their operating expenses ran at below £100 a week. Phil maintained that even on those meager wages they were better off than they were in Ireland.
The band released the album, which was picked up by Radio Luxemburg's Kid Jensen, who played it in its entirety over a handful of nights and that started the ball rolling in England. They started doing gigs and started to build a reputation as a live act, but it was slow going, with the band learning as they went. The band returned to Ireland support to Rory Gallagher in the Stadium and then to Slade on their tour.
Explained Eric, "The Slade tour helped us a lot. Chas Chandler came up and told us he dug the band but that our clothes weren't colourful enough, so we started to get into that end of things. After a while the shape throwing became automatic and the music was all we worried about."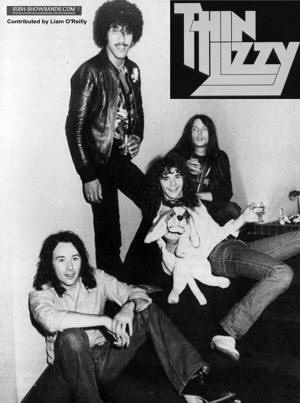 It was late 1972 and the band were still growing their reputation when they released their second album, which was rushed. Said Eric, "we really weren't that happy with it. Then at a rehearsal one day we were having a break for a cuppa tea and Phil started to play Whiskey In The Jar on a Stratocaster and singing into the mic. Brian and I were just sitting there bored. Ten minutes later Phil was still going on with this thing, so we joined in." Although it started out as a joke and a bit of a laugh, the band's version of the Irish ballad stuck and they released it as a single, and the rest, as they say, is history. Whiskey in the Jar became a multi national hit for the band and put them on the musical map. At the time, they were still playing Irish ballrooms and hotels.
In 1973, the band completed their album, Vagabonds of the Western World, on which they included Jan Schelhaus on keyboards for several of the tracks, as well as using Radio Luxembourg's Kid Jensen for narration on Hero and the Madman.
An article in the January 17th, 1974 issue of Spotlight reported that Gary Moore was standing in for Eric Bell, who had "collapsed in Belfast on New Year's Eve." Chris Morrison, Lizzy's co-Manager said, "We don't expect to have Eric back on his feet for at least another fortnight." However, Eric would not return and decided to quit the band. It was announced on February 14th that Gary Moore would be his replacement.
In July, 1974, Desmond Ilford interviewed Phil Lynott for Spotlight. Eric Bell had left the band at the beginning of 1974 and had been temporarily replaced by Gary Moore for the band's first tour in 1974. However, they decided to part company in May as Gary didn't seem to "into" Lizzy at the time. They hired two guitarists to replace Gary, but in Phil's words, they were "really crap." Finally after further auditions, the band added two new guitarists. Said Phil, "We've picked an 18-year-old Scottish bloke named Brian Robertson and an American guy called Scott...I can't remember his last name." The band played its first gig in Wolverhampton in July.
At this point, Thin Lizzy was really no longer purely an Irish band as they were headquartered in London and featured two non-Irish guitarists. Although their world wide fame finally took off in the mid 1970's, it is beyond the scope of our website to do justice to the band's history after they broke in the United States and across the world. Needless to say, Thin Lizzy's history as part of the Irish ballroom scene led the way for many more Irish acts to come in the years that followed.
click on thumbnails for full image
| | | | | |
| --- | --- | --- | --- | --- |
| | | | | |
| Black Eagles (RF)xx | Thin Lizzy - 1970 | Thin Lizzy - 1970 | Thin Lizzy - 1970 | Thin Lizzy - 1971 (DL) |
| | | | | |
| Thin Lizzy - 1972 | Thin Lizzy | Phil Lynott | Thin Lizzy - 1972 | Thin Lizzy - 1973 |
| | | | | |
| Thin Lizzy (LR) | Thin Lizzy - 1982 | Thin Lizzy (RF) | Thin Lizzy (RF) | Thin Lizzy (RF) |
| | | | | |
| Thin Lizzy (RF) | Thin Lizzy (RF) | Thin Lizzy (RF) | Thin Lizzy (RF) | Coming Soon |
Years
Bass / Vocals
Guitar
Drums
Guitar
Keyboards
1970
Phil
Lynott
Eric
Bell
Brian
Downey
Eric
Wrixon
1970
Phil
Lynott
Eric
Bell
Brian
Downey
1974
Phil
Lynott
Gary
Moore
Brian
Downey
1974
Phil
Lynott
Scott
Gorham
Brian
Downey
Brian
Robertson
1978
Phil
Lynott
Scott
Gorham
Brian
Downey
Gary
Moore
1979
Phil
Lynott
Scott
Gorham
Brian
Downey
Dave
Flett
Midge
Ure
1980
Phil
Lynott
Scott
Gorham
Brian
Downey
Snowy
White
Darren
Wharton
1982
Phil
Lynott
Scott
Gorham
Brian
Downey
John
Sykes
Darren
Wharton
Singles
The Farmer / I Need You
EMI Records - Unknown - August, 1970
New Day / Dublin / Down On The Farm / Old Moon Madness
Decca Records - F.13208 - August, 1971
Whiskey In The Jar / Black Boys On The Corner
Decca Records - F.13355 - November, 1972
Randolph's Tango / Broken Dreams
Decca Records - F.13402 - April, 1973
The Rocker / Here I Go Again
Decca Records - F.13467 - November, 1973
Little Darling / Buffalo Gal
Decca Records - F.13507 - April, 1974
Philomena / Sha La La
Vertigo Records - 6059 111 - October, 1974
It's Only Money / Nightlife
Vertigo Records - 6059 122 - December, 1974
Rosalie / Halfcaste
Vertigo Records - 6059 124 - June, 1975
Wild One / For Those Who Love To Live
Vertigo Records - 6059 129 - November, 1975
The Boys Are Back In Town / Emerald
Vertigo Records - 6059 139 - April, 1976

Audio Clips
Coming Soon
| | |
| --- | --- |
| | Phillip Lynott: Of course, Phil continued to be one of Ireland's foremost figures in rock music internationally, mostly playing with Thin Lizzy, but also as a solo artist. He featured in Jeff Wayne's historic War of the Worlds album and also fronted rock band Grand Slam as well as several reincarnations of Lizzy. He collaborated with many musicians including Gary Moore, who had and would again play with Lizzy during their history. Phil also wrote several books of poetry and was active until his untimely death on the 4th of January 1986 at the young age of 36. He remains, along with Rory Gallagher, one of the most revered names in the history of Irish rock music. |
| | Eric Bell: After leaving Lizzy, Eric went through several bands including his own Eric Bell Band and with Skid Row bass player Brush Shiels in the Bell-Brush Band. In 1974 he joined with ex-Jimi Hendrix bassist Noel Redding in the Noel Redding Band which lasted through 1976, recording a couple of albums. During the last 30 years, Eric has continued to gig and record with his own Eric Bell Band, playing to large crowds across the continent and around the world. He appeared with Gary Moore in 2005 performing Whiskey in the Jar to an extremely appreciative crowd (a great DVD if you're interested). |
| | Brian Downey: An original member of Lizzy, Brian stayed with Phil through thick and thin for the next 13 years, playing with all the various Lizzy lineups as well as with Phil on his solo efforts. After Phil's death, he played in the tribute Thin Lizzy line-up with John Sykes, Scott Gorham, Darren Wharton and Marco Mendoza, but had been absent from subsequent Thin Lizzy touring bands. In May, 2010, Brian rejoined the Lizzy lineup and is currently touring with the band (late 2011) commemorating 25 years since Phil Lynott's death. |
| | Eric Wrixon: Although a founder member of the band, he left before they achieved fame and success. In the years since then, Eric has toured and is often associated with reunited versions of Them, with Jim Armstrong, John Wilson, and others. He currently (2011) lives in Italy and tours with a line-up including himself (vocals and keyboards), Billy McCoy (guitars), Luca Nardi (bass) and Tom Wagener (drums). |
| | Gary Moore: After leaving Lizzy, Gary went solo, forming his own Gary Moore Band. He would later (1977) reunite with Phil and Lizzy for a short time. He continued to collaborate with Phil during the 70s and 80s with their greatest success being the single Parisienne Walkways which hit the British Top Ten in 1979. Through the next 30 years, Gary continued to tour and became one of the premiere blues guitarists in the world. Sadly he passed away, suffering a heart attack, on the 6th of February, 2011 at 58 years of age. |
| | Brian Robertson: Brian stayed with Lizzy until 1978 when he left and was replaced by Gary Moore (coincidentally, Brian and Scott had replaced Gary Moore after the departure of Eric Bell. He formed the group, Wild Horses which lasted a short while and then joined Motorhead for a short stint. He continues to record and tour today, mostly in Europe but is not part of the Thin Lizzy lineup touring in late 2011. |
| | Scott Gorham: Joining the band after the departure of Eric Bell, Scott stayed with the band until it's break up around 1983. He was the longest serving member of the band other than Brian and Phil. After Lizzy broke up, Scott joined Phenomena II, where he met Leif Johansen with whom he formed 21 Guns, which has released three albums. He also played spells with Asia, the Rollins Band, and Supertramp. In 1996, Scott reformed Thin Lizzy with former band members, playing various tours in tribute to Phil. After John Sykes' departure in 2009, Scott set to work on creating the greatest lineup of Thin Lizzy since Phil's passing. Rejoining him are old band mates Brian Downey and Darren Wharton. |
| | Many other band members came and went in the late 70's and 1980's including Darren Wharton, Snowy White, John Sykes, Midge Ure, etc. but as none of them were involved with the band which toured Ireland so extensively, we have omitted them from the site. |