The Biggest Party in Ireland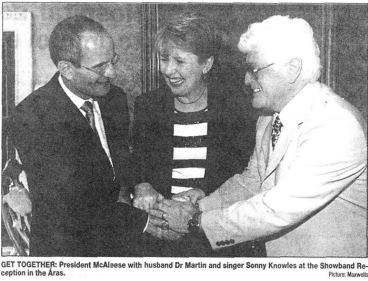 Old showbands hands reunited, says Paddy Cole, not for a funeral but to recall a golden era
WHO was there? Let's just say that, in a way, we all were the singers, the players, the men who managed us all and the recording engineers who cut the grooves that put it into history. One hundred and twenty people, a representative slice of an era of Irish entertainment that, sadly, will never be around again. It was thanks to President Mary McAleese that we teamed up after all those years. And, as one wag put it, it wasn't even a funeral that brought us together.
It's ironic, but kind of inevitable, too, that those of us who were in the showbands only seem to meet up at funerals these days. Ironic, because it's no empty boast to say that we were privileged to be part of one of the greatest celebrations of life ever. Eight hundred bands, dancing six or seven nights a week, hundreds of thousands of people thronging the ballrooms. The biggest party in Ireland, and it went on for a decade or more.
Last week, the President's invitation took more than a hundred of us to Áras an Uachtaráin to celebrate a uniquely Irish musical phenomenon. The idea came from Mary McAleese and her husband Martin. They'd both been showband aficionados themselves back in the Sixties. They remembered the days, telling us about cramming into a tiny Volkswagen car to go to the dancehalls. And the clothes, too: President McAleese revealed the details of Martin's shiny brown suit, complete with "a crease in the trousers that you could cut meat with."
It's not being sentimental, I think, or even overly nostalgic, to say there really was something magical about the showbands. President McAleese quoted Seamus Heaney, his lines about the prevailing mood in his parents' day, about people "living under high-banked clouds of resignation." That was what the showbands changed. They blew the clouds away.
For a time, for a few hours on most nights of the week if people wanted, the showbands provided the antidote. Someone said it at the Áras, that in those days ecstasy didn't come in tablet form. No, it was just going dancing, a mass of people in a ballroom, having a ball.
There's something about the showbands, too, that seems to demand a bit of reminiscence. That was, I think, what prompted the Áras event in the first place. President McAleese and her husband had been chewing over the old days. It's like when sports fans get together and say, "Do you remember such and such a match?"; for us it's the same, but it's dances and bands instead.
Anyway, she decided that there was something special in Ireland, something that had brought a touch of magic into the lives of thousands of people, and it had somehow gone unrecognised. The Áras celebration was by way of a thank you, she told us.
"While the showband world has changed," she said, "and the entertainment world has moved on, we owe all you people a debt, and this reception is by way of saying that we have not forgotten."
So who was there? I'm a bit wary about mentioning names, because I think it's a little inappropriate to showcase just a few people out of a time that involved so many. It wasn't just the big-hitters of the showband era who had been invited, though. The President had dug deep, coming up with a list that reflected a true cross-section of everyone who was there. In reality, of course, there were people who were every bit as talented as entertainers and musicians as the ones who got the lucky breaks and made it into the headline bands. That was what was special about the celebration they were there, too.
SO I'll mention just a few people, a few names that should strike a chord for many of you. Victor Craig was there, the manager of the Clipper Carlton, first of the showbands, along with original members Art O'Hagan, Maxie Muldoon and Don Shearer. Gay McIntyre from Derry, one of our finest musicians, was at the Áras, too, along with another Derry man, Johnny Quigley, who had one of the best bands on the road at that time.
Big Tom McBride. Mick Foster. Tony Kenny. Eamon Monaghan and Jim Doherty from the Capital Showband. TJ Byrne, manager of the Royal Showband, with band leader Michael Coppinger. Ronnie Drew turned up, as did Nita Norry, Bridie Gallagher, Eileen Donaghy, Maisie McDaniels and Eileen Reid. There was a guy named Sid Shine, 82 years old now, who had a band in Athlone. A lot of guys from the Mighty Avons were there. So was Des Kelly, the leader of the Capital Showband, along with Joe Mac and Sean Lucey from the Dixies.
And dozens more. You can imagine the wave of reminiscing that swept over us. It was unbelievable. People were there that hadn't seen each other for years. Sometimes people had changed so much they didn't recognise each other. I, for one, was going around thinking that I hadn't changed a bit, but so-and-so had they were probably thinking exactly the same thing in reverse.
Showbands were always about people getting together; about mixing. I remember years ago, when we were in Las Vegas with Twink and Brendan Bowyer and the Big Eight Showband. What astonished us was that all these celebrities from the entertainment world were coming to the concerts, for the simple reason that we were the only band who would play absolutely anything.
In Vegas, if you wanted Dixieland, you had to go to a Dixieland place.
If you wanted Country, then a country concert was the only option.
Then along came this Irish showband, doing Dixieland, country, rock and roll, everything. We even had Irish dancers between the sets, and we'd play jigs and reels for them to dance to.
So we packed them in. Mohammad Ali used to come and see us. Elvis Presley came, twice. They were all people who we idolised, and the tributes from them were truly gratifying.
That's what made it doubly gratifying, too, when President McAleese invited us all to the Áras, because she is also a huge idol of mine.
Entertainment-wise, I really think nothing in Ireland has ever compared to the showbands. They were innocent days, really, occasions for happy, carefree fun. People still love to talk about them (none more so than the musicians!) and that's why, I think, an official celebration comes as such a pleasing idea, for the thousands who went to dance, as well as for all of us who tore around the country from ballroom to ballroom in the wagons. President McAleese, the thank-you goes both ways.
The showband days might be part of Irish history now, but what's more worthwhile than happy memories?
Thank you, for remembering us, and for stirring our own memories of a golden age.