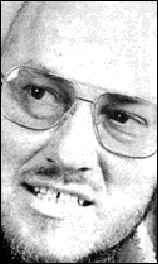 The late Des Wilson.


Last week Dundalk FM broadcast a three hour programme, their most ambitious project to date on the life of Des Wilson, a Dundalk born musician, who tragically died at the age of 47 in 1990. The programme sparked renewed interest in the man and his music.

Des was one of the most talented musicians the town has produced yet ironically couldn't read a line of music for he had an exceptional ear for music which allowed him play many instruments. He wrote perhaps the best known song about the town "Dear Dundalk".

In last week's programme, friends, neighbours and family spoke about Des's interesting life and throughout the programme many of his records were played while many people phoned the programme with their memories of Des.

Here we reproduce an interview that Des did with a neighbour and friend, Kevin Mulligan in 1985.

Des Wilson feels that he has been cheated. In a sense he has had the musical world at his feet on several occasions, yet never kicked a goal.

His assessment is perhaps in ways a paradox for a musician who cannot read a musical note, yet had the talent to nudge the stars at the top.

Along the way of a colourful and interesting career he collected a brain tumour which almost killed him, a broken marriage and a scrapbook full of memories.

Today he appears to have found contentment in a new marriage and an emerging talent, song writing, yet scratching away beneath the surface is still that burning ambition, that wanderlust that launched him on a showband scene as a teenager.

His ear and tune for music had him playing the piano in his Demesne Terrace home almost by instinct as a child and his desire to entertain had him performing for the children in his street for a penny a time as a teenager.

Not for him the academic ambitions of his parents, for he could not wait to abandon the drudgery of school books at the Marist to hammer the keys of a piano. Even the conventional job of a shop assistant in John McCourt's, Clanbrassil Street, was only an interlude.

"I can recall Mr. McCourt chastising me that I could not spend half the night playing with a dance band and still do a day's work the next day," Des recalled.

But the few shillings he earned playing with the Benny Maguire Orchestra, his first band, and then the more modern Flamingoes, supplemented his earnings of 30 shillings a week in McCourts.

A panel beating job with Tommy McArdle's when the firm operated from Seatown was never intended to take on any permanency, even though the friendship of colleagues like Patsy Rogers, Paddy Barry and Ownie McCaffrey was comforting.

"When my chance did come, on my 21st birthday, of a full time career in music with the Vanguard Six operating out of Tralee, I did not hesitate at taking the chance," he recalled.

Three very successful years with the Vanguard, then one of the country's top showbands, followed touring the country on the wave of showband popularity and indeed beyond Ireland where the band had great success.

It was while in Tralee that Des struck up a friendship with another Dundalk musician, Bernie Bingham, and together they conceived the idea of forming their own band, earning the capital for the venture by working as musicians in Germany.

"It did not get off the ground simply because we did not save our money," said Des, "and because I met and married a German girl."

Four happy years followed for Des in Germany, working as a representative with Adidas, for whom his father-in-law was an agent, and rubbing shoulders with some of the greatest names in world soccer who were contracted to the firm for which Des worked.

Perhaps, on reflection, his contented time in Germany was unsettled by an offer to replace the departing Larry Cunningham with the Mighty Avons. That did not materialise, but shortly after Des could not resist an offer to join Big Country, the band making their breakthrough on Shay Healy's "Reach for the Stars" on RTE, a talent show.

It was another talent show "Opportunity Knocks" that Des, now with the fast moving Cotton Mills Boys really hit the top, the band making three successive appearances on the British TV show hosted by Hughie Greene, and leading to a subsequent sequel of TV appearances.

The band was the hottest property in the country but the itch to form his own band and maximise his talent led Des with others from Dundalk, Donie Marron and Mickey Connolly among them, to form the Midnight Express in 1978. A variety of reasons and jealousy hampered the band's development and shortly afterwards Des, who had been feeling unwell for some time too, fell seriously ill.

"For a long time the doctors could not diagnose the tumour," he recalled, "but it was one hell of a shock when they did." An operation performed in January, 1982, was his only course and although this was successful the painful treatment which followed caused Des to lose his hair prematurely.

"Perhaps it was a small price to pay for an illness that could have killed me or left me paralysed," he said, "and fortunately I have no long term effects, except that my memory is not as good."

Just before his operation Des met and married again, his wife Mary one of the popular duet "Two's Company" who appear regularly on TV, as well as being in demand for cabaret appearances.

"Mary has helped me greatly since my illness," says Des and the couple now live in Baltinglass, Co. Wicklow, Des frequently accompanying his wife on tour to America and England.

He is, however, concentrating on song writing himself, with Christy Moore recording one of his latest songs. He is of course the author of "Dear Dundalk" and has recently written a new song on his home town, entitled simply "Dundalk" which was featured by "Two's Company" on RTE TV recently.

"l am churning out plenty of songs, all varieties, and hoping that one will be really successful. I recently sent Johnny Cash a tape and I am hoping he will use some of my material, while Brendan Grace has also promised to record one of my numbers."

No stranger to the charts himself, Des had a number one while with the Cotton Mill Boys, but somehow he feels he never got the full return from his considerable talent as a writer, musician or singer.

"People say that I must have a lot of money for I was at the top, but when I was there, even with the Cotton Mill Boys, others were taking the rake off, for I and others in the band were only working for a wage. People thought we were earning a fortune but we were not."

Naturally Des feels cheated at this, but not bitter. "It is a very hard life," he said, "and even our appearances on 'Opportunity Knocks' which featured the fiddler did not give a true reflection of the band's talent, or the type of music we could do."

He is, however, encouraged by the emergence from the scrapbooks of some of the country's top bands, like the Capital and Dixies. "There is a generation growing up now who have never attended a live music session, all they have attended is discos. They will want live music and I can see bands making a comeback."

Unfortunately he does not see himself being at the centre of this for while the desire to entertain, evident from when he was a boy, is easily kindled, his future he believes lies with the pen in his song writing.

The show will be repeated on this Friday, November 4th at 7pm to 10pm for those who would like to hear it again.