Earl Connolly...Mr. Entertainment
By Patricia Feehily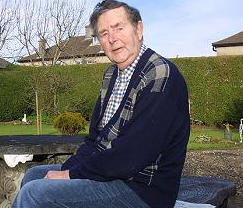 Entertainer and former showband star Earl Connolly

It's been a long time now since Earl Connolly's band played Some Enchanted Evening for film director John Huston at a Galway Blazers ball in the Great Southern Hotel.

It's been many years, too, since he and his wife Callie lunched with Charleton Heston in London before the release of The Ten Commandments, or since he first became acquainted with celebrities such as Rolf Harris and Ingrid Bergman.

But when fond memory brings the light of other days around Earl, it's almost as if you are basking in the aura yourself.

He belongs to a time when the newspaper business produced some fascinating characters, and he is undoubtedly one of them. His acquaintance with the stars of screen and stage is legendary, and many, like comedian Brendan Grace, who now has a home in Killaloe, remember him with deep gratitude.

For over half-a-century, from the war years right through the showband era, his name was synonymous with the entertainment industry. In his own distinctive style, he captured it all in words in the columns of the Limerick Leader. But he also had his own band, The Sylvian, and travelled the country to what are now affectionately remembered as the Ballrooms of Romance.

"I made an estimate once and found that I had travelled half-a-million miles on dance dates alone," he said.

During all that time he was also advertising manager and circulation manager of the Limerick Leader. He served with six editors, Jack Grealish, Con Cregan, Pat Comyn, Paddy Fitzgibbon, Tom Tobin and the current editor, Brendan Halligan, and over the years his ever popular entertainment column on the paper became more than an institution.

"Keep it coming," former editor, Con Cregan once told him. "There was no talk of money, but I loved what I was doing. It was a great time to be alive."

Earl Connolly, like his wife Callie, is Limerick to the core. He was born in Anne Street and attended the CBS in Sexton Street where his writing talent first surfaced. "Those were the days of the Cine-Variety extravaganzas in the Savoy when singers and dancers came from as far away as Australia, New Zealand and the US. We even had ventriloquists. The shows cost only four old pennies and I wrote about them in my school compositions. The teacher hung the essays on the wall."

His mother, who had a penchant for things English, chose the name Earl, after Earl Haig. Her brother-in-law, Archie Connolly, was a tax inspector, but he had also been a member of the Irish Guards. However, the family met a bit of resistance when they came to the church to christen young Earl.

"The priest said they'd have to give me the name of a saint. So they compromised and called me Patrick Earl."

He joined the Limerick Leader two years before the outbreak of World War 11 and his brief was extensive. Not only did he get the advertisements, but he also designed them and laid them out in the old, hot metal type.

That wasn't all. He also travelled throughout the county collecting the money for the advertisements and even succeeded in getting many of them pre-paid by eager advertisers.

It was another world entirely. It's hard to imagine now, but there were only 10 or 12 advertisements in the weekend paper then, although they did have four papers a week and eventually six when they took over the Chronicle. The friendships he built up in the entertainment business through his writings and his personal involvement provided him with invaluable advertising contacts.

"I suppose you could describe me as a source of revenue for the paper," he said.

The war which broke out in September, 1939, posed new challenges to the production of the newspaper. With shipping curtailed, newsprint, which had to be imported from Sweden, became very scarce indeed. But Mr Connolly's enthusiasm never waned. He travelled regularly to London, where the Limerick Leader then had an office, and went as far as Leeds to get advertising.

"If that was what was required, then that is what you did," he said.

He made the most remarkable friendships with celebrities throughout his life, including Danny Kaye and Snozzle Durante. Anew McMaster was a personal friend. Hilton Edwards and Micheál McLiammoir, who played in the old Coliseum in Limerick, were friends too.

"Micheál Mac Liammoir would come into the Limerick Leader office in those days and say: 'Do a good job for us, Earl'."

He remembers Richard Harris with great affection. "I remember once when I was playing in Cruises Hotel, he jumped up on the stage, took the microphone and said: 'I'm singing now'."

He loved the big showband stars - Dickie Rock, Eileen Reid.

Donie Collins, Maurice Mulcahy and his great orchestral friend, the late Mick Del. He played in halls around the country with many of them, including Albert Reynolds' halls.

"Some of those ballrooms were little more than four walls," he said. But they did reflect the times, and in retrospect, now seem endearingly quaint.

"It was a time," said Earl, "when a lad would go up to a girl in the hall and ask 'May I have this dance please?'. 'Ask my sister,' she'd reply, 'I'm sweatin'."

The showband era fizzled out, he says, before its time. "There was a lot invested in it, but the new drink culture among young people, and television, I suppose, changed everything very quickly."

In his early days with the Limerick Leader, his mother sent him to do a typing course in the old "Red Tech" in O'Connell Avenue, and, of course, he ended up in the Tech band playing the drums. One of the band members was a girl called Bridget Murphy. Years later, Bridget's niece who was a member of a band called We Four, asked him to sit in on a rehearsal in the Royal George Hotel.

"I told her she was wasting her time with the band. Her name was Suzanne Murphy, and she went on to become principal of the Welsh Opera."

He could empathise always with the stars of the entertainment business. "I was interested in them. I knew the business and I think they recognised that."

Now retired and living in suburban Limerick, he has time to indulge another life long interest - astronomy.

"He is fascinated by space," said his wife Callie. "Actually he once gave me a big chart of the heavens as a birthday present so that I'd understand what he was talking about."

He also achieved another ambition to travel farther afield, and he and Callie visited Hong Kong, Dubai, Australia, Singapore and America in recent years.

His personal odyssey reached something of a crescendo on a visit to Broadway, and as he stood there at the foot of Fifth Avenue one day not so long ago, he realised that all the world really is a stage.

"I have lovely memories," he said, "but I don't know if I could do it all again."