THE COMPLETE GUIDE TO IRELAND'S TOP TEN HITS OF THE 60's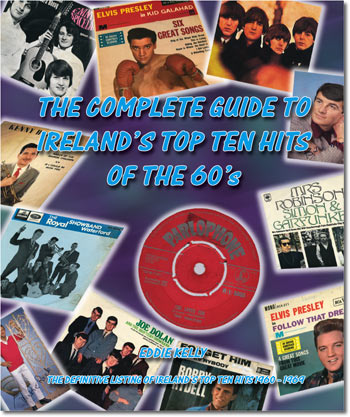 A New Book from Eddie Kelly, published by Trafford Publishing
The Complete Guide to Ireland's Top Ten Hits of the 60's celebrates the period 1960-1969. Its stars – Elvis Presley, Jim Reeves, The Beatles, Joe Dolan, Brendan Bowyer, Dickie Rock, Cliff Richard – and its songs – "It's Now Or Never", "He'll Have To Go", "Hey Jude", "Make Me An Island", "The Hucklebuck", "From The Candy Store On The Corner", "Congratulations".
Two separate listings – alphabetically by artist and song title – give highest chart positions, weeks on chart, record label, catalogue number and biographical details of all artists, whilst a third section provides a unique and fascinating selection of chart facts and feats.
An essential reference book for all fans of the music of the Sixties. The Complete Guide to Ireland's Top Ten Hits of the 60's is illustrated with many rare picture sleeves – a reminder of classic hit records from a fondly remembered era.
The 1960's heralded the birth of a home grown pop music industry, and it was the much maligned showbands like the Royal, the Capitol, the Dixies, the Miami, the Freshmen, who we have to credit for this.
This book, the definitive Irish chartbook of the period, brings you for the first time, the full details of the weekly chart of the ten best selling records in Ireland for the period January 1st 1960 to December 31st 1969.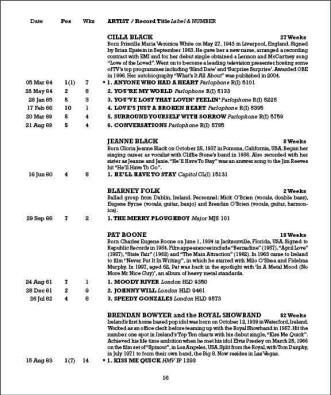 The purpose of this book is not to say how or why records were hits, its purpose is merely to list the ones that were.
If you wish to learn more about the Complete Guide to Ireland's Top Ten Hits of the 60's visit the authors website www.trafford.com/04-2649
Eddie Kelly was born in the Tipperary. Founder of the Friends of Buddy Holly Society, he has written for several magazines, including Not Fade Away, At the Hop, Dancing News, Irish Entertainer, and New Kommotion. He has compiled and written sleeve notes for many albums for various British record companies, including Sequel, Castle and Prism Leisure. Over the last five years he has interviewed many of the all time great singers - including Al Martino, Pat Boone, Dame Vera Lynn and Lita Roza - on his Shannonside Northern Sound radio show Sounds Nice. He was also co-editor of the book The Golden Era of Irish Showbands and contributed to the television documentary, True Lives: Good Night, Safe Home, God Bless.
BACK Sample Page From Book====>