By Maria Tracey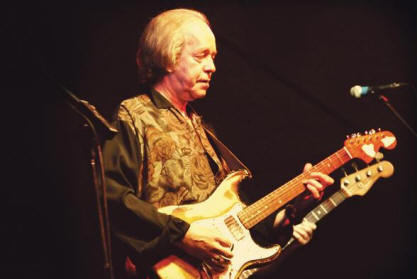 From the turbulent world of drugs, drink and rock'n'roll, the tranquillity of West Cork might seem a world apart for original Thin Lizzy guitarist, Eric Bell. However, the local landscape seems to be working for the 64-year-old musician who is preparing for a string of festivals this summer. He talks to Play's Maria Tracey about a music career that began in childhood with a plastic guitar and almost ended in self-sabotage.
As founder of the legendary Thin Lizzy, Eric Bell is a name that needs no introduction. And now, Corkonians can claim Bell as one of their own, with the musician having moved to the Rebel County over a year ago. West Cork may seem an unusual location for the musician, who has played not only with Phil Lynott, but also legendary figures as bluesman Bo Diddley and Jimi Hendrix's bass player Noel Redding. However, with Bell, there has always been an air of 'rebellion'; of never quite fitting into a pattern or going with the crowd.
Indeed, in his late teens, Bell pursued his dream of becoming a professional guitar player in the face of objections from family and friends. "Everyone said 'don't be stupid', but I was determined," he says. Bell's love of music began in his early teens, after he received a small plastic guitar for Christmas. On this instrument, half the size of a normal guitar, with colourful strings, Bell taught himself, playing along to the likes of The Shadows on his record player.
"I then began working a nine to five situation, and detested it with a vengeance. So when I got a call from an Irish showband who were playing in Glasgow, and, most importantly, were professional, I asked, 'When do you want me?'," Bell laughs.
After over a year with the group, Bell returned to Belfast, before taking up with another showband in Leeds. He then joined The Dreams before leaving in 1969, having grown tired of the showband format. "I started to get pretty pissed off with the music as I wanted to play blues. So I went around Dublin looking for musicians," he explains.
It was on a fateful night out that he and fellow Belfast musician, Eric Wrixon, came across Phil Lynott and Brian Downey performing as part of Orphanage. "We decided to go out for a few drinks and I knew the bouncer on the door of the Countdown Club, so we got in for nothing. We didn't know who was playing inside, or even if anyone was. However, there, onstage, was Phil singing and Brian on drums. Really, I wasn't paying much attention to Philip—although he was good—as I was just amazed by Brian," he admits. "Afterwards I went backstage to talk, and told them I was looking for a singer and drummer. They told me what pubs to go to find musicians, but when I was leaving, Phil called me back, saying to Brian, 'Fancy forming a band with Eric?' Brian said no and I was totally devastated. Philip though eventually talked him into it!"
From that moment the whirlwind of success began for Bell, starting with naming the iconic band. Just a month before their first gig as a group, and with no name, Bell recalls that he had a "profound moment". "There was a female robot in a comic, called Tin Lizzie. So I said, 'Listen, I have an idea. Why not Tin Lizzie, but add a 'h' and make it Thin Lizzy. Then those in Belfast would still say 'Tin' because of the way they pronounced the 'th' sound, and we can correct them. It's a way to stick in people's minds'," he says. "Granted they looked at me like I was mad and said it was dreadful! But still, half an hour later, it was agreed that it would be the band's name."
Only in the band for four years—from 1969 to 1973—Bell says that Thin Lizzy was "fabulous at the start". "I could play whatever I wanted as I no longer had the restrictions of a showband so it was amazing. We all loved the music completely, and ate, slept and drank it," he says.
With immediate success, the band embarked upon a high-profile tour of the UK with Slade, before the release of their rock rearrangement of the Irish ballad, Whiskey in the Jar. "It was a big hit, but then it all started changing drastically. We had a taste for fame, and wanted more. However, the second album or the third didn't do well and everyone started getting a bit panicky, Philip in particular. Everything was geared towards getting another hit and the music got lost," he says.
Just 22 at the time, Bell admits that a lifestyle of drugs and drink sent his life "off the rails". Things came to a head on New Year's Eve 1973 after a gig at Queen's University Belfast, when Bell threw his guitar in the air, kicked an amplifier over and collapsed on stage. "We were only three songs into it and the roadies came and picked me up. I was out of my head completely… it was horrendous. However, they begged me to play the rest of the set, which I did. It must have been so bad," he admits. Returning to his family's home that night, the next day, following a phone call from the group's management in London, saw Bell resign from Thin Lizzy and ex-Skid Row guitarist Gary Moore recruited to help finish the tour.
Looking back, Bell admits that he wished he had taken a different lifestyle route during those four years. "I would do it differently now, and have a hot chocolate instead after the gig at 10.30pm," he laughs. "I worked all my life to become a musician, and it happened... I was in one of the biggest bands in Ireland. However, it was self-sabotage what I did, and I knew I had to get out. It was either be around the alcohol and drugs, or live. It was as simple as that."
Moving to Dublin, Bell bought a bike and began cycling everyday. "I felt like a zombie, though, for six months and hardly played at all. I just wanted to come back to reality," he says. "Then after six months, Noel Redding, who was Jimi Hendrix's bass player, got in contact. I had to ask myself whether I wanted to get back into that. Noel was very nice, but he had his own demons."
"Sometimes Noel would be cynical, so I would leave the band. Then he would apologise and I'd come back. This happened four or five times. Then the band just drew to a halt, but we remained good friends. He would often ring me up and say 'Hello mate, fancy a tour of Europe?' and we'd go off and do that, and then a few weeks later, another phone call, 'Hello mate, fancy a tour of the UK?'."
Bell subsequently joined saxophonist Dick Heckstall-Smith's eight-piece blues rock ensemble Mainsqueeze, touring Europe and recording a live album in 1983. The band later toured as Bo Diddley's backing group, recording the Hey... Bo Diddley: In Concert album in 1986. Bell continued to perform and record with the Eric Bell Band throughout the 1990s and 2000s, before moving from London to his new home in West Cork.
"London is an extremely fashionable place to live, and it can get to stage where you even have last week's haircut! So my wife, who is a Londoner, and I decided to move to West Cork. You see, Noel lived there, and I was always attracted to the place and scenery. One time, he asked my wife and son to come down as well and they stayed for 10 days. My wife said afterwards 'I want to live here'… and so we did," he said.
Bell admits that he is still in "two minds" about his new home. "I absolutely adore the house and the scenery. It's remarkable the lack of traffic… it's like the end of the world happened and no one told us! By the same token, you do find that you are asking yourself about what it is you do. Not much is the answer! I play a bit, potter about, watch TV and have a few drinks. I'm sort of a city boy and, I must admit, miss the big shops and cafés. If I worked more, it would be a lovely balance," he smiles, before adding "At the moment, though, I'm content talking to the crows and cows."