A life on the Irish music scene - January 14, 2009
From the Westmeath Independent
By David Flynn
Independent People - Frankie Mc Donald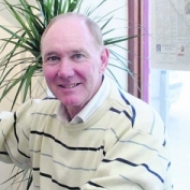 Since the 1960s, he has been a major part of the Drifters band - the last survivor of the Showband era of that decade. However, Frankie McDonald has much more notes to his credit, which includes a period founding Athlone's School of Music, and a professional solo career which ran parallel to his days in the Drifters.
While he has been resident in Athlone for more than four decades, the brass musician has not lost his native Monaghan accent, and he also still sports the border county dialect. It is in Clones that the story of Frankie McDonald begins.
His parents were a fantastic influence in his music career, and they encouraged him from before he was 12 years old, when his father bought him a trumpet in Dublin for the then crazy price of £18. It was a second hand, Stratford Besson trumpet, bought at McCullough Picketts in Dublin. Frankie's father, Peter, who died in the early 1990s was also a musician, and he encouraged Frankie's brother (also called Peter), who is now a singer and recording artist in Canada.
"I think the music came from my father, but my mother was a great influence, and it was her who put me forward for Feis Cheoil, and for BBC and Radio Eireann programmes," said Frankie.
Frankie's late mother, Kathleen wrote off for auditions for Frankie to play trumpet on Radio Eireann's 'Children of the Microphone', and on a similar BBC radio show in Belfast.
Frankie also played the cornet in local concerts in Co Monaghan and in the Clones Brass Band, and one of his mentors from that era was Pat McGuigan, father of the boxer, Barry. The young Frankie won an All-Ireland championship at the age of 12 years at the Feis Ceoil.
When he turned 14, Frankie left Clones to go to the Cathal Brugha Barracks Army School of Music, where a future band colleague from Athlone, Liam Meade, from Assumption Road was also studying there.
"I didn't mind being away from home and when I look back at them years, they were enjoyable because I was introduced to a love of classical music which stood to me over the years," said Frankie.
In 1962, Frankie came to Athlone, to be stationed in Custume Barracks, when the Band of the Western Command required a cornet player. Shortly after his arrival, he joined up with the popular Eamon Robinson showband, which played in parish halls around the midlands in the early 1960s.
Few musicians can say they played for President John F Kennedy while he was here in Ireland, or mingled in an informal way in his company. Frankie has that to his credit.
"It was July 1963, when President Kennedy was in Ireland, and the Army Band travelled around with him," said Frankie. "I also played at the informal garden party in Aras an Uachtarain. He toured the tables and mixed with the crowd. That was just four months before he was assassinated."
A glimpse of the then 17 years old Frankie, beside the elbow of the JFK, is vividly shown on a piece of film, which is currently in the RTE archives, and which is trawled out usually on the anniversary of the Kennedy assassination.
Frankie took up a tour of duty in Cyprus in 1965, as part of the first Irish Military Band ever to serve on a UN mission. He was also part of a popular off-shoot band, called the Irish Rovers, which played at local dances on the island.
"That was a brilliant time and we played for all the different nationalities there and it was great PR for Ireland and for the Army Band," said Frankie. "It was while I was in Cyprus, that I got the offer to join with Syd Shine, in Syd and the Saints, which was expanding to becoming an eight piece showband."
Finbarr O'Keefe, who was a Saints musician, and later authored the showband book, 'Good Night, God Bless and Safe Home', wrote to Frankie in Cyprus and invited him to join 'Syd and the Saints' in Athlone.
"Syd was our motivator, because of his years of experience with the Big Bands, and it was great to be playing alongside the other guys," said Frankie.
'The Saints' was made up Syd as bandleader, Frank Somers on drums, Joe Flynn, vocalist and bass, Peter Keighery, guitarist, Brian Sullivan, vocal and sax, Liam Meade, trombone and vocalist, Finbarr O'Keefe, trumpet and vocalist, and Frankie on lead trumpet.
They put Athlone on the Irish Showband map, and afterwards Frankie joined a popular local traditional band, the Kieran Kelly band, which is where Frankie met his wife, Mai Kelly. Mai played piano in the band, alongside Eamon Furey, Johnny Dawson, Larry Benson, and the now well-known recording artist, Brendan Shine.
The group recorded a tune, 'Treat My Daughter Kindly', which was very popular in the mid-1960s.
Frankie and Mai got married in 1967, and went on to have three children, Keith, Lorraine and Peter – all of whom are in the music business, and who cut their teeth in bands such as 'Route 101' and more recently in the successful tribute band, 'The Showband Show'.
In 1968, Frankie left the Army Band and joined 'Joe Dolan and The Drifters', and played trumpet with that legendary showband up to Joe Dolan's last show in late 2007. These days Frankie still plays sporadically with the Drifters in their new shows.
"The year after I joined the Drifters, 'Make Me an Island' became a huge hit, for Joe," says Frankie. "We then started on the world tours and travelled everywhere from Russia in the pre-Glastnost and pre-Perestroika days, to Las Vegas, close to where Dean Martin and Frank Sinatra were playing, but the highlight for me was probably the tour to South Africa in 1971."
Frankie was looking into moving to Vegas with his family, after the group got invited to stay there. However, as has been well-documented, the recently deceased Joe Dolan preferred being at home in Mullingar, so the group never moved Stateside.
"But it was after that period, that I had musically, the best five or six years of my life," said Frankie.
He started the Athlone School of Music in the Vocational School in 1981, with his friend, flautist Michael Whelan, and a successful youth band grew from the school, which was a big influence on the music scene in Athlone. Many of the children involved in the band, are still involved in the music business today.
"It was a great time and the highlight was the trips to Galway to play in Eyre Square, with a bus provided by Noel Henry and Midland Bus, driven by the late Tommy Kelly, Assumption Road," said Frankie.
In recent years, Frankie has played with his family groups, 'Route 101' and 'The Showband Show', and very recently himself and his music colleague, Ricey Scully, have been playing many venues as part of a brass and singing duo, called the Entertainers. Recently the duo has been joined by Athlone trombone player, Chuck Daly.
Also Frankie has been playing the part of Hollywood legend, Dean Martin in the stage show, 'Songs of the Legends' which has been successfully touring many midland venues.
Frankie, Ricey and Chuck are currently part of a successful nationwide tour of shows, alongside Ireland's No 1 funnyman, Brendan Grace, stretching from such venues as The Helix, Dublin, to the Cork Opera House.
"What I'd like to do in the future is write a musical and I've got ideas on how that should be done, and I'd like to do it soon," said Frankie.
Frankie is undoubtedly one of the first men of music in Athlone and the wider midlands, and continues to give pleasure to the masses.
His legacy is continuous, and after more than 40 successful years, his music career is constantly evolving. His crowd awaits his next steps in music.