The late Noel Finan: - the man who made Salthill swing
25 June 1998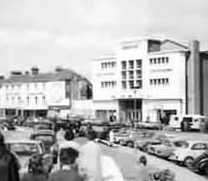 THE DEATH of Noel Finan (80) last weekend revived warm memories for an older generation of Galwegians.
Noel Finan designed, built, owned and ran Seapoint Restaurant and Ballroom in the golden days when Salthill was jammed with tourists and where everyone went to hear some of the best music of the day. In the 1950's and 1960's the big band sound of Joe Loss, Victor Sylvester, Roy Fox, the jazz of Acker Bilk, Kenny Ball, the Dutch Swing College Band and the nostalgic voice of Dame Vera Lynn were all part and parcel of summer time in Galway. The maple dance floor, with its famous balcony, where talent could be spotted and commented upon from a safe distance, was the centre point around which hundreds of thousands of people enjoyed their holidays. In the 1970s such showbands as the Royal, the Miami, the Capitol and the Clipper Carlton blazed away to a new generation but at the end of that decade and in the early 1980s it was clear that unless Seapoint competed with the new discos and their full bar licences, it would not survive. Noel Finan, who would only allow wine in his restaurant and minerals at the dancehall bar refused to compromise. In a typical gesture he flew Herb Miller, a brother of Glen, and his 22 piece orchestra over from London for a never to be forgotten last bash. The dance hall doors were formally closed in 1985.
Noel Finan, a courteous gentleman, who smoked cigarettes in a cigarette holder, inherited Kiloran's Bar from his father. The older Finan, Martin, had romantically mined for gold in South Africa and no-one was ever quite sure whether he had found gold or not. But his son Noel definitely found gold in Seapoint. The building was originally a health spa,where people could enjoy a seawater bath; but Noel realised that young people coming to Salthill wanted much more than to be clean.
He borrowed an enormous sum from the EBS, argued with the McNally contractors until he got exactly the dance hall he wanted and on July 17 1949 at only 29 years of age, he opened for business.
For three decades Seapoint was a ballroom of romance, a concert hall , a conference centre, an electoral count centre and, surprisingly, when Salthill church was being renovated, a venue for Sunday Mass.
In fact Noel had great respect for the church. Despite the ballroom being his main source of revenue, when Bishop Michael Browne asked him to close during the 40 days of Lent, it was immediately done so without protest.
Noel, always with a smile and an encouraging word for the bashful, would stand with his doormen Joe Coyne and Chick Gillen (there were no bouncers then) close to the stairs welcoming everyone as they arrived. He was an accomplished pianist; his wife Maureen O'Reilly taught piano before she married. At his funeral Mass in Salthill his son Derek, a professional pianist, sang Louis Armstrong's The Homefire with the memorable words "Heaven is waiting for me". The congreation applauded.
Noel Finan was buried at Rahoon cemetary on Friday. He is survived by his wife Maureen, sons David, Gerard, Noel Jr, Ken and Derek and daughter Mary, grandchildren, daughter-in-law, housekeeper Peggy and his brother Dr C F Finan.
Go dtuga Dia suaimhneas da hanam.

Editor.