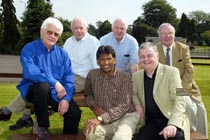 As many as 30 years after being in one of the top showbands in the country, Gene Chetty is still turning heads.
Returning to Enniskillen for the first time in decades, the South African born singer was still meeting fans in the street as he and his wife enjoyed a week-long holiday in the county.
The trip from their Cambridge home to Enniskillen also gave Gene the opportunity to meet up with many of the band members who were the personnel of Gene and the Gents back in the 1960s. It was the first reunion since Gene resumed his University studies at the end of six showband years in the 1960s. Gene and the Gents were an Enniskillen-based band who first played on St. Patrick's night in 1964 in Monaghan town. Their fan base grew and hits such as "The way you wrinkle your nose" and "I came as a stranger and stayed as a friend" were in the charts. Many of the Gents had been former members of The Skyrockets including Paddy McDermott (tenor saxophone) from Navan, Enniskillen's Peter Watson (drums), Dermot Doherty (trombone) from Derry and guitarist Henry McCullough, who later went on to play in Wings with Paul McCartney. Pete Cresswell replaced him after he left the band. Tony Gallagher from Strabane and Barry Scully from Dublin also were members of the band.
When the band got together, they needed a lead singer and an advertisement was placed in the music press. But not before publicity photographs were taken with a stand-in to play the role of singer and former Impartial Reporter journalist and novelist Keith Baker was the man to pose for the pictures.
Gene Chetty had travelled from South Africa to study Law at Trinity College, Dublin and had completed his first year when he saw the advertisement for a singer. Always keen on music, he applied and got the job and Gene and the Gents were born.
Under the direction of Road Manager, Joe Maguire, they travelled the length and breadth of Ireland and England. "The memories of those days are very good. We were travelling all over. It was really big business then. There were not many other attractions. We would go to a ballroom in the middle of a field and people would come from 20 to 30 miles around," Gene recalled.
And people still remember him. "We were walking along the road going into town this week and a car kept beeping at us. We thought he was looking for directions but he stopped and said he thought that they recognised me. He said he thought I was Gene Chetty and I said that I was. He said he used to come to see the band," Gene said.
It was through friends in Enniskillen that Gene had met his wife, Karin De-Zaaiger, a former pupil of Enniskillen Collegiate School, who had come over from Holland with her family when her father became Works Manager for the Taylor Woods factory in the town. They married in 1966. In her recent trip to the town she too has met up with old friends from school.
The reunion came about when contact was made between Gene and Henry McCullough who told him about what the rest of the band were up to. At the same time, Eddie Murphy, the DJ on Northern Sound Radio contacted Gene and conducted an interview, playing some of the band's music. Through the station, Paddy McDermott contacted his old friend and the wheels were set in motion for the reunion this week. "We were together about until the early 1970s. Then of course being married with a wife and children to support, I decided to go and get a 'proper job' and went back to my studies. This time I decided to do a post-graduate in management studies," Gene explained.
In the last five years Gene has worked for the Civil Service in an office based in Cambridge. He also works as a part-time lecturer in Business Studies.
But there may be opportunity for him to sing with the band again. The band is talking about perhaps getting together again next Easter for a number of reunion gigs. "I would be keen on it. Not having been in Ireland I am out of touch but the band tells me that there has been a bit of a revival in the showband music. If the interest is there, I would be glad to do it," Gene said.