Ballroom of Romance to become showband museum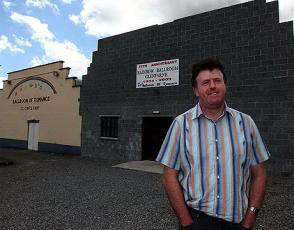 By Anita Guidera
Monday, June 7, 2010
Ireland's showband era is to be immortalised in a museum that will be located in the original 'Ballroom of Romance'.
The dancehall in the village of Glenfarne, Co Leitrim, already attracts visitors from all over the world since it was made famous in the William Trevor novel of the same name.
Now locals, who still attend monthly old-time dances in the ballroom, have undertaken an ambitious €500,000 plan to develop a hall of memorabilia dedicated to the showband era of the 1960s.
Bands such as the Royal Showband, the Clipper Carlton, the Miami and others will be honoured at the museum that will celebrate a more innocent era when men and women lined opposite sides of a crowded dancehall and only soft drinks and tea were served at the bar.
"Since it became world-famous through William Trevor's book and the subsequent BBC film, tourists file by to take photographs but they don't stay. They just take their pictures and move on," Glenfarne Community Development Trust chairman Sean McDermott told the Irish Independent. "The idea of a museum and a tourism centre is to persuade them to spend a little more time in the village." The work of returned US emigrant, John McGivern, who opened the ballroom in 1934 will also be acknowledged.
At the height of the showband era, the ballroom, known as McGivern's Dance Hall, drew such acts as Britain's Victor Sylvester Big Band and the Jimmy Shand Ceili Band, while Joe Dolan, Joe McCarthy and the Dixies, Sean Fagan and Sonny Knowles were also among those to play the venue. It was during those great dancing times that John introduced what he called "the romantic interlude".
This interlude consisted of 15 to 20 minutes during the dance when John dressed in a black suit, white shirt and black bow tie, would join with the band on stage and sing such romantic songs as 'Have You Ever Been Lonely'.
The ballroom's fame grew even more in the 1970s when William Trevor was driving by and noticed the sign over the entrance -- 'The Ballroom of Romance'. McGivern retired in the 1970s as the showband era made way for discos. But in recent years the local community has revived the live dances at the venue, which is now the property of the parish council.
- Anita Guidera
Irish Independent