Butch Moore quietly passed away earlier this year at his home in Massachusetts. His death proMpted a wave of Tributes to a remarkable period in the social history of Ireland -The Showband Years.
By Tara Mulvany
IT'S A FACT TOO EASILY FORGOTTEN that the seeds of the Irish rock and pop industry were sewn in the drafty, unsophisticated dancehalls of the 50's and 60's. When Bono was nothing more than a twinkle in his mother's eye, men in mohair suits and women with hairdos that changed with the weather were altering the face of contemporary Irish society for good.
America had Elvis, England had the Beatles, but Ireland had its own dazzling line up of the Royal, Dixies, Capitol, Miami, Drifters, Cadets and Freshmen. Night after night they belted it out in front of crowds of up to 3000 screaming fans.
Capitol Showband, who died at the age of 63 in his home in Sutton, Massachusetts. Moore rivaled the Royal Showband's Brendan Boyer as Ireland's most popular dancehall vocalist. His burial took place back in his hometown of Dublin. Hundreds of Irish entertainers and fans arrived at the funeral mass to pay tribute to a man and an era that had a remarkable impact on their lives.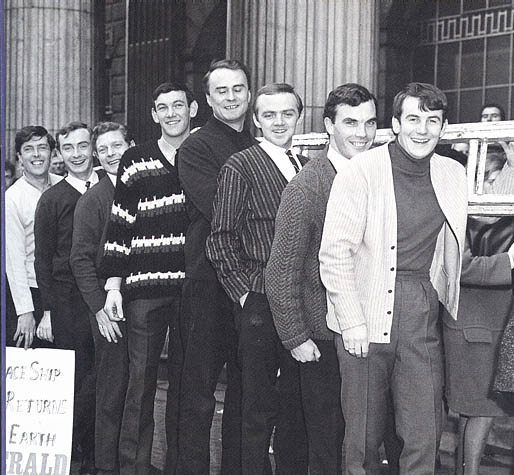 As Ireland's first Eurovision entrant in 1965, Moore came sixth out of 18 contestants with Wallking the Streets in the Rain. The contest, held in Naples, Italy, rocketed the 27-year-old to stardom. Former band member, Eamonn Monahan recalls Moore's return to Dublin after the event: "It was huge. There were over 5,000 people waiting for Butch at Dublin Airport. His popularity soared after the Eurovision. From then on we found ourselves in a position of having to get police escorts to bring us through the crowds of fans.
The success of The Capitol continued to grow throughout the sixties. In the course of one year, Moore appeared on 40 television shows. The band had over a dozen top ten hits, including five No.l's. They toured America for the first time in 1961, and two years later became the first showband to appear on the new national television service, Teilifis Eireann. The Capitol also played in the London Palladium in 1964 on a night when the line-up included Roy Orbison.
They had all the trappings of a professional band- manager, instrumentation, smart uniforms and handout publicity photographs. The original line up was: Johnny Kelly on drums; Eamonn Monahan on piano; Jimmy Hogan, lead guitar and banjo; Butch Moore, lead singer and rhythm guitar; Paul Sweeney, trumpet; Pat Loughman, trombone (later replaced by Don Long); Eddie Ryan, sax (later replaced by Paddy Cole) and Des Kelly, bass, vocals and musical arrangements.
The Capitol and the Royal were the two most popular bands on the showband scene at that time. "Our fan club was bringing in over 1000 letters a week. Thousands of fans would start queuing up outside our venues from as early as 3pm to get a glimpse of us", says Monahan. "But we were never aware of exactly how big we were. The whole thing happened so suddenly and we were all very young at the time. Butch was a printer and I was a student. We spent our money as fast as we made it." The success of the Capitol was attributed to the fact that it brought together a combination of extremely talented musicians. The sound was an eclectic mix of dixie jazz, country and chart toppers which, coupled with Moore's handsome looks and stage presence, brought the house down night after night. "Our music was a mix of everything but we were one of the few bands that could successfully play traditional jazz. We also performed some original numbers that were written by Phil Coulter, who was then an unknown songwriter. As well as that, Butch's looks, talent and appearance made us popular. But he never realized how popular he was and it never changed him."
Asked if the bands had any concept of the impact they were having on social culture, Monahan says: "In hindsight the whole era brought Ireland out of the dark ages. Church rule was very powerful at the time and the dancehalls posed a big threat to the old ways but the only real effect it had on us as performers was that for the seven weeks of Lent dancing was prohibited. We were lucky to be afforded the opportunity to go to the States during that time, but many other bands found themselves out of work." The Capitol found themselves as popular in America as they were back home. "When we went on tour in the States there would be thousands of people at Kennedy Airport to meet us. This was during a time when people couldn't get home. Air traffic was terribly expensive. We brought a bit of Ireland out to America and I suppose we created that all important connection with home for a lot of emigrants.
Shortly after his career had reached its peak in 1966, Moors decided to depart from The Capitol. After a short career on the Irish cabaret scene, he emigrated to America with his second wife, ballad singer, Maeve Mulvany. Together they embarked on a successful duo act that took them from South Texas up to New Hampshire. They eventually settled in where they presented a local radio show for 8 years and owned and ran The Parting Glass Bar in Milbury. For the last ten years of his life Moors was employed as a Chief Deputy Sheriff in Worcester County.
The contribution that Moore and all the great showband celebrities made to the Irish music industry and social culture is gradually gaining the recognition it deserves. Following Moore's death, the President of Ireland, Mary McAleese paid tribute to the legendary musicians who she said "had laid the foundations for Ireland's pop industry which now enjoys worldwide fame." Remembering her own experiences during the dancehall days, President McAleese said: "It was fun, it was as near to glamour as we got. Courtships were conducted there. It was a perspiration drenched night at a country cross roads under the canvas of a five pole marquee, dancing to the unique sound of an Irish showband." In his book on the showband era, journalist Vincent Power writes: "It was a multi million pound business that flourished from nothing. Within a few years, the showband boom gave work to about 4000 singers and musicians, and another six thousand in dancehalls, marquees, recording studios, management offices, companies and magazines. The economic spin-off was enormous. Bands drew thousands of dancers to ballrooms in towns and villages. Communities benefited from their spending power in pubs, shops, cafeterias and petrol stations. The economic loss was incalculable when the business died."
But to this day, the showband generation will tell you that the memories of those nights well outweighed the losses. Memories of fashions, courtships, friendships and aspirations - of glamour, gossip, scandal and change. When drafty dancehalls were magical places, full of alcohol and drug-free fun. Innocentnights when after the last notes of the national anthem sounded, your singing showband idol bade you a fond "good night, god bless and safe home."