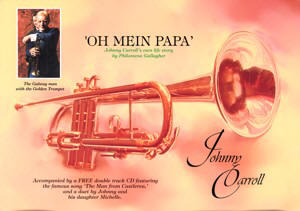 Last night, I was invited to the launch Johnny Carroll's new book, Oh Mein Papa, written by Philomena Gallagher (no relation) and published by Philly Books. The launch took place in the Central Hotel, Donegal as part of a week long outing for dancers from across the North who have come to town to do what they enjoy most...dance!
As one of the youngest musicians to hit the stage with an Irish showband, (Johnny was only 13 when he joined the Premier Aces back in the fifties) he has over 53 years of entertainment experience under his belt and is still going strong.
In the book Johnny talks about his professional career which included thirteen years with the famed Premier Aces, four years with the country outfit, The Swallows and another seven years with the pop oriented Magic Band before striking out on his own in the early 1980's. Over the last almost thirty years, Johnny has carved out a special niche as one of the few Irish instrumentalists (outside of jazz or Irish trad) to be topping the bill across the country as "The Man with The Golden Trumpet."
The book also covers Johnny's family life from his childhood in Castlerea, Co. Roscommon to life on the road with the Premier Aces as a lad who still wore short pants. In the mid sixties, he met and married his first wife, Stella and they had four children. Sadly, tragedy struck when Stella, only 37, was diagnosed with breast cancer and passed away, leaving Johnny with four children ages 7 to 14 to raise on his own. With no choice but to carry on, Johnny worked hard to raise three daughters and a son, who now have their own families and Johnny now has four grandchildren. He also met and married Anne, who he met after eight years of being on his own.
On the night of the book launch, Johnny took the stage and played for nearly two hours with the backing band, The Breakaways. Having played with Johnny in Magic and the Swallows in 1974-75, I was surprised that he was even more energetic on stage than I had remembered from 35 years ago. He whipped through a series of crowd favourites from the fifties and sixties, including Be My Guest, Oh Mein Papa, Jambalaya and many more. He kept the crowd dancing and singing along and never stopped to take a break.
After the music was finished, I also got a chance to chat with Barney Greene, drummer with The Breakaways. Barney started in the late sixties and played with Debonaires, The Maurice Lynch band and the Mainliners, among others.
Johnny also mentioned to me that he was going to a reunion dinner for the Premier Aces on Wednesday night, so the boys still stay in touch after all these years.
Overall, it was a great evening and really took me back to the showband days of old as you don't hear real live trumpet too often these days. For more information on Johnny's book, you can email Philomena at: philomena1.gallagher@googlemail.com.
All the best to Johnny and Philomena on the new book and I am sure Johnny will be still on stage for many years to come. My thanks also to both Johnny and Philomena for inviting me.
Below are some photos I snapped: (click on the thumbnails for full sized photos).
| | | | | |
| --- | --- | --- | --- | --- |
| | | | | |
| Johnny & Philomena | Johnny's Book | Cutting the Ribbon | Johnny On Stage | Johnny On Stage |