A show like a Joe show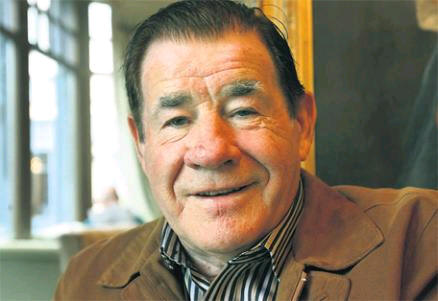 By Ciara Dwyer
Sunday Jul 6 2008
WHEN Joe Dolan died of a brain haemorrhage last December there was a huge outpouring of grief. Thousands filled Mullingar's Cathedral of Christ the King to pay their respects to the singer and his mourning family.
The day before the funeral, Joe was laid out in his coffin in his trademark white suit. With the permission of the Dolan family, the press and fans took their final photos of him in the funeral parlour. They did so with respect -- to honour the entertainer who had brought them so much joy over the years. They held banners with their mantra 'There's no show like a Joe show' and felt bereft that the main source of their musical pleasure was no more.
"Joe was 68 when he died," says his brother Ben. "Everybody wanted to be nice to Joe for some reason; even down to the papers knocking a few years off his age."
Ben does not look very like Joe but the moment he starts talking the similarity is clear. He shares his younger brother's sense of decency and lack of pretension. When you hear his hearty laugh you may as well be listening to Joe.
On the journey from Connolly train station to the Westbury Hotel, the taxi driver spotted the unmistakable Dolan resemblance and told Ben that he was "shockin' sorry about Joe".
"I didn't even know who the man was," Ben says, "but I appreciate it and all the goodwill. It keeps it very fresh in your mind."
Ben has come up from Mullingar where he lives with his wife Helen, to talk about a new show in which the band will commemorate Joe.
"Shortly after the funeral people were saying 'Our social life is gone. What are you going to do? Would you not arrange something?' We said no." A little while later they relented, and decided on a summer show. "That was back in January and July seemed miles away. Now it's on top of us and it only seems like a couple of weeks since."
They got together and organised a show. It is to honour Joe's memory and to meet the fans' demands.
"We're calling it a reunion show because it is a reunion," says Ben. "The band is broken up. But as for meself, I kind of miss the craic with the fellas in the band and doing the gigs and meeting people.
"I'm not saying that I want anything off them or that they want anything off me but it's just that over the years people in Cork knew the people in Donegal and the people in Dublin just by going to a show and meeting up. We're doing a show but there are loads of other acts in it too.
"In the show, Joe is up on the screen singing live. When he picks up the mike and counts 1,2,3,4, we'll be playing live. We've rehearsed it with the film we're going to use and I thought it was great because I never saw the show before. Then all of a sudden, we see it from where the audience sees it and I thought it was fantastic."
Ben realises that it may seem a little eerie having Joe up on the big screen but as he points out, these days screens are a part of all shows.
"When you go to open air shows, even in a match in Croke Park, a lot of the time you watch the big screen but with us it'll mean that you watch the big screen all the time. Screens are being used all over the world. We're trying to give something good and we hope that the people will enjoy it. I hope they're all in good humour rather than being sad."
For all his cheerfulness Ben's grief is palpable. How could it not be? Since 1960, Ben had played saxophone in his brother's band.
"I miss him terribly. I find it hard to believe that it really happened. Some mornings I wake up and since Joe's death I don't have a clear day in my mind. You wake up and you think, 'What am I worrying about?' and then it hits you. It's just there all the time. You think, 'Why did it happen', and then you think, 'Why shouldn't it happen?'"
Ben tells me that Joe was the sort of person who was never sick and if he was feeling groggy, he would never complain. He'd still get out on stage and after about two songs he would sing himself better.
"Even when he was on stage and he was hoarse, he would never tell the crowd that he wasn't the best. I used to say to him, 'Why don't you tell them that you're feeling groggy?' but he'd say that it was nothing to do with them and that they had paid their money and deserved a good show. He never complained about sickness but then we always thought that Joe was only a young fella and he had a young outlook. We never thought he was getting old but I suppose that's because we're all getting old but don't feel it."
Two and a half years ago, Joe had a hip replacement operation. (His original hip was put on eBay and auctioned off for charity.) "Just a bit of fun," as his brother puts it. Ben traces Joe's decline in health to around the time after the hip operation was done. All of a sudden, he would be unwell for short spells.
"He would never ever let the papers know that he was sick. No papers ever printed that he was in hospital. They might have printed that he missed a show but he never wanted that sort of publicity. I see a lot of singers when they get a cold and they're looking for publicity, it's in the paper."
Ben is still numb by the suddenness of Joe's death. While his brother had been sporadically unwell, he didn't think it was anything fatal. Joe was having trouble with his platelets and while he had been in hospital right before Christmas, he was allowed go to his Dublin home for Christmas Day. He didn't feel well shortly afterwards and went back into hospital by ambulance. He died on St Stephen's Day. This was a shock for Ben as Joe had still been working hard right up until the end.
"Four weeks before Joe died he made a record of old jazz tunes," says Ben.
"He did Mona Lisa, Dean Martin's Ain't That a Kick in the Head and he even went to the bother of learning Italian for one of the songs. The record is absolutely beautiful.
"He came down to Mullingar a week before Christmas with the Christmas boxes. He just went around all the houses. He'd give six bottles of wine or whatever. "
Joe Dolan's generosity was legendary. At the funeral, Fr Brian D'Arcy told the congregation of how Joe would frequently slip him money for charities. He always gave discreetly.
"Joe had no interest in money so long as he had plenty of it," says Ben. "Do you know what I mean? He always bought himself a good car, he wore good clothes and he had a good house and he played golf. He didn't think that much about money. I can't say that Joe ever took show business seriously. He liked what he was doing but there was no big deal about it. When he was in Australia he had to rehearse with an orchestra and he hated rehearsals. If someone told him that it was important to go to something, he would say, 'Important for what? I'm playing golf.' Most of his friends had nothing to do with show business."
As Ben talks of Joe, it is clear that he looked out for his younger brother. When they were growing up Joe was always confident but Ben was the one who advised his younger brother to avoid taking risks early on in his musical career. Ben trained as a carpenter and Joe was in the middle of his apprenticeship as a compositor for The Westmeath Examiner when the bug hit him.
Impatient to break into the music world, Joe wanted to leave his job and go at the music full time but Ben told him that it would be better if he finished his trade, so that he would have something to fall back on. Ben concedes that in some ways Joe was like the elder brother in that he was more daring.
"I made sure that he finished his time because I couldn't see the band business being successful. Joe went up to Dublin and bought a guitar off a fella he knew who worked in McCullough Piggots. He came home with a guitar and an amplifier.
"I asked him how he was going to pay for it and he said, 'Ah sure, I'll pay for it some way.' He didn't have a penny but he really got in on the guitar and it took him no length to pay it off. I was afraid of my life leaving my job, but Joe was confident. He could only see the good side of everything. The first gig we ever did we got paid £10 pounds and we were lucky to get the gig. Soon we were playing outside Mullingar in places like Kilucan and Kinnegad."
In 1963 they made a record called The Answer to Everything and that was the beginning of the big time for them.
"Larry Gogan was the first person to play the record. Our audiences shot up from 400 to 800 people -- and the fella who was booking us was the promoter, not the parish priest anymore. Make Me An Island was our first international hit. All the international tours to South Africa, Israel and Vegas came out of that. And we went to New York, Boston and Chicago after Good Looking Woman came out."
Ben has tried to come to terms with his brother's death but sometimes when he speaks about him he is on the brink of tears. Although he says that he is looking forward to the concert, I suspect that it may be an emotional night for him and the other members of the band. Being surrounded by Joe's loyal followers should help him get through it. He says that he finds solace when the fans sympathise with him and tell him of their own stories. Listening to them takes him out of himself.
"Since Joe died I've heard of far worse cases. People are telling me about family they have lost. Only last week I met someone who told me that her 27-year-old son committed suicide. He was a fan of ours. As she was explaining it all I thought, 'Jesus, there's no point in her being sad for Joe, she's enough to be sad about.'"
Just like his brother, Ben Dolan takes the time to think of others. He is a gentlemen.
The Dolan Family and James Cafferty present 'Joe Dolan, The Reunion Show' -- a live production that reunites former band-mates with a video projected Joe -- at Inec Killarney, July 11-13. To book call 0818 300888 or visit www.showtours.ie
- Ciara Dwyer