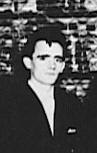 Co. Sligo Showband singer's death:
From the Sligo Weekender dated October 28, 2003
A former Tubbercurry man, Frankie Brennan, also known as 'Vicey' of Connolly Park, Tubbercurry, died in Dublin after a long illness last week. He was the son of the late Johnny Brennan, postman and painter, also of Connolly Park and brother of Gaby and Michael, both deceased.
He was a guitar player and singer with the Clefonaires Showband for some years and later joined the Montrose Showband that featured in the Showband Show on RTE.
He is survived by his wife and family in Dublin. Funeral services and cremation took place in Dublin. Sympathy is extended to his loved ones. May he rest in peace.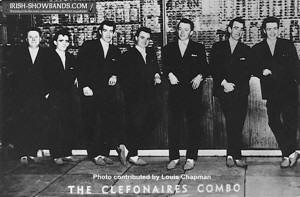 Memories of Eddie: Band leader, Johnny Carroll, who played for the Hospice Concert in St. Brigid's Hall last week came to notice the cast of a Phoenix Player's play staged in the 1950s in that hall and the name of the late Eddie Masterson written on the wall backstage. Eddie, who was a solicitor in Dublin, was an icon to all showband musicians when Barry's Hotel was the top spot in the capital city of the 1960s. Johnny then played with the Premier Aces Showband from County Roscommon. He recalled some memories of Eddie in those days and was chuffed to see his name in a line up of a play way back in the 1950s.
Before Eddie left to take up his profession in Dublin he was a 'man about town in Tubber' and was he a character then. Later joining Johnny Carroll for tea and sandwiches in the famous supper room in the hall, the painting of Joe Masterson also on display there was the subject of a long conversation and many great stories of both the Masterson brothers.
There is no doubt anyone who ever knew Eddie or Joe Masterson could say they met two great characters who still command attention long after their deaths and for happy memories.