Liam O'Reilly's Photo Collection - Pop, Country, Folk & Rock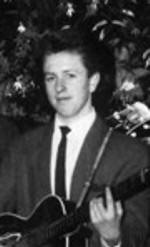 Liam O'Reilly, from Arklow, Co. Wicklow, was the guitarist with several showbands including The Echoes, The Red Seven, The Columbia Showband and The Quartermasters. He has been kind enough to scan and contribute his enormous collection of showband photos from the 50's and 60's, as well as an extensive collection of pop, country, rock and folk groups mostly from the 70's and 80's. As the largest outside contributor to the website, we truly appreciate his support and hope you enjoy sharing his collection. The photo at the right is Liam with The Columbia Showband.
50's and 60's Showbands (A through L)
50's and 60's Showbands (M through Z)
Pop, Country, Folk, Rock Bands and Advertisements (A through Z)
Click on a photo to see a full size image.
FOLK GROUPS, POP, ROCK & COUNTRY BANDS (60's & 70's)
The Ludlows
Peter Roddy - 1974
Casablanca - 1985
The Ludlows - 1966
Philomena Begley
Roly Daniels
Nevada - 1974
Sands - 1974
Derrick and the Royal Showband - 1974
American Pie - 1974
The Nevada - 70's
Gene Stuart & the Mighty Avons - 1974
Rocky Tops - 1974
Murphy & The Swallows - 1974
Roly Daniels and Green County - 1974
Sandie Jones - 1974
Brendan Shine - 1974
Joe Dolan & The Drifters - 1974
Harvest - 1974
Tony Kenny - 1974
Sundowners - 1974
Plainsmen - 1974
Top League - 1974
Tweed - 1974
Plattermen - 1974
Buckshot - 1974
Margo - 1974
D.J. Curtin - 1974
New Blues - 1974
Rory Gallagher - 1974
Chips - 1974
Colm Wilkinson - 1974
Memories - 1966
Thin Lizzy - 1973
Rory Gallagher - 1973
Horslips - 1973
Mushroom - 1973
Reform - 1973
Frupp - 1973
Terminals
Gina & Dale Haze - 1975
Joe Dolan - 1975
Shaun O'Dowd - 1975
Fran O'Toole - 1975
Sandie Jones & Joe O'Toole
Brian Coll
Danny Doyle & Maxi
Joanna of Tequila Sunrise
Glen Curtin
Tony Kenny
Clancy Brothers & Tommy Makem
Dermot Henry
Cromwell
The Limited Company - 1966
Big Eight
Big Eight
Oklahoma
Big Time
Tarzan & The Monkeys
Tommy Drennan & The Monarchs
The "New" Dixies
Dominic Kirwan of Las Vegas
Murphy of the Swallows
Bernie & The Tartans
Brendan Bowyer and his Band - 1990
Nitrax
Billy Donegan & The Country Hillsiders
Ray Lynam & The Hillbillies
Evelyn & The Envoys
Horslips
Ray Lynam
Pickford Set
Clancys with Tommy Makem in 1966
Dubliners - 1966
Wolfe Tones in 1966
Thin Lizzy
Grehan Sisters - 1966
The Johnstons - 1966
Jesse Owens - 1966
Joe Dolan - 1972
Raglan Four
Kelley & Klass
Everglades
Go Lucky Four
Dubliners
Conquerors 1st Photo
Pat Roper
Maxi
Derek Dean
Murphy of the Swallows
Connie Lee & The Prairie Ramblers
Brendan Quinn & Cades County
Pat Ely & The Rocky Tops
Tina
Jim Tobin & The Firehouse
Conquerors
Big Eight
Frankie Carroll & The Ranchers
Coolgreaney Jazz Band
Emmet Spiceland
Homers Knods
Homers Knods
Homers Knods
Big Eight - 1973
Gary Street & Tom Kelly of the Fairways
Mandy of the Gallowglass
Johnny McEvoy
D.J. Curtin &
the Kerry Bllues
Dermot O'Brien
Joanna Farrell
Conquerors
Big 8
Billy McFarland
Noel Pender
Pattersons
Real McCoy
Roly Daniels
Brendan Shine
Makem & Clancy
Larry Cunningham
Liffeysiders - 1965
Ebb Tide
Avonsiders
Ormonde Ballroom - 1957
Jon Ledingham
Ian Corrigan
Swarbriggs
Joe Mac
Johnny McEvoy
Stage 2 - 1973
Hillbillies
Gloria
Roly Daniels
John Glenn
Brendan Shine
Hugo Duncan
Phil Begley
Coming Soon
Coming Soon
Coming Soon
Coming Soon
Coming Soon
Coming Soon
Coming Soon
Coming Soon
ADVERTISEMENTS
Telstars
Internationals
Martells
Globetrotters
Viva Showband
Various
Mad Lads
Jimmy Dunny
Stardusters
Jimmy Johnston
Graduates
Royal Blues
Debonaires
Discatron
Ding-A-Ling 1st
Brendan Bowyer
Emerald Records
Eamonn Andrews Studios
Hurley's
Ormonde Ballroom - 1958
Kirwan Press
Arcadia - 1957
Aughrim - 1957
Ormonde Arklow - 1957
Ormonde, Arklow - 1962
Smith's Ballroom - 1957
Barry's - 1957
Knockananna - 1957
Wicklow People - 1957
Courtown - 1962
Glen-O'-Downs - 1962
Wicklow People - 1962
Wicklow People - 1957
Coming Soon
Coming Soon
Coming Soon
Coming Soon
Coming Soon
Coming Soon
Coming Soon