Marquees and Festivals (144 listed and counting)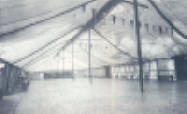 The photo at the left is the Geesala Festival marquee taken in July 1982 (click on the photo to enlarge). Once a mainstay of rural social life in Ireland, the marquees (like the ballrooms) have all but disappeared. Most marquees were set up in fields for a couple of weeks by local organizations, usually the G.A.A. club, to help raise funds for their annual operations, or to build a new clubhouse, or even fund a trip to play teams in the States. They were generally held in summer to take advantage of the "good" weather. Rarely ever dry, they usually consisted of a tent, some chairs, and a very wobbly stage (plywood sheets on empty beer kegs).
For bands, marquees were both a blessing and a curse. Usually they were well attended, being the single most important social "event" of the year for locals. In fact, the opening and closing night of a festival were usually guaranteed a packed house. On the other hand, facilities were extremely limited and in many cases, non existent. Bands had to change clothes in their vans, or behind the stage, or if they were lucky, a local house nearby where tea was served. Of course, if it was raining, the marquee was a nightmare. Click here or on the cartoon at right from the 1981 Festival of Avondale programme to get a better idea of the local view of marquee dancing!
Electrical power was usually dicey at best, and rarely strong enough to power a band's P.A., lighting rigs, and other gear. Stages were usually constructed of makeshift wooden platforms often teetering on empty beer kegs. The tent robbed the band's sound of all clarity and for miles around, all you could hear was the thud thud thud of the bass. It was like playing into a wet rag, literally.
Still, many musicians consider them part of the "good old days," before the disco lights, before the hotel extensions and supper dances. A time when the evening's entertainment depended on a band's ability to keep the audience up and dancing, or on that rare occasion, when whatever the band was doing was so good, people just stood and watched!
To show just how diverse the events scheduled at festivals could be, here's the full page schedule of events from the 1981 Festival of Avondale, Rathdrum. Enjoy the memories!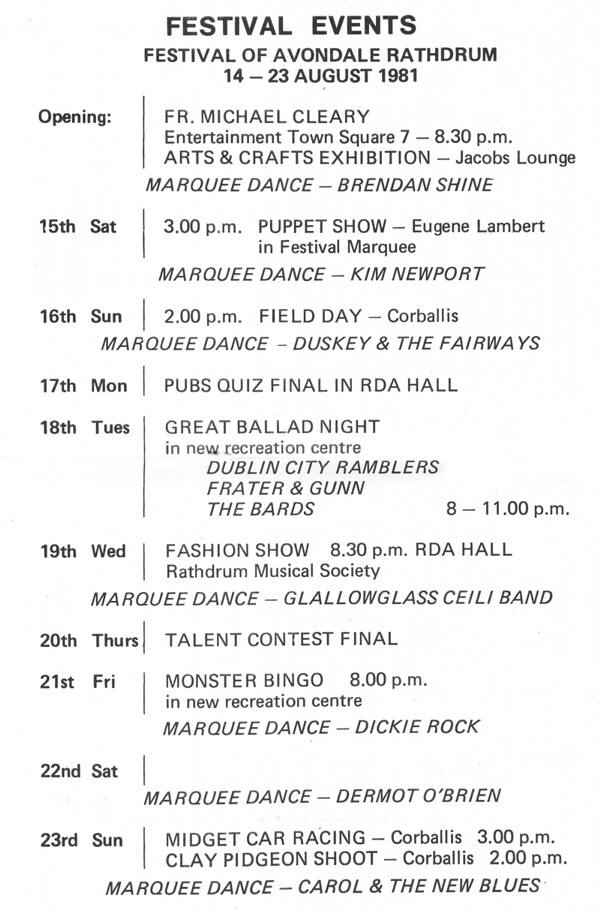 | Festival | Status |
| --- | --- |
| Annyalla Carnival, Castleblaney, Co. Monaghan | |
| Ardgroom Festival, Co. Cork | Unknown |
| Arva Carnival, Co. Cavan | Ran In The Early 70's |
| Ashbourne Festival, Co. Meath | Unknown |
| Athleague Carnival, Co. Roscommon | Ran in May in the early 70's |
| Aughnamullen Carnival, Co. Monaghan | |
| Bagenalstown Carnival, Co. Carlow | |
| Balla Carnival, Co. Mayo | |
| Ballinafad Easter Festival, Ballinafad, Co. Sligo | Early Spring festival in the late 1960's-70's |
| Ballinalee Carnival, Co. Longford | |
| Ballinamore Carnival, Co. Leitrim | |
| Ballinasloe Carnival, Ballinasloe, Co. Galway | |
| Ballintubber Carnival, Co. Mayo | |
| Ballivor Festival, Co. Meath | |
| Ballybay Carnival, Ballybay, Co. Monaghan | |
| Ballybunion Bachelor Festival, Co. Kerry | |
| Ballyconnell Carnival, Co. Cavan | Ran in the late 1960's |
| Ballyhaise Festival, Co. Cavan | Ran in the early 70's |
| Ballygalley Carnival, Co. Antrim | Ran in September in the late 1960's |
| Ballygar Carnival, Co. Galway | Going strong since 1945 - Joseph Larkin |
| Ballymore Carnival, Ballymore, Co. Westmeath**** | |
| Ballymote Carnival, Ballymote, Co. Sligo | Ran in July in mid 1960's |
| Barefield Carnival, Co. Clare | Ran in the early 70's |
| Barn Festival, Tullow, Co. Carlow | Ran in July in late 1960's |
| Bawnboy Carnival, Co. Cavan | Ran in the early 70's |
| Belturbet Carnival, Co. Cavan | Ran in September in the late 1960's |
| Bennettsbridge Festival, Co. Kilkenny | Gone |
| Birr Vintage Week Carnival, Birr, Co. Offaly | Ran in August-September in late 1960's |
| Borris Festival, Co. Carlow | Ran in the early 70's |
| Borrisokane Festival, Co. Tipperary | |
| Bunninadden Carnival, Bunninadden, Co. Sligo | Ran in June and started in 1964 |
| Butlersbridge Carnival, Co. Cavan | Ran in May and June, 1971 |
| Castlepollard Carnival, Co. Westmeath**** | |
| Castlerea Park Festival, Co. Roscommon | Ran in the mid to late 1960's |
| Cavan Carnival, Cavan, Co. Cavan | Started in 1968 it ran for 5 weeks from July-mid August |
| Charleville Cheese Festival, Co. Cork | |
| Clifden Carnival, Co. Galway | |
| Cloncurry Hot Springs Festival, Cloncurry, Co. Kildare | |
| Clontibret Carnival, Co. Monaghan | |
| Cloonacool Marquee Festival, Cloonacool, Co. Sligo | Ran in May in mid to late 60's |
| Convoy Carnival, Co. Donegal | Ran in July in late 60's |
| Corballa Dancing Festival, Corballa, Co. Sligo | Ran in May in 1960's |
| Corofin Carnival, Co. Clare | Ran in the early 70's |
| Craughwell Carnival, Co. Galway | |
| Croom Festival, Co. Limerick | |
| Crossmolina Nephin Festival, Co. Mayo | Unknown |
| Daingean Carnival, Co. Offaly | Ran in the late 1960's |
| Derrydonnell Carnival, Co. Galway | Ran in the late 1960's |
| Donagh Carnival, Co. Monaghan | |
| Doonbeg Carnival, Co. Clare | |
| Dromod Carnival, Co. Leitrim | Ran in the early 70's |
| Dromore West Carnival, Co. Sligo | |
| Drumcairn Carnival, Co. Armagh | Ran in the early 70's |
| Drumlish Carnival, Drumlish, Co. Longford**** | |
| Drumkeen Carnival, Co. Donegal | Ran in May in the early 70's |
| Dungloe Carnival, Co. Donegal | |
| Dunshaughlin Carnival, Co. Meath | Ran in the late 60's |
| Dunlavin Carnival, Co. Wicklow | Ran in May in the early 70's |
| Durrow Carnival, Co. Laois | Ran in July in the late 60's to mid 70's at least |
| Easkey Annual Festival, Seafield Hotel, Co.Sligo | |
| Edenderry Carnival, Co. Offaly | Ran in the early 70's in May |
| Ennistymon Carnival, Co. Clare | Ran in the early 70's |
| Ferbane Carnival, Ferbane, Co. Offaly | Ran in June in the late 60's |
| Ferns Carinval, Ferns, Co. Wexford | |
| Festival of Avondale, Rathdrum | |
| Festival of the Shannon, Carrick On Shannon, Co.Leitrim | Ran in July in the mid 1960's |
| Ford's Cross Carnival, Co. Armagh | Ran in August in the late 1960's |
| Freshford Carnival, Freshford, Co. Kilkenny | |
| Garristown Carnival, Co. Dublin | Held in July/August in late 60's |
| Geesala Festival, Co. Mayo | |
| Glasson Carnival, Co. Westmeath | Rain the 60's and early 70's (thanks to Tommy Lowry) |
| Glenbower Festival, Killeagh, Co. Cork | Early 70's |
| Glenamaddy Carnival, Co. Galway | Early 70's Summer |
| Glenravel Festival, Co. Antrim | Ran in the late 1960's |
| Glenswilly Carnival, Co. Donegal | Ran in late 1960's |
| Gormanstown Carnival, Gormanstown, Co. Meath**** | |
| Hackettstown Carnival, Co. Carlow | |
| Kilcock Festival, Kilcock, Co. Kildare | |
| Kilcrickle Carnival, Loughrea, Co. Galway | |
| Kildorrery GAA Mid Summer Festival, Cork | Active |
| Kileagh Carnival, Co. Offaly | Ran in the late 1960's |
| Kilfeakle Carnival, Kilfeakle, Co. Tipperary | Held in May in 1975 |
| Kilkishen Carnival, Co. Clare | |
| Killala Summer Festival, Co. Mayo | |
| Killaloe Carnival, Killaloe, Co. Clare | |
| Killare Big Band Carnival, Co. Westmeath**** | Held in July in late 60's |
| Kilmihill Carnival, Co. Clare | Ran in the early 70's |
| Kilnaleck Carnival, Co. Cavan | Ran in the late 1960's |
| Kiltegan Carnival, Kiltegan, Co. Wicklow | |
| Kinsale Regatta, Kinsale, Co. Cork* | |
| | |
| --- | --- |
| Lackagh Carnival, Lackagh, Co. Sligo | Ran in mid May late 1960's |
| Lanesboro Carnival, Co. Longford | Ran in September in the late 1960's |
| Laragh Carnival, Co. Cavan | Ran in September in the late 1960's |
| Latton Carnival, Latton, Co. Monaghan | |
| Lavey Carnival, Lavey, Co. Cavan | Ran in June in the late 1960's |
| Leixlip Festival, Co. Kildare | Ran in the late 1960's |
| Lepp Festival, Co. Cork | |
| Lissycasey Carnival, Co. Clare | Ran in the early 70's |
| Longford Carnival, Co. Longford | Ran in July in late 60's |
| Loup Carnival, Co. Derry | Ran in September in the late 1960's |
| Maghera Carnival, Co. Derry | Ran in August in the late 1960's |
| Manorhamilton Mid Summer Carnival, Co. Leitrim | Ran in the mid to late 60's |
| Mary From Dungloe Festival, Glenties, Co. Donegal* | |
| Menlough Carnival, Co. Galway | Ran in the late 1960's |
| Millstreet Festival, Co. Cork | |
| Milltown Festival, Co., Cavan | Ran in the early 70's |
| Moynalty Carnival, Co. Meath | Ran in the early 60's (thanks to James Sheridan) |
| Moville Carnival, Co. Donegal | Ran in July in late 60's |
| Mullingar Carnival, Mullingar, Co. Westmeath**** | |
| Naas carnival, Naas, Co. Kildare | Ran in June in late 60's |
| Nephin Festival, Crossmolina, Co. Mayo | |
| Old Lama's Fair, Ballycastle, Co. Antrim | Ran in July in mid 70's |
| Oram Carnival, Co. Monaghan | |
| Pallaskenry Carnival, Co. Limerick | |
| Piltown Carnival, Co. Kilkenny | Ran in May in the early 70's |
| Rathangan Carnival, Co. Kildare | Ran in the late 1960's |
| Rathdowney Carnival, Co. Laois | Ran in the late 1960's our thanks to Padraig Barry |
| Robertstown Carnival, Co. Kildare | Ran in the late 1960's |
| Rockingham Carnival, (near Boyle), Co. Roscommon | Ran in August in the late 1960's |
| Rose of Tralee Festival | |
| Scotstown Carnival, Co. Monaghan | |
| Sheep Shearing Festival, Millstreet, Co. Cork | Run by Macra na Feirme |
| Shelagh Carnival, Crossmaglen, Co. Armagh | Ran in the early 70's |
| Sixmilecross Carnival, Co. Tyrone | Ran in August in the late 1960's |
| Skibbereen Festival, Co. Cork | |
| Stradbally Carnival, Co. Laois | Ran in the late 1960's our thanks to Padraig Barry |
| Stradone Carnival, Co. Cavan | |
| Strangford Carnival, Co. Down | Ran in the late 1960's |
| Summerhill Festival, Co. Meath | |
| Swanlinbar Carnival, Swanlinbar, Co. Cavan | Held July 12th-August 5th, in 1974 |
| Swinford Festival of Dancing, Swinford, Co. Mayo | Ran in July and August, mid 1960's |
| Swords Festival, Co. Dublin | |
| Templemore Festival, Co. Tipperary | Gone |
| Timahoe Carnival, Co. Laois | Ran in the late 1960's our thanks to Padraig Barry |
| Toomebridge Carnival, Toomebridge, Co. Antrim | Ran in May in the early 70's |
| Tourmakeady G.A.A. Festival, Co. Mayo | |
| Trim Festival (Town Hall), Trim, Co. Meath | |
| Tullamore Harriers Carnival, Co. Offaly | Late 1960's Carnival |
| Tully Carnival, Co. Roscommon | Early 70's July Carnival |
| Turloughmore Carnival, Co. Galway | Ran in the early 1970's in Spring |
| Tyholland Carnival, Tyholland, Co. Monaghan | Held in late May, early June, early 1970's |
| Virginia Carnival, Co. Cavan | Ran in the early 70's |
| Westport Cailin Deas Festival, Co. Mayo | |
| Whitegate Carnival, Co. Clare | Ran in July/August in late 60's |
| Woodbrook Festival, Carrick On Shannon, Co. Leitrim | May to June, mid 1960's |