30th December, 2012....Dubliners are no more.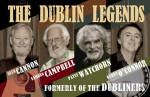 Following their 50th anniversary tour in 2012 (the year which included the sad passing of Barney McKenna in April - see below), John Sheehan, who had been with the band since 1964, announced his retirement after 48 years on the road. Two long time members of the group, Sean Cannon (1983) and Eamon Campbell (1987) have announced they will continue to tour singing the music of the Dubliners but using the name "The Dublin Legends." joined by Patsy Watchorn and Gerry O'Connor.

12th December, 2012...Showband tribute, "Do You Come Here Often" rides again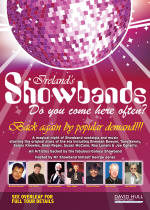 We received news today from David Hull that his annual showband tribute show, Do You Come Here Often is back again. For over sixteen years, the show has brought many of the showband legends together once more to thrill audiences with the talent that made them the top entertainers of the showband era. This year's show is no different and features: Brendan Bowyer (Royal and Big Eight), Tony Kenny (Sands and Tony Kenny band), Sonny Knowles (Pacific and Clubmen), Sean Fagan (Pacific), Susan McCann (Storytellers), Ray Lynam (Hillbillies) and Joe Doherty and is hosted, as usual, by George Jones. As in previous years, the show will be presented in Belfast, Derry and Dublin: On the 28th, 29th and 30th of December in Belfast; the 3rd, 4th and 5th of January in Belfast; and the 8th, 9th and 10th of January in Derry. Check your local paper for more information on venues and ticket prices or book tickets online.
10th November, 2012...Death of Ivan McBride (Skyrockets)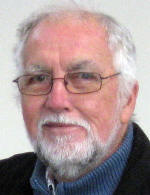 We received sad news from Alec McKeown from Enniskillen, that Ivan McBride, formerly of the Trenniers and Skyrockets has passed away in Tasmania. Ivan was the sax player with the band and left Ireland for Tasmania over thirty years before his sad passing. He continued to come home to Ireland on a regular basis and never missed a chance to play with local bands when he was here. Our sympathies are extended to Ivan's family and friends here in Ireland, in Tasmania and around the world.





28th September, 2012...Death of Larry Cunningham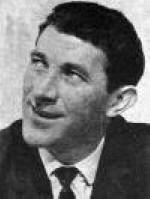 We received emails from several of our members including Kathleen Smith and Gerry O'Hara telling us the sad news that showband legend, Larry Cunningham passed away today. Larry was born in February 1938, and grew up near Granard, Co. Longford. Although a carpenter by trade, in the late 50's he joined the Grafton Showband. In 1961, he became the lead singer with the Mighty Avons. Larry became Ireland's first superstar in Britain, when in 1964 he entered the UK charts with his single A Tribute to Jim Reeves, selling over 250,000 copies. After nearly a decade, he formed his own band, the Country Blue Boys. After scores of hits singles and record breaking live performances, he got married in 1972 and gave up the grind of the ballroom circuit to focus on concerts and cabaret. He continued to be a favourite performer until his sad passing. Larry's life was the subject of a great book a couple of years ago by Tom Gilmore called Larry Cunningham, a Showband Legend. The quiet man from Granard was one of the true legends of the era and will be missed by his family, friends and fans around the world.

23 August, 2012...Death of Tony Morelli of the Witnesses, Dave Glover Band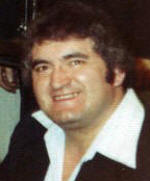 We received the sad news today from Bobby Forsythe that Tony Morelli, formerly of the Witnesses and Dave Glover showbands has passed away on the 15th of August, 2012. Tony played guitar and was originally from Belfast. He will be sadly missed by his family and friends.
20th May, 2012...Death of Ciaran McDonnell of the Drifters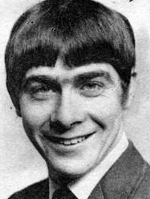 After receiving news just a few months ago that Ciaran had become a priest and was living in England, we received an email today from Melanie Corbett telling us the sad news that Fr. Ciaran had passed away after a long battle with pancreatic cancer. Our sincere sympathies are extended to his parishioners, family and friends in both Ireland and the UK.
17th May, 2012...Death of Joe O'Neill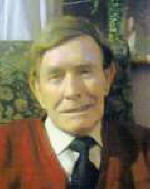 Sad news today from Glenamaddy, Co. Galway as Joe O'Neill - musician, manager and ballroom owner - has sadly passed away. Having been personally linked to Joe as a member of the Magic Band in the mid seventies, I bought my first Stratocaster from his shop and many more pieces of equipment since. Long after the doors of The Sound of Music and the House of Music were closed, musicians still flocked to Joe to take care of their equipment needs, he will be sadly missed and was one of the pillars of the Irish entertainment industry for many years. Beloved husband of Bridie, loving father of Mary, Bridie, Anne, Margaret, Tina, Joseph and Gerard, grandfather and father-in-law. Sadly missed by his brother Jimmy (Galway), sisters Rita (Armagh) and May (Castlerea), sister-in-law, nieces, nephews, grandchildren, relatives, friends and neighbours and the thousand of musicians who played for Joe or bought their equipment from him.



5th April, 2012...Death of Dubliner, Barney McKenna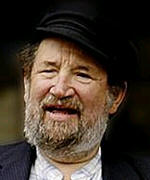 Barney McKenna, the last surviving member of the original Dubliners, sadly passed away on Thursday, April 5th. He was 72. Barney was one of the original four, which included the late Ronnie Drew, Luke Kelly and Ciaran Bourke, which started playing sessions in Dublin around 1962 first as the Ronnie Drew Group and then as the Dubliners. Along with John Sheehan, Barney was the only member of the group not to ever leave and return. John joined in 1964 and has also remained a member since. Born in Donnycarney, Dublin, Barney learned to play the banjo from an early age, mainly, it is said, because he could not afford to buy the instrument of his choice, a mandolin. In later years he also played the mandolin and melodeon and despite suffering a stroke, he continued to tour constantly with the band. Barney was predeceased by his Dutch wife, Joka. Our sincere sympathies are extended to his partner, Tina, his sister Marie, his brother Seán Óg, who is also a musician, and his nephews and nieces and all his fans and friends around the world. A piece of Irish musical history is gone.

23rd March...Death of Johnny McCauley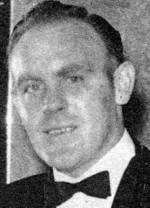 Kathleen Smith contacted us yesterday with the sad news that Johnny McCauley, one of Ireland's most prolific songwriters, has died in London. The following is from the Irish Independent newspaper: "McCauley, the Donegal-born London-based composer of some of the biggest hits in Country and Irish music, passed away at a London Nursing home today. He was 86. The singer/songwriter wrote more than 80 songs in a career that began at the famous Galtymore Club in London, in 1953. His songs launched the careers of Larry Cunningham,
Big Tom
and Daniel O'Donnell. Cunningham took 'Among The Wicklow Hills' to No.2 in the Irish Top Ten in 1966 and another McCauley composition 'Pretty Little Girl From Omagh' reached No.10 in 1969. Later Big Tom & The Mainliners scored their biggest ever success with the McCauley composition 'Four Country Roads', which reached no.5 in 1981. Daniel O'Donnell's first recording was 'My Donegal Shore' composed by McCauley."
Editor's Note: The Independent has mistakenly credited "Four Country Roads" to Big Tom and the Mainliners and it was actually recorded by Big Tom and the Travellers in 1981. Tom left the Mainliners in 1975 and would not return until much later. Also, Big Tom had several bigger hits with three number one records prior to "Four Country Roads
."
17th March...Death of Brendan Clifford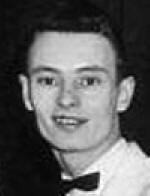 We received sad news today from two sources, Jean Hegarty and Mel Chittock (his son-in-law) that Brendan Clifford passed away on St. Patrick's Day, 2012. Brendan played sax with the Dave Dixon Orchestra as well as the Blue Notes Orchestra. At this point we have no details of his passing, but Mel has told us he played for many years with bands both in Ireland and in London. We extend our sincere sympathies to Brendan's family and friends both here and in the UK. More details to come.




10th March...Death of Buddy Boland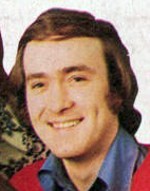 We received emails from Bobby Kelly and Jho Harris about the sad news that Frank "Buddy" Boland had died suddenly on Saturday. Buddy started playing guitar with local Dublin beat groups, ending up with the Uptown Band which also included a pre-Skid Row, Brendan "Brush" Shiels. Buddy went on the play lead guitar with the Collegemen and two of the country's biggest country bands (as opposed to showbands that did some country music). He joined the Cotton Mill Boys shortly after their formation in 1969 and was part of the new "original" line-up of the band. He stayed with them for three years until he left, along with Tommy Kinsella (bass) to form a new country outfit which would become Buckshot after the addition of Donegal's Bernie O'Boyle (Bill Ryan) on lead vocals. Buckshot became one of the most successful country outfits of the era, releasing at least 13 singles, eight of which reached the Irish charts. Buddy continued to entertain right up until his death, regularly performing at functions in and around Bray and Dublin. He will be sadly missed by his family and friends and our sincere sympathies are extended to his wife, Teresa, son Simon, daughter Roma, grandson Samuel and his entire family.

12th January...Death of Billy Curtin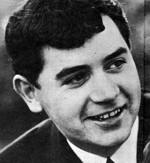 From Ger Walsh, we received the sad news that Billy Curtin, brother of the Kerry Blues' D.J., Alfie and John Curtin, has passed away in Tralee, County Kerry. After spending time playing music in America, Billy played sax and clarinet with both the Swingtime Aces and then the Arrivals Showband until the band broke up in 1971. In later years, Billy played with the famous Guinness Jazz Band as well as being a regular at functions and concerts around County Kerry and the South. Billy was still playing music up to three months before his death when he took ill. Our sincere sympathies are extended to his wife, Eleanor, daughters, Judy and Shirley and his friends and family across Ireland the world.




9th January...Death of Bridie Gallagher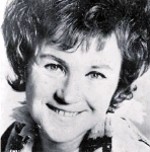 Articles published in the Belfast Telegraph, the Irish Independent and RTE all report the sad news that Bridie Gallagher, the original "Girl from Donegal" has passed away in Belfast at age 87. Born in Creeslough, Co. Donegal, Bridie relocated to Belfast in 1949. Recording for the Beltona label, Bridie became Ireland's first female recording star when here recording of songs like "A Mother's Love is A Blessing," released in 1956 predated the hits of the showbands of the 60's. Thousands of Irish who emigrated to the UK, States and even further away flocked to buy her recordings of "home." Her career spanned more than fifty years and included a string of hit records. Our sincere sympathies and sent to her family and friends around the world.