Pioneer/Premier Aces Story (1954-1973)
Photo Gallery - Band Lineups - Discography - Audio samples - Where Are They Now?
The Story
Story by John Baird and Gerry Gallagher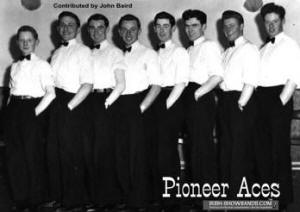 The pride of Ballintubber, Co. Roscommon, The Premier Aces started their careers known as The Pioneers Aces as none of the band drank alcohol and all were members of The Total Abstinence Society. The band was put together, in part, by the late Peter Shanagher, who had been the leader of the Ivy Caste Dance Band, also based in Ballintubber. However, Peter emigrated to England in 1956 before the band hit the road and handed over the reins to Stephen Treacy and Paddy Malone. The original line up was: Paddy Malone (alto sax), Andy Malone (drums), Sonny Ward (tenor sax), Stephen Treacy (accordion) Liam Treacy (RIP-sax) and Mickey Slyman (vocals and trombone).
In 1958, the band decided to turn pro and expanded to an eight piece adding Co. Galway man Frank O'Brien on Hawaiian/Steel Guitar as well as a very young (13 year old) trumpet player, Johnny Carroll (the same Johnny Carroll that is so popular in cabaret these days). This is the lineup in the photo at the right.
The lads started to command quite a following on the regional scene and the bookings rolled in. However, after several years a dispute within the Total Abstinence Society as to their eligibility to continue to be associated with the society forced them to change their name, so they became The Premier Aces around 1959.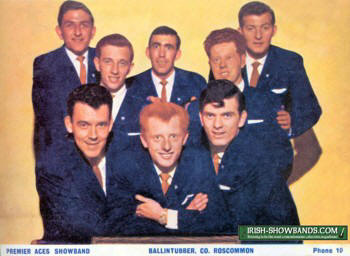 Around this time, the Treacy brothers (Stephen and Liam) decided to form their own band, The Rhythm Stars (also from Ballintubber) with three of their brothers, Aidan, Al and Sylvester, this made them somewhat unique on the showband scene at the time....five brothers in the same band at the same time.
At this point, the band added Larry Carolan on bass, and Jimmy O'Neill (brother of Glenamaddy's Joe O'Neill) on guitar. Jimmy would eventually switch over to keyboards. The band would undergo another change when Frank O'Brien was replaced on guitar by Corkman, Billy Ryan.
While playing the usual Lenten trips to the UK, they came to the attention of an English Country singer, Houston Wells (real name Andrew Smith) who was fronting his own band, The Marksmen (original known as the Coasters before changing their name and Andrew to Houston Wells). Houston, born as Andy Smith, in Northumberland had a varied career and was once a lumberjack in Canada before becoming a singer. He fit in straight away with the band and was very popular on the ballroom and marquee circuit as were the Premiers.
(Since writing this article, we found a detailed biography about Houston Wells which states he came to Ireland to live in the mid-1960's and fronted a band called the Masters. In 1966 the Masters split and Houston joined up with the Premier Aces. In 1968, his bio says he "formed" the Trident Showband. These details differ somewhat from what we have researched through sources like Spotlight and personal accounts, but we present them both just to cover all the bases. Houston would retire from music in 1971 and eventually emigrated to New Zealand in 1973 where he lived until he sadly passed away in 2013).
Now a nine piece, the band enjoyed new success across Ireland and had a number of Irish chart entries with Above and Beyond, When my Blue Moon turns to Gold, and Only the Heartaches. The band went from strength to strength, becoming one of the top bands in the West of Ireland. Shortly after Houston joined, long time member Michael Slyman called it quits and the band reverted to an eight piece for the next few years. Although Houston's tenure with the band wasn't long (around a year), his impact on their popularity was immense. In late 1966, the band toured the United States and continued to draw large crowds in Ireland.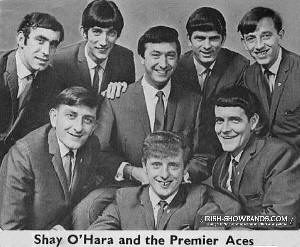 In April 1968, a major change took plan in the band when Houston Wells was replaced by former Royal Blues singer Shay O'Hara. At loose ends, Houston talked of forming his own band in an April interview in Spotlight, but ended up returning to England where he formed a group called The Masters. After recording a couple of records with them, he would eventually return to Ireland to join The Trident Showband from Limerick.
Meanwhile Shay O'Hara, an excellent vocalist with a large following in the West of Ireland, recorded a single with the Premier Aces, the A side entitled Your Lily White Hands. Another change took place when Billy Ryan left and was replaced by guitarist, Bob Madden.
In late 1968, the band went to the United States for a three week tour on the east coast. We assume they played the usual Irish circuit. Reports upon their return said that Shay had appeared on American TV with Ralph Emory on on WSM TV and sang three songs backed by Jim Reeves' Blue Boys.
As the sixties came to close, the Premiers had undergone several changes, but were still at the top of their form, a 1969 Spotlight Poll ranked them as one of the top twenty showbands in the country in the same company with bands like the Capitol Showband. Yet, after a very successful run on the showband scene, over which they gave dancers and fans great entertainment, they played their last date at the Oranmore Carnival, Co. Galway in 1969. The band did come together for a time in 1970, but it was short-lived.
However, in 1972, several ex-members of the Rhythm Stars formed a new version of The Premier Aces with local singer, Patsy McCaul out front. The lineup included Aidan, Sylvie and Al Treacy (brothers of original Pioneer Aces, Liam (RIP) and Stephen). Also in the lineup were Dene Lane and Johnny Staunton. None of the band members had even been in the Premiers Aces themselves though. By 1974, both the New Premiers and the Rhythm Stars were history and Patsy McCaul went on to form a country band, Southbound. Since then, the Premier Aces have reunited a few times one of them being at a special dance in the Seapoint Ballroom, Galway just a few years ago.
Following the Premier's breakup in 1969, Sonny Ward, Jimmy O'Neil, and Johnny Carroll formed a country outfit, The Swallows, in 1970 which enjoyed some success early in the 1970's. By 1974 though, Jimmy and Johnny were on the move again and they formed Magic and the Magic Band with only Johnny Carroll and drummer Mickey Belton coming from the Swallows. The new band was originally Magic and the Swallows but soon became The Magic Band. Magic broke up in the early 80's, but Johnny Carroll went on to a solo career known as Ireland's "Man with the Golden Trumpet."
(Our thanks to Eddie Kelly for assistance with some details in this article.)
Click on thumbnails for full images
| | | | | |
| --- | --- | --- | --- | --- |
| | | | | |
| Pioneer Aces - 1958 (JB) | Premier Aces | Premier Aces (JB) | Premier Aces | Premier Aces (LR) |
| | | | | |
| Premier Aces - 1966 (LR) | Premier Aces (LR) | Premier Aces (SM) | Premier Aces (JB) | Premier Aces (PB) |
| | | | | |
| Premier Aces 1966 (LR) | Premier Aces - 1968 | Pat McCaul - 1973 | Premiere Aces (JR) | Premiere Aces (PL) |
| | | | | |
| Premiere Aces (PL) | Premiere Aces (PL) | Coming Soon | Coming Soon | Coming Soon |
Year
Trombone
Vocals
Accordion/
Keyboards/Gtr
Sax/Bass
Drums
Sax
Sax
Trumpet
Hawaiian/
Guitar
1954
Mickey
Slyman
Stephen
Treacy
Liam
Treacy
Andy
Malone
Sonny
Ward
Paddy
Malone
1957
Mickey
Slyman
Stephen
Treacy
Liam
Treacy
Andy
Malone
Sonny
Ward
Paddy
Malone
Johnny
Carroll
Frankie
O'Brien
1961
Mickey
Slyman
Jimmy
O'Neill
Larry
Carolan
Andy
Malone
Sonny
Ward
Paddy
Malone
Johnny
Carroll
Frankie
O'Brien
1964
Mickey
Slyman
Jimmy
O'Neill
Larry
Carolan
Andy
Malone
Sonny
Ward
Paddy
Malone
Johnny
Carroll
Bill
Ryan
1965
Houston
Wells
Jimmy
O'Neill
Larry
Carolan
Andy
Malone
Sonny
Ward
Paddy
Malone
Johnny
Carroll
Bill
Ryan
Apr.
1968
Shay
O'Hara
Jimmy
O'Neill
Larry
Carolan
Andy
Malone
Sonny
Ward
Paddy
Malone
Johnny
Carroll
Bob
Madden
1972
Patsy
McCaul
Sylvester
Treacy
Dene
Lane
Al
Treacy
Aidan
Treacy
Johnny
Staunton
1973
Patsy
McCaul
Sylvester
Treacy
Dene
Lane
Al
Treacy
Jim
Carney?
Aidan
Treacy
Johnny
Staunton
Happiness Takes So Long / Looking At You (Houston Wells)
Parlophone Records, July, 1965 - DIP 507
Above and Beyond / Love Looks Good On You (Houston Wells)
Parlophone Records - 1966 - DIP 509
When My Blue Moon Turns to Gold / The 32nd of May (Houston Wells)
Parlophone Records - 1966 - DIP 511
So Long Mary / Your Lily White Hands (Shay O'Hara)
Target Records - 7N.17583 - August, 1968
Irish Soldier Boy / Two Little Boys (Shay O'Hara)
Target Records - 7N.17764 - 1969
On The Southbound / The Bottle Let Me Down (Patsy McCaul)
Release Records - RL.676 - 1973
Flower of Macroom / Anywhere Just Inside Your Arms (Patsy McCaul)
Release Records - RL.731 - 1974
**Our thanks to Eddie Kelly for a lot of help with the discography
Coming Soon
Mickey Slyman: Mickey spent several years in the USA and returned approx 5 years ago to Roscommon and has married and settled down there. However, Mickey is no longer in the music business - Johnny Carroll.
Stephen Treacy: Along with Liam, Stephen formed The Rhythm Stars with his brother. The Rhythm Stars would tour until their final gig in 1974 and would be unique in having seven brothers and one sister involved in the band at one time or another. Today, Stephen owns a Sports Shop which is located ion Main Street in Castlerea, Co. Roscommon.
Liam Treacy: RIP
Andy Malone: Both Malone brothers retired from the entertainment scene upon the breakup of the Premiers. Andy is married and lives in Castlerea - Johnny Carroll.
Paddy Malone: Paddy retired from performing after the break up of the Premiers and got married. Today he lives in Ballintubber and is involved in farming - Johnny Carroll.
Sonny Ward: Sonny went with Johnny and Jimmy to the Swallows. He continued to entertain people until he announced his retirement last year (2005) with a gala event in the Casino Ballroom in Castlerea, where he still lives.
Johnny Carroll: After the Premier Aces packed it in, Johnny, Sonny and Jimmy formed Murphy and the Swallows. The band did well on the country circuit, but in 1974 Jimmy and Johnny put together The Magic Band, with Jimmy as the band's road manager. In the early 1980's, Johnny struck out of his own and did very well as The Man With The Golden Trumpet. He still lives in Galway, plays regularly and is a tireless worker. In 2008, Johnny will celebrate 50 years of continuous playing, the longest stretch by any musician of the showband era.
Frankie O'Brien: Frankie O'Brien left the music business and now lives in Galway - Johnny Carroll.
Jimmy O'Neill: After leaving the music business for many years, Jimmy started playing locally again a few years ago. He still lives in Galway and runs a B&B there as well.
Larry Carolan: Larry now lives in Kells, Co Meath and is still singing. In late 2004, he

recorded a song which commemorated the ancient history of a place called Loughcrew in Co. Meath. Loughcrew is a site of rich historical, archaeological and religious interest. There are cairns (passage graves) on the hill. The song was composed by Mary Ann Flanagan-Geraghty from Kells and Larry added the music. It received a number of airplays on Shannonside Radio where it was featured by Eddie Murphy on his regular shows.

Houston Wells - RIP

:

Houston left the band and eventually joined The Trident Showband based in Limerick. He quit the scene in 1971 and in 1973 emigrated to New Zealand. Recent years had seen Houston sign a deal with Rollercoaster Records UK. New songs were recorded in association with his son Rob Smith as well as other session musicians had been recorded in New Zealand. Both original songs as well as covers of many classic recordings were on his double album "Just For Old Times Sake" released in 2005. Sadly, we received word that Houston passed away on December 27th, 2013.
Bill Ryan: Billy Ryan left Castlerea in the 1970's and relocated to Cork. Bill is still involved in music and does his own one man show in and around the Cork area - Johnny Carroll.

Shay O'Hara - RIP

: After leaving the Royal Blues at Easter 1968, Shay went on to front the Premier Aces from nearby Castlerea. Eventually, Shay emigrated to Australia in 1969. Shay lived and worked in Australia, gaining great popularity with the vast number of Irish living "down under." Sadly, Shay passed away on March 20, 2009.
Bob Madden: Unknown - if you have info please email us

Patsy McCaul: Unknown - if you have info please email us

This feature contains text previously published in the Letterkenny Post and copyrighted by John Baird.
Additional text copyright GMS Productions.