The Philomena Begley Story (1968-present)
Old Cross Bandshow - Country Flavour - Ramblin' Men - Solo
Photo Gallery - Band Lineups - Discography - Audio samples - Where Are They Now?
The Story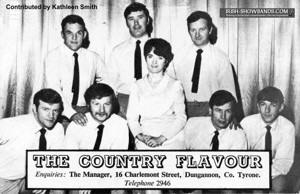 Known as "Ireland's Queen of Country Music," Philomena Begley has made a firm imprint on the Irish, British and European markets. The fourth of eight children, Philomena enjoyed a typical Irish upbringing with a love for Country music instilled in her from an early age. It also helped that her mother sang while her father played accordion. Philomena was influenced by Hank Williams and as a child she won ten shillings (75 cents) singing a duet with another girl in Clarrie Hayden's Traveling Show.
Working in Fishers Hat Factory in Cookstown, County Tyrone during the day, Philomena joined the Old Cross Ceili Band to occupy her time at night. In the process she gained a husband (a band member) and cut her first record, My Little Son (1968). Two more records were released under the Old Cross banner, Old Ardboe and The Box It Came In, but neither made an impression on the Irish Charts.
Around this time (1970-71), the band signed with Dublin based promoter Nelius O'Connell and reflecting the increasing popularity of Country music in Ireland, the band's name was promptly changed to the Country Flavour. The lineup included John O'Neill (accordion), Kevin Casey (drums), Michael McNally (RIP-guitar), Philomena Begley (vocals), Pat Hamill (fiddle), Dan O'Hara (RIP-guitar/vocals), Brian McNally (RIP-bass), Tom Quinn (keyboards).
Riding the crest of the new country wave in Ireland, the band started having a greater impact. In 1971 the band made the Irish Top 10 with Here Today, Gone Tomorrow and Never Again and they were on their way. For the next few years, the band enjoyed growing success, but as often happened on the showband circuit, success created problems as well.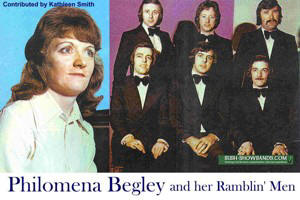 Around 1974, change was in the air again. The band left Nelius O'Connell and signed with the growing Top Rank Organisation under Tony Loughman. The band lineup underwent wholesale changes with only Dan O'Hara and Tom Quinn remaining from the previous band. The band's new name was the Ramblin' Men. This band would last for 10 years and have many Irish hits. Among them were Ramblin' Man, a cover of Blanket on the Ground (which Philomena took to No. 5, while Billie Jo Spears only took her original to No.11), Wait a Little Longer, Once Around the Dance Floor and Whiskey Drinkin' You.
There were also duet successes with Ray Lynam of the Hillbillies, including You're the One I Can't Live Without and My Elusive Dreams. In addition, the duo released two albums. More recently Philomena has duetted with rising Irish singer Mick Flavin, enjoying a single success with, 'Til A Tear Becomes a Rose and cutting an album with him, In Harmony. Among her many notable albums is Country, Scots and Irish, in which she combined songs from or about the two countries.
Philomena first visited the United States in 1977, appearing in Boston, New York and Chicago. Her impact was such that the following year, while visiting Nashville, Porter Wagoner invited her to guest on the Grand Ole Opry. In addition, he also produced several singles and albums recorded in his Fireside Studios in Nashville, including Philomena's Country. Philomena has also appeared on the International Show at Fan Fair. She was also a regular performer at the prestigious Wembley Country Music Festival in England and has also been in demand over the years to support American Country acts whenever they played Britain and Ireland; among these have been Don Williams and Glen Campbell.
In January 1984, Philomena signed with Ritz Records, Ireland's premier country label, and released a series of albums. In addition, K-Tel released her collection, The Best of Philomena Begley, and it achieved Platinum status. Philomena has also toured extensively as the top of the bill in country clubs, both in her native Ireland, and across the UK. Philomena has also expanded into European dates and in October 1992, Philomena participated in a two-hour special on the satellite radio program, Quality Europe FM, whose potential audience was 150 million people. There was a tremendous response, with phone requests from all over the continent to hear her material. Philomena has appeared extensively on Irish TV, has made a live video and received numerous awards for her achievements.
During 1983 she received the European Gold Star Award in Holland. Perhaps the most significant accolade was the British Country Music Association award in November 1992 in recognition of Philomena Begley's contribution to the development of country music in Britain. Philomena Begley's success is in large part due to her ability to handle a wide range of material, whether it be original songs or covers given the Begley treatment. She's been in the business for over 30 years and retirement is still far from the horizon. When she's not touring or recording, Philomena relaxes on her family farm.
More to come.....
click on thumbnails for full image
| | | | | |
| --- | --- | --- | --- | --- |
| | | | | |
| Country Flavour (KS) | Phil Begley - 1971 | Phil Begley - 1972 | Phil Begley - 1972 | Phil Begley - 1972 |
| | | | | |
| Country Flavour - 1972 | Country Flavour - 1973 | Phil Begley - 1973 | Phil Begley - 1973 | Phil Begley - 1973 |
| | | | | |
| Phil Begley - 1973 | Phil Begley - 1974 | Ramblin' Men (KS) | Phil Begley (DL) | Phil Begley |
| | | | | |
| Phil Begley - 1974 | Phil Begley - 1974 | Dan O'Hara - 1975 | Kevin Farrelly - 1975 | Kevin McGinty - 1975 |
| | | | | |
| Liam Gibson - 1975 | Tom Quinn - 1975 | Colm Kiely - 1975 | Ramblin' Men (KS) | Phil Begley - 1975 |
| | | | | |
| Phil Begley - 1975 | Phil Begley - 1975 | Ramblin' Men - 1975 | Phil Begley - 1975 | Ramblin' Men - 1975 |
| | | | | |
| Ramblin' Men - 1975 | Ramblin' Men - 1975 | Ramblin' Men - 1975 | Ramblin' Men - 1975 | Phil Begley (KS) |
| | | | | |
| Phil Begley - 1979 (LR) | Phil Begley - 1979 (PH) | Phil Begley (KS) | Phil Begley (KS) | Phil Begley (KS) |
| | | | | |
| Phil Begley (LR) | Coming Soon | Coming Soon | Coming Soon | Coming Soon |
| | | | | |
| Coming Soon | Coming Soon | Coming Soon | Coming Soon | Coming Soon |
Years
Vocals
Guitar
Bass
Drums
Keyboards
Sax/Fiddle
Trumpet
Guitar
1973
Philomena
Begley
Dan
O'Hara
Brian
McNally
Kevin
Casey
Tom
Quinn
Pat (fiddle)
Hamill
John (accord)
O'Neill
Michael
McNally
1975
Philomena
Begley
Dan
O'Hara
Liam
Gibson
Colm
Kiely
Tom
Quinn
Kevin (sax)
Farrelly
Kevin
McGinty
Singles:
My Little Son / Heartaches for A Dime (Old Cross Bandshow)
Dolphin Records - DOS.11 - January, 1968
Old Ardboe / The Wild Side of Life (Old Cross Bandshow)
Dolphin Records - DOS.38 - May, 1969
The Box It Came In / Greener Pastures (Old Cross Bandshow)
Dolphin Records - DOS.50 - December, 1969
Here Today, Gone Tomorrow (Country Flavour) - #7 Irish Charts
Release Records - Unknown - August 1971
Truck Drivin' Woman / Never Again (Will I Knock On our Door) (Country Flavour) - #15 Irish Charts
Release Records - RL.616 - February, 1972
Ramblin' Man (Country Flavour) - #9 Irish Charts
Release Records - Unknown - September, 1972
You're The One I Can't Live Without (with Ray Lynam) /
Loving You Could Never Be Better (Ray) /How Can I Face Tomorrow (Phil) - #5 Irish Charts
Release Records - RL.678 - May, 1973
The Light In The Window / Husband Hunting (Country Flavour) - #7 Irish Charts
Release Records - RL.690 - September, 1973
My Elusive Dreams (with Ray Lynam) - #3 Irish Charts
Release Records - RL.733 - July, 1974
Wait A Little Longer (Ramblin Men) - #5 Irish Charts
Top Spin Records - Unknown - December, 1974
Blanket On The Ground (Ramblin Men) - #5 Irish Charts
Top Spin Records - TSS.57 - August, 1975
Once Around The Dance Floor (Ramblin Men) - #15 Irish Charts
Top Spin Records - Unknown - May, 1976
For the First Time In A Long Time (Ramblin Men) - #5 Irish Charts
Top Spin Records - Unknown - June, 1977
The Umbrella Song / Big Wheel Cannonball (Ramblin Men)
Top Spin Records - TSS.84 - November, 1978
What's Wrong With The Way We're Doing It Now (Ramblin Men)
Top Spin Records - Unknown - January, 1979
Blue Jean Country Queen / One Drink Is One Too Many (Ramblin Men)
Top Spin Records - Unknown - February, 1980
The Triangle Song (Ramblin Men)
Top Spin Records - Unknown - October, 1980
Cottage On The Hill (Ramblin Men) - #29 Irish Charts
Top Spin Records - TSS.155 - September, 1982
Whiskey Drinking You (Ramblin Men) - #17 Irish Charts
Top Spin Records - Unknown - February, 1983
The Way Old Friends Do / Heart To Heart Salesman (Ramblin Men) - #13 Irish Charts
Ritz Records - RITZ.065 - March, 1983
Sentimental Of You (Ramblin Men) - #12 Irish Charts
Ritz Records - RITZ.080 - September, 1984
Dear Santa - #11 Irish Charts
K-Tel Records - Unknown - November, 1988

Albums:

Meet The Queen of Country Music
Top Spin Records - TSLP.01 - October, 1974
Blanket On The Ground
Top Spin Records - TSLP.43 - August, 1975
Queen of the Silver Dollar
Top Spin Records - Unknown - 1976
Nashville Country
Top Spin Records - Unknown - November, 1978
Fireside Country
Top Spin Records - Unknown - October, 1979
The Best Of Philomena Begley
K-Tel Records - Unknown - October, 1979
Philomena's Country
Top Spin Records - Unknown - April, 1980
Coming Soon
| | |
| --- | --- |
| | Band Member: |
| | Band Member: |
| | Band Member: |
| | Band Member: |
| | Band Member: |
| | Band Member: |