The Drifters (1960-1985) Joe Dolan (RIP) solo until 2007
Photo Gallery - Band Lineups - Discography - Audio samples - Where Are They Now?
The Story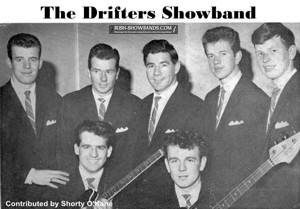 Although Brendan Bowyer and Dickie Rock fans may argue, Joe Dolan is generally regarded as the greatest international star produced by the showband era. He had numerous hits in Ireland and Europe, including the U.K. His career started in his native Mullingar with a band that would create two major musical forces in Irish music...The Drifters and The Times.
The story of The Drifters started when the two Dolan brothers Joe and Ben, got together with some friends and entered a local talent contest which they won. The brothers knew they could make a go of music and quit their day jobs (Ben as a carpenter and Joe as a compositor) and formed The Drifters in 1960 with Ben on Sax and Joe as guitarist and lead singer. The original lineup also included Charlie McMorrow (keyboards/sax), Jimmy Horan (bass), Sean Connolly (trumpet) and Eddie Deehy (drums).
Within a year, the band's first change took place when Sean left and the boys traveled to Cootehill to discover Tommy Swarbrigg (trumpet), who at 16 had already been playing with a band called the Jordanaires for two years. He joined the band and became their main songwriter. A year later, in 1962, Joe and Ben were on the search again, this time for a trombone player which they found in Swanlinbar's Joey Gilheaney. The final pieces to the puzzle came together when Sid Aughey joined on drums, replacing Eddie Deehy and Des Doherty replaced Charlie McMorrow on the keyboards we think around 1963.
In 1964, the lineup of the band was set: Ben Dolan (sax), Joe Dolan (guitar), Donal "Sid" Aughey (drums), Jimmy Horan (bass), Tommy Swarbrigg (trumpet), Joey Gilheaney (trombone), and Des Doherty (keyboards). The band's first record was an old Del Shannon song, "The Answer To Everything," which went to No. 4 in the Irish Charts and set the band on their way.
Manager Seamus Casey described the variety of career paths the lads had travelled to get to the ballrooms in a 1967 interview. As mentioned previously, Joe was a printer, and Ben a carpenter. Joey Gilheaney came from a musical family but had been working on the family farm. Des Doherty was the "professional" musician of the band, having done little else but play music during his then 23 years. Jimmy Horan was a shop assistant before joining the band and Donal "Sid" Aughey was a butcher, but went to England where he drove a bus, returning to join the band. Finally Tommy Swarbrigg had been working in a radio shop.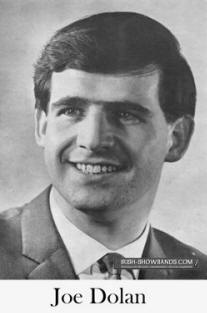 With a hit single under their belts, the boys took the dancehalls and ballrooms by storm. In the following years, Joe released a string of hits, including "I Love You More And More Everyday", "My Own Peculiar Way", "Aching Breaking Heart", "Pretty Brown Eyes", "Tar And Cement", "The House With The Whitewashed Gable", "Love Of The Common People", and "The Westmeath Bachelor".
In June, 1968, Joe placed an advert in Spotlight magazine offering a £500 for information leading to the identity of the person (or persons) responsible for spreading a rumour which questions Joe's moral character (see below). Although we are unsure what the specifics were, we know that as Joe never married, there were always rumours and speculations about his sexual orientation throughout his life. Joe made a very public plea to find those responsible and very quickly the rumours abated and the fans never abandoned the band or Joe as he had feared.
However, within just a few weeks, in mid July, 1968, a real crisis hit the band when Tommy Swarbrigg and the younger members of the band decided it was time for a change in direction and left to form The Times. In an article in Spotlight on the 27th of July, it was noted that the split had been a long time in the making. It became increasingly obvious that the five members who broke away wanted to move in the direction of new bands like the Sands and go strictly pop, while Joe and Ben wished to retain the musical variety of the 60's showband era.
Tommy contacted his brother, Jimmy, who was living in London, and he returned to front the new pop band. In a July 17, 1968 interview in Spotlight, Ben Dolan was quoted as saying that the success of the Sands break from the Miami "may have precipitated the break in the Drifters." Manager Seamus Casey added that the band had been offered a contract in Las Vegas which Ben, Joe and he were not interested in pursuing.
This move left Joe and Ben alone, and they went about rebuilding a new band that would eventually go on to even greater success at home and abroad. The new band was on the road after less than a month in mid August. New members of the band included Clones man Frankie McDonald, who had played trumpet with the Irish Army No. 4 band and Sid Shine's Saints showband; Seamus Shannon from Elphin, Co. Roscommon who played trombone, but was also an All-Ireland accordion player; Maurice Walsh, who had previously been the lead singer with the Bye-Laws, but was also an accomplished drummer; Pat Hoye, from Mullingar, who had previously played bass with the Swingtime Aces; Kieran Mc Donnell on keyboards from Strabane and numerous local groups; and finally, Gordon Coleman on guitar from Youghal (he had been with Maurice Lynch). After adding a guitarist, Joe set down his six string and focused all his energy on singing.
Joe Dolan and the "New" Drifters' first international chart success came in July, 1969, when they reached no. 3 in the UK charts with "Make Me an Island." Joe appeared on the BBC's Top of The Pops, one of the few showband performers to do so. Around this time, there were strong rumours about Joe possibly going solo which were constantly denied. In a June issue of Spotlight magazine it was reported that Joe had signed a "loose agreement" with Colin Berlin, who was involved with Tom Jones, but Joe never went solo. Following this, the floodgates opened and Joe and the band continued to record hit after hit. During the Seventies, Joe continued to have hits in Ireland, Europe, South Africa and Australia.
In the early seventies, the band suffered a couple of minor setbacks when Seamus Shannon left to join Brendan Shine's Superband, and was replaced by Liam Meade and a year later, in July, 1973, Patrick Hoye left the band and journeyed to the United States to study at the Berklee School of Music, where he studied with the likes of Paul Ashford (who would return to form Stepaside) and John Farrell (of the Dazzle Band). Pat was replaced by Mick Bagnell (who also played with Margo for a spell).
In 1974, Joe and the band hit another high when "Sweet Little Rock n' Roller" won the European Pop Jury. In 1979, the song would be covered by English group, Showaddywaddy and would become one of their most famous songs and their last top twenty hit.
After Christmas, 1974, long time drummer Maurice Walsh left the band to study music and was replaced by Jimmy Walsh, who would in turn be replaced by Tony Newman. In 1977, the band was changing again. David Scott came in on bass along with Gerry Kelly on guitar. In early 1978, Patrick Hoye had returned from the States and Ben asked him to join the band for an eight week tour of South Africa. He ended up staying with the band for the next eight years. A few months later, in 1978, Joe and the band became the first Western based band to play in Russia. [Tony Newman, who would go on to play with Joe for many years, sadly passed away in 2000.]
The early eighties were a time of growth and transition for the band. Joe's fame was growing so quickly that it started to overshadow the importance of "The Drifters" as a separate entity. The band was touring constantly: Las Vegas, Russia, South Africa, Canada, Germany, etc. They even abandoned a tour of the Middle East (Lebanon, Saudi Arabia, Egypt) because the Ayatollah came back to Iran and changed everything.
Joe Dolan's son, Ray, joined the band around this time and was added on percussion. Gerry Kelly, who had replaced Gordon Coleman on lead guitar headed off to the United States in the early 1980's and was replaced by Joe Meehan. By the time the mid 1980's rolled around the "Drifters" had more or less ceased to exist. What had started as The Drifters Showband, and then became "Joe Dolan and the Drifters," ended up as Joe Dolan (and his band). Pat Hoye left in 1985 to return to Boston where he still lives today.
Sadly, in December, 2007 Joe Dolan passed away at the age of 68 on St. Stephen's Day (December 26th). He had been ill for some time and canceled several Irish tours earlier in the year. However, his story did not end with his passing. In 2008, Ben Dolan revived the Dolan band with Joe featured performing on video with the band playing live. They are still performing regularly and Joe's legacy appears set to go on indefinitely with reunion tours and further disc releases already planned.
Read more: Joe Dolan: An Appreciation
click on thumbnails for full image
| | | | | |
| --- | --- | --- | --- | --- |
| | | | | |
| Drifters Showband 1964 (JD) | Drifters Showband - 1964 (BS) | The Drifters - 1965 (DD) | Joe Dolan - 1965 | Drifters Showband - 1966 |
| | | | | |
| Joe Dolan and The Drifters - 1966 | The Drifters - 1967 | Joe Dolan & the "New" Drifters - 1970 | Joe Dolan - 1975 | Drifters - 1975 (DL) |
| | | | | |
| Joe Dolan in Moscow - 1978 | The Times (DD) | The Drifters (KS) | Joe Dolan (KS) | Drifters - 1966 (LR) |
| | | | | |
| Joe Dolan Live - 1966 (LR) | Joe Dolan (LR) | Joe Dolan (LR) | Joe Dolan & The Drifters - 1974 (LR) | Joe Dolan - 1975 (LR) |
| | | | | |
| The New Drifters - 1968 (JB) | Joe Dolan - 1972 (LR) | Drifters - 1966 (LR) | Drifters (PB) | Drifters |
| | | | | |
| Drifters | Joe Dolan (PH) | Drifters | Drifters - 1971 | Drifters - 1966 |
| | | | | |
| Drifters - 1966 (MY) | Drifters (LR) | Joe Dolan - 1967 | Live in 1967 | Drifters - 1967 |
| | | | | |
| Joe Dolan - 1967 | Drifters - 1967 | Drifters - 1967 | Joe Dolan - 1969 | Drifters - 1969 |
| | | | | |
| Joe Dolan - 1969 | Drifters | Drifters - 1968 | Drifters - 1970 | Drifters - 1968 |
| | | | | |
| Drifters - 1969 | Drifters - 1970 | Drifters - 1968 | Drifters - 1969 | Drifters - 1968 |
| | | | | |
| Drifters - 1969 | Drifters - 1967 | Drifters - 1969 | Drifters - 1968 | Drifters - 1969 |
| | | | | |
| Drifters - 1970 | Drifters - 1969 | Drifters - 1969 | Drifters - 1968 | Drifters - 1970 |
| | | | | |
| Drifters - 1969 | Drifters - 1967 | Drifters - 1968 | Drifters - Early 60's | Drifters - 1976 (EW) |
| | | | | |
| Drifters - 1971 | Joe Dolan - 1971 | Drifters - 1971 | Drifters - 1972 | Drifters - 1972 |
| | | | | |
| Drifters - 1971 | Drifters - 1972 | Drifters | Drifters - 1970 | Joe Dolan - 1968 |
| | | | | |
| Joe Dolan - 1969 | Drifters - 1971 | Joe Dolan - 1970 | Joe Dolan - 1973 | Joe Dolan - 1970 |
| | | | | |
| Joe Dolan - 1971 | Joe Dolan - 1969 | Joe Dolan - 1971 | Joe Dolan - 1970 | Joe Dolan - 1971 |
| | | | | |
| Drifters - 1970 | Drifters - 1969 | Joe Dolan - 1970 | Drifters - 1970 | Joe Dolan - 1974 |
| | | | | |
| Joe Dolan - 1968 | Joe Dolan - 1970 | Joe Dolan - 1969 | Joe Dolan - 1971 | Joe Dolan - 1970 |
| | | | | |
| Joe Dolan - 1969 | Joe Dolan - 1970 | Joe Dolan - 1970 | Joe Dolan - 1969 | Joe Dolan - 1967 |
| | | | | |
| Joe Dolan - 1971 | Joe Dolan - 1967 | Joe Dolan - 1968 | Joe Dolan - 1968 | Joe Dolan - 1969 |
| | | | | |
| Joe Dolan - 1970 | Joe Dolan - 1972 | Joe Dolan - 1970 | Joe Dolan - 1968 | Joe Dolan - 1969 |
| | | | | |
| Joe Dolan - 1969 | Joe Dolan - 1969 | Joe Dolan - 1968 | Joe Dolan - 1970 | Joe Dolan - 1971 |
| | | | | |
| Joe Dolan - 1969 | Joe Dolan - 1968 | Joe Dolan - 1972 | Joe Dolan - 1971 | Joe Dolan - 1969 |
| | | | | |
| Joe Dolan - 1973 | Joe Dolan - 1968 | Joe Dolan - 1968 | Joe Dolan - 1969 | Drifters - 1976 (EW) |
| | | | | |
| Joe Dolan (RF) | Drifters (RF) | Drifters (RF) | Drifters (RF) | Drifters (RF) |
| | | | | |
| Drifters (RF) | Drifters (RF) | Drifters (RF) | Drifters (RF) | Drifters (RF) |
| | | | | |
| Drifters (RF) | Drifters (RF) | Joe Dolan (RF) | Drifters (RF) | Drifters (RF) |
| | | | | |
| Drifters (RF) | Drifters (RF) | Drifters (RF) | Drifters (RF) | Ben Dolan (RF) |
| | | | | |
| Drifters (RF) | Drifters (RF) | Drifters (RF) | Drifters (RF) | Drifters (RF) |
| | | | | |
| Joe Dolan (RF) | Joe Dolan (RF) | Drifters (RF) | Drifters (RF) | Joe Dolan (RF) |
| | | | | |
| Drifters (RF) | Drifters (RF) | Joe Dolan (RF) | Joe Dolan (RF) | Drifters (RF) |
| | | | | |
| Joe Dolan (RF) | Joe Dolan (RF) | Drifters (RF) | Joe Dolan (RF) | Joe Dolan (RF) |
| | | | | |
| Drifters (RF) | Joe Dolan (RF) | Drifters (RF) | Joe Dolan (RF) | Drifters (RF) |
| | | | | |
| Drifters (RF) | Joe Dolan (RF) | Drifters (RF) | Drifters (RF) | Drifters (RF) |
| | | | | |
| Drifters (RF) | Drifters (RF) | Drifters (RF) | Drifters (RF) | Drifters (RF) |
| | | | | |
| Drifters (RF) | Drifters (RF) | Drifters (RF) | Drifters (RF) | Joe Dolan (RF) |
| | | | | |
| Joe Dolan (RF) | Joe Dolan (RF) | Joe Dolan (RF) | Joe Dolan (RF) | Joe Dolan (RF) |
| | | | | |
| Joe Dolan (RF) | Drifters (RF) | Joe Dolan (RF) | Joe Dolan (RF) | Joe Dolan (RF) |
| | | | | |
| Joe Dolan (RF) | Drifters (PL) | Drifters (PL) | Drifters (PL) | Drifters (PL) |
| | | | | |
| Drifters (PL) | Drifters (PL) | Drifters (PL) | Drifters (PL) | Coming Soon |
Years
Vocals
Guitar
Bass
Drums
Keyboards
Percussion
Trumpet
Sax
Trombone
1960
Joe
Dolan
Jimmy
Horan
Eddie
Deehy
Charlie
McMorrow
Sean
Connolly
Ben
Dolan
1961
Joe
Dolan
Jimmy
Horan
Eddie
Deehy
Charlie
McMorrow
Tommy
Swarbrigg
Ben
Dolan
1962
Joe
Dolan
Jimmy
Horan
Eddie
Deehy
Charlie
McMorrow
Tommy
Swarbrigg
Ben
Dolan
Joey
Gilheaney
1963
Joe
Dolan
Jimmy
Horan
Donal 'Syd'
Aughey
Des
Doherty
Tommy
Swarbrigg
Ben
Dolan
Joey
Gilheaney
64-68
Joe
Dolan
Jimmy
Horan
Donal 'Syd'
Aughey
Des
Doherty
Tommy
Swarbrigg
Ben
Dolan
Joey
Gilheaney
Swarbrigg, Doherty, Horan, Aughey, and Gilheaney left to form the Times
68-71
Joe
Dolan
Gordon
Coleman
Pat
Hoye
Maurice
Walsh
Kieran
McDonnell
Frankie
McDonald
Ben
Dolan
Seamus
Shannon
Feb
1971
Joe
Dolan
Gordon
Coleman
Pat
Hoye
Maurice
Walsh
Kevin
Crowley
Frankie
McDonald
Ben
Dolan
Seamus
Shannon
April
1971
Joe
Dolan
Gordon
Coleman
Pat
Hoye
Maurice
Walsh
Frankie
McDonald
Ben
Dolan
Liam
Meade
73-74
Joe
Dolan
Gordon
Coleman
Mick
Bagnell
Maurice
Walsh
Kevin
Crowley
Frankie
McDonald
Ben
Dolan
Liam
Meade
Nov
1974*
Joe
Dolan
Jimmy
Murray*
Mick
Bagnell
Maurice
Walsh
Kevin
Crowley
Frankie
McDonald
Ben
Dolan
Liam
Meade
Jan
1975
Joe
Dolan
Jimmy
Murray*
Mick
Bagnell
Jimmy
Walsh
Kevin
Crowley
Frankie
McDonald
Ben
Dolan
Liam
Meade
75-77
Joe
Dolan
Gordon
Coleman
Mick
Bagnell
Jimmy
Walsh
Kevin
Crowley
Frankie
McDonald
Ben
Dolan
Liam
Meade
Oct
1977
Joe
Dolan
Gerry
Kelly
David
Scott
Tony
Newman
Jim
Mullally
Frankie
McDonald
Ben
Dolan
Liam
Meade
78-79
Joe
Dolan
Gerry
Kelly
Pat
Hoye
Tony
Newman
Jim
Mullally
Frankie
McDonald
Ben
Dolan
Liam
Meade
83-85
Joe
Dolan
Joe
Meehan
Pat
Hoye
Tony
Newman
Jim
Mullally
Ray Dolan
(Ben's son)
Frankie
McDonald
Ben
Dolan
Liam
Meade
86-99
Joe
Dolan
Joe
Meehan
Adrian
Dolan
Tony
Newman
Jim
Mullally
Ray
Dolan
Frankie
McDonald
Ben
Dolan
*from Julie Boyd's column Nov 14th, 1974
Discography (partial list)
Singles:
The Answer To Everything / When You Say I Love You - #4 Irish Charts
Pye Records - 7N.15681 - August, 1964
I Love You More And More Everyday / Does It Always Have To Be This Way - #3 Irish Charts
Pye Records - 7N.15760 - January, 1965
My Own Peculiar Way / Don't Ever Let That Little Chance Go By - #2 Irish Charts
Pye Records - 7N.15902 - July, 1965
Aching Breaking Heart / The Wrong Impression - #2 Irish Charts
Pye Records - 7N.17003 - November, 1965
Two Of A Kind / I've Got Five Dollars And It's Saturday Night // I'll Sit On Your Doorstep / Minutes to Midnight / The Jolly Tinker - #10 Irish Charts
Pye Records - NEP.24250 - May, 1966
Pretty Brown Eyes / But I Do - #1 Irish Charts
Pye Records - 7N.17152 - July, 1966
The House With The Whitewashed Gable / Work Day Blues - #1 Irish Charts
Pye Records - 7N.17265 - January, 1967
Tar And Cement / The Time Of My Life - #3 Irish Charts
Pye Records - 7N.17354 - July, 1967
Love Of The Common People / The World Is Going Mad - #8 Irish Charts
Pye Records - 7N.17484 - February 24, 1968
The Westmeath Bachelor
Pye Records - 7N.????? - October, 1968
Make Me An Island / If You Care A Little About Me - #2 Irish Charts [#3 UK Charts]
Pye Records - 7N.17738 - April, 1969
Teresa / My First Love - #1 Irish Charts [#20 UK Charts]
Pye Records - 7N.17833 - September, 1969
You're Such A Good Looking Woman / Something Happens - #4 Irish Charts [#17 UK Charts]
Pye Records - 7N.17891 - January, 1970
It Makes No Difference / I'll Be Home In About A Day Or So - #11 Irish Charts
Pye Records - 7N.17978 - August, 1970
The Boola Boola / Make Me Smile
Pye Records - 7N.????? - December, 1970
Sometimes A Man Just Has To Cry / Friend In A Bottle
Pye Records - 7N.45060 - April, 1971
You and the Looking Glass / One Way Woman
Pye Records - 7N.45101 - October, 1971
Take The Money and Run / Home Isn't Home Anymore - #19 Irish Charts
Pye Records - 7N.45145 - June, 1972
Sweet Little Rock 'n' Roller / What Have You Done? - #14 Irish Charts
Pye Records - 7N.45330 - December, 1973
16 Brothers / Hush Hush Maria
Pye Records - 7N.45412 - 1974
The Most Wanted Man In The U.S.A. / Lady Laura - #12 Irish Charts
Pye Records - 7N.45451 - November, 1974
Lady In Blue / My Darling Michelle
Pye Records - 7N.45PY-12.124 - June, 1975
Bogie (Boogie?) Mama / Crazy Woman
Pye Records - 7N.45562 - September, 1975
Sister Mary / You Belong to Me Baby - #2 Irish Charts
Release Records - Unknown - May, 1976
You Belong To Me Baby / Sister Mary (Record flipped?)
Pye Records - 7N.45634 - November, 1976
I Need You / Little Boy Big Man (different B side, different label)
Release Records - RL.877 - 1977
I Need You / Caterina Ballerina - #1 Irish Charts
Pye Records - 7N.45702 - May, 1977
Don't Ever Change Your Mind / Bonjour Madamoiselle
Pye Records - 7N.46111 - June, 1978
My Love - #27 Irish Charts
Pye Records - 7N.46??? - May, 1979
Silent Night - #2 Irish Charts
Release Records - RL.988 - November, 1979
More And More / When Your Lover Leaves You - #1 Irish Charts
Ritz Records - RITZ 19 - 1979 (Also listed as Release Records - RL.1045)
It's You, It's You, It's You / Spirit Of Love - #3 Irish Charts
Release Records - August, 1981 (also on Release Records)
It's Only Make Believe / Let Me In - #13 Irish Charts
Ritz Records - RITZ.016 - March, 1982 (possible wrong catalog number)
Deeper and Deeper - #10 Irish Charts
Ritz Records - Unknown - October, 1983
Sometimes When We Touch / Yours Faithfully - #22 Irish Charts
Ritz Records - RITZ 064 - March, 1984
Come Back Home - #19 Irish Charts
Ritz Records - Unknown - October, 1984
Take Me I'm Yours / Hang Tough - #9 Irish Charts
Ritz Records - RITZ 147 - June, 1986
Don't Set Me Free - #17 Irish Charts
Ritz Records - Unknown - March, 1987
Wait Til The Clouds Roll By (Jenny) - #20 Irish Charts
Ritz Records - Unknown - September, 1989
She Doesn't Live Here Anymore - #11 Irish Charts
Ritz Records - Unknown - February, 1990
When You Walk In The Room
Harmac Records - Unknown
Sometimes When We Touch - #22 Irish Charts
Ritz Records - February, 1984
Come Back Home - #19 Irish Charts
Ritz Records - October, 1984
Take Me I'm Yours - #9 Irish Charts
Ritz Records - June, 1986
Don't Set Me Free - #17 Irish Charts
Ritz Records - March, 1987
Wait 'til The Clouds Roll By (Jenny) - #20 Irish Charts
Ritz Records - September, 1989
Ciara - #28 Irish Charts
AINM Records - July, 1993
Somebody to Call My Girl
Unknown Records - 1994
I'll Give All My Love To You
Unknown Records - 1996
Endless Magic
Unknown Records - 1997
Good Looking Woman (Duet with Dustin) - #1 Irish Charts
LIME Records - November, 1997
The Universal - #19 Irish Charts
EMI Records - October, 1998
Everybody Hurts
Unknown Records - 1999
Better Man
Unknown Records - 2001
Dreaming of You
Unknown Records - 2002
Yours Faithfully
Unknown Records - 2003
Little Green Bag / Have You Ever Been In Love
Unknown Records - 2004
Albums:
Joe Dolan's Greatest Hits
Marble Arch Records - MAL.1143 - June, 1969
Good Looking Woman
Pye Records - NPL.18340 - June, 1970
Midnight Lover
Release Records - Unknown - May, 1978
Turn Out The Light
Release Records - RL.8009 - February, 1980
| | | | | |
| --- | --- | --- | --- | --- |
| | | | | |
| | The Answer To Everything | It's You, It's You, It's You | Make Me An Island | Sweet Little Rock n' Roller |
Joe Dolan - RIP

: With, or without the Drifters, Joe attained international fame far beyond the Irish showband era. He
was one of Ireland's truly great and unique artists. Sadly, Joe Dolan passed away on December 26, 2007 at the age of
68. As the era's most successful showband artist, Joe was performing until shortly before his death.
Ben Dolan: Ben continues to carry on the Joe Dolan legacy even after Joe's death in 2007. He regularly tours with the Joe Dolan tribute show which includes the live band backing Joe on video and has been successfully touring the country over the past few years.
Eddie Deehy:. Unknown - if you have info please email us
Sean Connolly:. Unknown - if you have info please email us
Charlie McMorrow:. Unknown - if you have info please email us
Jimmy Horan: Jimmy, along with most of the band, left the Drifters in 1968 to form the Times which he stayed with until the early 80's when the band finally called it quits. Unknown - if you have info please email us
Sid Aughey: Like the others, Sid left the Drifters in 1968 to form the Times which he stayed with until around 1971 when he left the stage to manage the band. He also managed the fortunes of the Swarbriggs Brothers through the late 1970's. Unknown - if you have info please email us
Des Doherty: Like the others, Des left the Drifters in 1968 to form the Times which he stayed with until they broke up in the early 80's. In 2008, we know that Des "Doc" was part of the Tennessee Country Breakdown Band, along with Vinnie Baker, which played regular gigs in the Midlands, although we are unsure whether they are still going today Unknown - if you have info please email us
Tommy Swarbrigg: Tommy left the Drifters in 1968 to form the Times with brother Jimmy. After 7-8 years in the road, the Swarbrigg Brothers left the Times and formed their own band which was initially called Winter, a name which did not stick. In 1975 the Swarbriggs represented Ireland in Eurovision with "That's What Friends Are For." In 1976, they came 5th in the Irish contest with "The Way of Love." In 1977, they won the Irish national Song Contest again with "It's Nice To Be In Love Again" as The Swarbriggs plus Two (Alma Carroll and Nicola Kerr). Today, Tommy has become one of the top music promoters in Ireland, and runs a variety of events including the Ronan Collins Showband Show which features many of the top performers of the showband era.
Joey Gilheaney: Like the others, Joel left the Drifters in 1968 to form the Times which he stayed with until around 1979 when the Times reduced their numbers from a six piece to five piece. Unknown - if you have info please email us
Gordon Coleman: Unknown - if you have info please email us
Pat Hoye: Pat went to Boston in 1974 to pursue a degree at Berkelee College of Music, and graduated in 1977. He then returned to Ireland and played with the Peter Law Band, and again played with Joe Dolan for another eight years. Pat returned again to Boston, and after two years of solo playing, started Brogue as a duo, but expanded to a 4 piece high energy rock band in 2005. They are still on the road today (early 2015).
Maurice Walsh: Unknown - if you have info please email us

Ciaran McDonnell - RIP

: We received an email in Feb, 2012 from Lisa Noble telling us Kieran was a priest at St Augustines Parish, Leam Lane. Gateshead. Sadly, however, Fr. McDonnell passed away May 20th, 2012.
Frankie McDonald: After leaving the showband scene, he played with his family groups, 'Route 101' and 'The Showband Show', and very recently himself and his music colleague, Ricey Scully, have been playing many venues as part of a brass and singing duo, called the Entertainers. Recently the duo has been joined by Athlone trombone player, Chuck Daly. They play regularly as part of Brendan Grace's touring team when he is in Ireland.
Seamus Shannon: After leaving the Drifters, Seamus became one of the foremost trad musicians in Ireland. He spent five years hosting The Rambling House programme on Mid West Radio in Ballyhaunis, Co Mayo. It was a live weekly session based around a fireplace, with conversation, songs and music from visiting guests. When Seamus moved to Athlone he began presenting a Sunday afternoon programme on Shannonside Radio, offering a wide variety of music and an occasional live guest. Today, he plays regularly with guitarist P.J. Murrihy..
Kevin Cowley: Unknown - if you have info please email us
Mick Bagnell: We read online in a chat forum about Athlone that Mick had been in America for many years but in 2011 had returned to Athlone. Unknown - if you have info please email us
Liam Meade: Unknown - if you have info please email us
Jimmy Walsh: We received an email from Jimmy in September, 2013 telling us he left the Drifters in October 1977
and did a few gigs with the last version of "The Sands." Then he went to Mexico with a group called "Four Plus Two"
which eventually became "Tequila Sunrise." Jimmy returned to Dublin before Christmas 1980 and in April of '81 he went
to Ibiza with a group called "Nightcap" for seven months to play in a club in San Antonia Abad. The lead singer was
Charlie Chapman (ex-Miami). Jimmy emigrated to New York in June '82 and has been gigging there since. Jimmy also
wrote "In Your Eyes" for Niamh Kavanagh.
David Scott: Dave recently sent us an email to say he is currently the Chief Information Officer with the Dublin Institute of Technology and he stills plays from time to time.
Gerry Kelly: Unknown - if you have info please email us

Tony Newman - RIP

: Tony sadly passed away in 2000.
Jim Mullaly: Unknown - if you have info please email us
Joe Meehan: Unknown - if you have info please email us
Ray Dolan: Unknown - if you have info please email us
Click here to visit Joe's website at www.joedolan.com