The Rascals Story (1972-1985)
Photo Gallery - Band Lineups - Discography - Audio samples - Where Are They Now?
The Story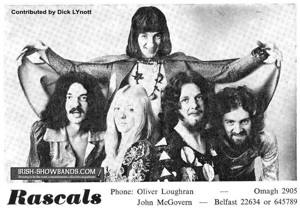 In northern Donegal, just outside Letterkenny, the Ponsonby family had always played music, entertaining audiences across Donegal for years. In the late sixties, their Denver Showband was a regional favorite. The final lineup of the Denver included several new young talents including heirs to the family's musical heritage, Ted and brother Don, along with Billy Walsh and his sister Pat, one of the few female musicians in the country at that time...especially as she played bass.
Wishing to break out of the family mold, the brothers formed Section One, a five piece rock group that included Percy Robinson on guitar. Although a period of great experimentation, the Section One name didn't last long.
In early 1973, the band changed its name to The Rascals. Although they never attained the major national recognition they deserved, throughout the 70's the band impressed punters and promoters with their powerhouse brand of pop and rock music. They were led by Ted on guitar and Billy providing strong lead vocals.
In the mid 70's, Percy left the band and went on to be one of Ireland's top session steel guitar players. Although Ted, Billy and Pat remained, the band would undergo several personnel changes for the next six years.
As you can see from the photos below, the band was constantly tinkering with their image, trying new things on a regular basis. In the late 1970's they changed their name to the Cheeky Rascals for a short time and then Rascal, but reverted to the Rascals again later. Around 1979, Billy and sister, Pat, finally left the band and Ted attempted to carry on for another few years.
The "New" Rascals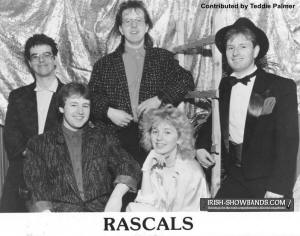 Meanwhile, in the early 80's the Wilder brothers from Strabane were playing gigs as Harry's Gang across the Northern dance circuit, but having marginal success. Like all bands in the declining days of the ballrooms, they needed something special to help them get noticed by promoters. They found it when they discovered Ted Posonby was retiring The Rascals and he sold them the band's name. Harry's Gang added a girl singer and the "New" Rascals were born. They played throughout the 1980's with several lineups, but never broke into the dance circuit in the South and never attained the popularity of the previous version of the band.
More to come.....
click on thumbnails for full image
The Original Rascals formed by Ted Ponsonby

Rascals - 1973
Rascals - 1973
Rascals - 1973
Rascals - 1974
Rascals - 1974
Rascals - 1974 (DL)
Rascals - 1975 (DL)
Rascals - 1975
Rascals - 1975
Rascals - 1975
Rascals - 1975
Rascals - 1976 (DD)
Rascal (PH)
Rascal - 1978 (PH)
Rascal - 1978 (PH)
Cheeky Rascals (DC)
Cheeky Rascals (RF)x
Coming Soon
Coming Soon
Coming Soon

The "New" Rascals featuring the Wilder brothers

Harry's Gang - 1980 (TP)
Harry's Gang - 1980 (TP)
"New" Rascals - 1981 (TP)
Rascals 1983 (TP)
Rascals - 1985 (TP)
Julie of the Rascals - 1980s (TP)
Rascals - 1980's (TP)
Coming Soon
Coming Soon
Coming Soon
Years
Guitar
Vocals
Bass
Drums
Guitar or Keys
Sax
1971
Ted
Ponsonby
Billy
Walsh
Pat
Walsh
Don
Ponsonby
Percy
Robinson
1973
Ted
Ponsonby
Billy
Walsh
Pat
Walsh
Don
Ponsonby
Percy
Robinson
Declan
Neery
1975
Ted
Ponsonby
Billy
Walsh
Pat
Walsh
Don
Ponsonby
Unknown
Unknown
1976
Ted
Ponsonby
Billy
Walsh
Pat
Walsh
Andy
Davidson
Declan
Colgan
Declan
Colgan
1978
Ted
Ponsonby
Billy
Walsh
Pat
Walsh
Andy
Davidson
Unknown
Unknown
1981
Ted
Ponsonby
Unknown
Unknown
Andy
Davidson
Unknown
Unknown
1983
Alan
Wilders
Pauline
Charlie
Coyle
Toby
Wilders
David
Wilders
David
Wilders
1985
Alan
Wilders
Julie
Charlie
Coyle
Toby
Wilders
David
Wilders
David
Wilders
Discography (more to come)
The Rocks of Bawn
Joy Records - EN.1 - 1974
Ecstasy / Double Dealin'
EMI Records - EMI 5087 - July, 1978
Letterkenny / Future Part 2
EMI Records - EMI 5091 - Jan, 1979
I Got A Feeling / Guitar Man
Unknown
My Future Here At Last / Lonely Girl
Unknown
King of the Silent Screen / Two Separate Lives
Rainbow Records - RBS 30 - Unknown
Ages of Black and White / Ages of Black and White track
Rainbow Records - RBS 32 - Unknown
| | |
| --- | --- |
| | Ted Ponsonby: After selling the Rascals name to the Wilder brothers in the early 1980's Ted has gone on to become one of the top session musicians and producers in Ireland. He has played on sessions with artists such as Kieran Goss, Tommy Fleming, Brendan Quinn, Aoife Clancy, and Francis Black to name but a few. Although originally a rocker, Ted has changed his musical style considerably today and plays more country and traditional music around his native Letterkenny. He also continues to play live gigs around the country on a regular basis. |
| | Billy Walsh: |
| | Pat Walsh: |
| | Don Ponsonby: |
| | Percy Robinson: Percy went on from the Rascals to become one of the top session steel guitar players in Ireland. He also formed a band with ex Wings and Gene and the gents guitarist Henry McCullough. Today, Percy runs his own recording studio outside of Letterkenny. |
| | Andy Davidson: Declan Colgan tells us Andy moved to Strabane after getting married and played with the Frank Chisum Elvis Show for some time. |
| | Declan Colgan: Declan "Duke" Colgan emigrated to Manchester where he lives today. He is a retired Psychiatric Nurse who work part time and continues to keep his hand in the music business by presenting Karaoke Shows in the Manchester area. |
| | Charlie Coyle: |
| | Alan Wilders: |
| | Toby Wilders: |
| | David Wilders: |
| | Pauline: |
| | Julie: |