Skid Row/Brush Shiels Feature (1967-present)
Photo Gallery - Band Lineups - Discography - Audio samples - Where Are They Now?
The Story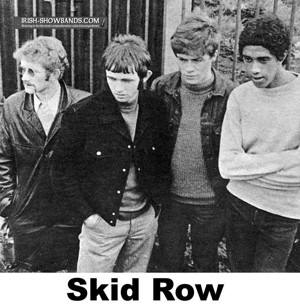 Skid Row I
Brendan "Brush" Shiels, started his music career as the bass player with Dublin beat group, The Up Town Band which he left in 1967 to form his own group. The Up Town band was based in Dun Laoghaire and was formed at the start of 1967, rising quickly to the top of the beat group scene behind lead singer Pat Nash. Brendan was the bass player in the band and he quickly became one of the top "personalities" of the relatively small Dublin group scene.
In late 1966, Rory Gallagher put his group "Taste" together in Cork and they were one of the first Irish groups to have success on the English scene, although in Pat Egan's Beat Scene column, they were rated as the 12th best group in the country with the Up Town band further up the chart at number 8. Around this same time, ex-Them singer Van Morrison had made it big in the United States releasing the now legendary Brown Eyed Girl.
In the September 28th edition of Spotlight, Pat Egan first reported that "The Brush and his new group have made the Scene Club their home." The original name of the new group was "Your Father's Moustache" but in October, 1967, Brush announced he was renaming the group, Skid Row. In the following years, Skid Row would become one of the best known of the new Irish Rock Groups, along with bands like Rory Gallagher's Taste and Eric Bell's (and then Phil Lynott's) Thin Lizzy.
The original lineup featured Brush (21) on bass, Noel Bridgeman (20) on drums, Bernard Cheevers (18) on guitar and future Thin Lizzy star, 17-year-old Phil Lynott on vocals. As an aside, in a December, 1968 interview in Spotlight, Brendan said he got the nickname "Brush" from Barry Blackmore, the road manager for the Up Town Band because of his long hair and moustache. Although he claimed in the article that he "didn't really like it" it has stuck for the last 40 plus years! According to Pat Egan, the band took the scene by storm but had trouble connecting to the ladies in the audience who preferred "pop" beat groups vs. "rock." (Editor's note: this schism would eventually become pop vs. progressive.)
Despite this the band were not an instant success. Groups like Granny's Intentions, The Movement and Taste we all considered bigger names on the scene. They were still very much a pop band though including songs like "Brown Eyed Girl," "Ain't Too Proud to Beg" and "Strawberry Fields Forever" in their set list. The band was being managed by future Lizzy manager Ted Carroll. By March 1968, Pat Egan was calling the band, "easily the greatest new talent on the scene for a long time."
In April, 1968 Bernard Cheevers left the band to join The Movement and was apparently replaced for a short time by Brian Harris on guitar and eventually by now legendary guitarist Gary Moore. (Editor's note: Brian himself told us recently that he did spend several weeks rehearsing with the band and played with Noel and Brush on a track for the Movement at the time, but never played an actual gig.) At the same time, Roy Esmonde took over managing the band, but he wouldn't be around for long.
By July, the band had started visiting London and Pat Egan reported they had signed a recording and management deal with Andrew Oldham's Immediate Records (who at the time had also signed the Small Faces.) In September Pat reported that Noel Bridgeman had left the band as well and had gone to seek his fortune in Germany. Robbie Brennan took over the drumming spot in the line-up.
The band built a steady reputation on the Dublin beat scene and was soon hailed as the top group in Ireland. During 1968 many beat group musicians had joined the ranks of the showbands, but the Brush was not interested. An article in the December 7th issue of Spotlight wondered why Phil Lynott had not landed a spot with a showband, like many of his peers and several top entertainment managers in Ireland, including Oliver Barry and Jim Hand thought he would not get an offer (despite his obvious talent) "because of his colour."
In 1969, the band underwent several major changes. Sometime in the Spring, Noel Bridgeman rejoined the band. Then, in June, Phil left to form Orphanage (a precursor to Thin Lizzy which included future Lizzy bandmate Brian Downey, as well as Pat Quigley from the Movement, Terry Woods of Sweeney's Men, and newcomer Joe Alexander). Following this, Skid Row was reduced to a three piece with Brush and Gary taking on the vocals. In his column in Spotlight in early October, 1969, Pat Egan reported that Gary Moore had been "loaned" to Granny's Intentions to help out on their latest recording effort and had decided to stay with the band, leaving Skid Row without a guitarist. The same column also announced that a Skid Row "Farewell Dance" would be held the following Sunday in the Crystal with both Phil Lynott and Gary Moore in attendance. In the end, Gary did not leave and a few weeks later, Pat was touting the band as "Ireland's Best Hope for International Success."
The lineup of of Shiels, Bridgeman and Moore would stay together for a short time the first time around. In late 1969, the band was managed by Brian Tuite and Peter Bardon (who also looked after the newly formed Thin Lizzy). The band had reached the top of the scene in Dublin and been back and forth to London recording and playing in an attempt to break big in the UK. They recorded their first album which would be titled simply, Skid. At the time, the band was being touted as Ireland's next Taste which Rory Gallagher had lead to success in England and the continent. Brush Shiels was adamant in interviews that despite the fact that both bands were trios, the similarities ended there. Said Brush in Spotlight, "Don't compare us with Taste. The only similarities are that we are both two guitar with drums groups and Gary Moore's hair is about the same lengths as Rory Gallagher's. That's as far as it goes."
Their first album was all original material with numbers contributed by all three members of the band. They had high hopes of making the album charts in England. Around this time, the band more or less emigrated to London, coming home to Ireland only for the occasional gig. They also undertook their first trip to the States, which Gary Moore commented was an influence on their music, adding, "We heard lots of good music over there." A June, 1971 Spotlight interview reported that they had recorded an album, "34 Hours," a few months earlier. Brush referred to their musical style as "controlled freedom."
In the November 21, 1971 issue of Spotlight, Pat Egan hinted that Gary Moore may be considering a change of scenery. Less than a month later, it was reported that Gary had left to form his own group and Eric Bell from Thin Lizzy stood in for a couple of gigs as Paul Chapman had not yet joined the band.
In May, 1972, former Taste manager Eddie Kennedy took over managing the band. Three months later, in August, 1972, the band split. Paul Chapman returned to his native Wales while Noel Bridgeman would soon join the Gentry. In an interview in Spotlight in October, 1972, Noel recounted the split of the band. "It was money that caused the the break up of Skid Row. At the end, when Paul Chapman was in the band, we were beginning to play ridiculously well. But there was no money. For two weeks, we didn't get a penny."
Skid Row II
In the meantime, Brush Shiels returned to Ireland from London and formed a new band with John Wilson, formerly of Taste, on drums and Adrian Fisher on guitar. The band, called "Brush" played its first gig on September 1st in London's Marquee Club and it's first Irish dates were in early October, 1972. John Wilson had formed the band Stud after leaving Taste. Originally, the band was to be called Stud Row (for obvious reasons), but soon settled on Brush. Managed by Eddie Kennedy again, the band would make a good effort to break in Europe, but it was not to be. Playing music that was described as a cross between Taste and Slade, the band would not last long.
In May, 1973 a feature in Spotlight reported that "Skid Row Lives Again." The article reported that Brush Sheils was reforming the band. He said that "business hassles split Skid Row" and "Brush was just got together to finish off Skid Rows' old dates." The article went on to say the new band would be a four or five piece with "two guitars, bass, drums and organ." The band took some time to get together, but it finally happened in late August of 1973. The lineup featured: Eamonn Gibney (vocals), Ed Dean (guitar), and John Wilson (drums). Managed by Ollie Byrne, Brush was quoted as saying the band was firmly focused on making it in the USA, as opposed to England, as Brush surmised "anyway that scene is dead in England."
In his December 27th, 1973 "Let It Rock" column, Pat Egan reported that the band had added a keyboard player, Kevin McAlea (brother of Miami's Des Lee) to Skid Row's lineup. Kevin had previously played with The Gentry, among others. In March, 1974 a blurb in Spotlight announced "Brush Quits Rock Scene." It reported that he had called it a day after the reformed Skid Row experienced many personnel and management problems.
At this point, the band continued to flounder somewhat. A report in Pat Egan's column in mid January stated manager Ollie Byrne had "fired" the band over a dispute to which an unnamed member of the group was reported to say, "We're out on our own now and intend to stay that way." At this time John Wilson left the group and was replaced by Paddy Freeney. It was rumoured John was joining the Freshmen. In the end, Ollie and the band patched things up and Skid Row went back on the road, but not for long.
A few months later, in April, 1974, Brush teamed up with Eric Bell (after he had left Thin Lizzy) and they formed the Bell/Brush band along with Tim Creedon (drums) who had previously been with Orphanage. The band played their first gig in the Carlton, Kilkenny.
In the October 3, 1974 issue of Spotlight, the Rock On column (edited by Smiley Bolger and Colin McClelland) reported that Brush and Tim Creedon were off to London with former Skid Row vocalist Eamonn Gibney to play with ex-Sparks guitarist A.D. Fisher with a possibility of it becoming a permanent gig. In the same column, the question was asked, "what now for Eric Bell," so we assume the Bell-Brush Band came to an end only six months after it was formed. However, a blurb in the same column a few weeks later said the Bell/Brush band would be playing a gig in the New University of Ulster on Friday, November 8, 1974. It also mentioned that Eamonn Gibney had joined the band, so we know their stint in England did not last long.
In the December 12, 1974 issue of Spotlight it was announced that the "original" Skid Row (Shiels, Moore and Bridgeman) would be reuniting for a series of gigs. However, Gary Moore said it was not a permanent outfit and they would simply be coming together from time to time. A few weeks later, in the January 9th issue of Spotlight the Rock On column reported that Brush and Eamon would be forming a new band soon, so at that point the Bell-Brush band was off the road as Eric had joined up with Noel Redding inn a new band.
As 1975 started, Brush went off to London for a spell and it looked like the end of the line for the band and maybe even for Brush. Based on the reports of the day, Skid Row had been all but forgotten as a presence on the Dublin group scene. Phil Lynott, Gary Moore and Rory Gallagher had all more or less left Ireland in search of International recognition (which they we all getting) with Thin Lizzy about to become the biggest act Ireland had produced at that point.
Skid Row III
By March of 1975, Brush was back with a new line-up of Skid Row. This would continue for most of the seventies as he brought together a couple of different line-ups with different musicians as either a four or five piece band. Gone were the "progressive" rock numbers and the new band was most often described as a "pop" band. In the new version of the band, Brush resumed his place as the band's front man. A major change in the line-up would be the inclusion of two drummers. Noel Bridgeman was once again the main drummer with Tim Creedon also staying with Brush after the demise of the Bell-Brush Band. Jimi Slevin was on guitar. Posters for the band printed up by new manager, John Dee, announced they had "just returned from their American tour" which was described as a "spoof" by Smiley Bolger in Spotlight.
The reforming of Skid Row did garner some initial attention in the national press, but this was somewhat overshadowed by Brush's anger over the mishandling of the earlier version of Skid Row's finances. As he said in an interview in the Sunday Independent on February 23rd, 1975, "We were fiddled by so many that it was incredible. We were an easy target to get ripped off for we would sign anything to get an album out...we never got more than £25 a week."
Reports on the new line-up were not good initially with Mr. Bolger saying, "Skid Row aren't as together as they think, or would like us to believe they are. For one thing, their P.A., or does it not matter that people can't hear what you sing or say all night." The lack of enthusiasm for the new lineup would continue for some time. However, the poor reports did not stop the band from playing up and down the country on the ballroom circuit which was previously the home of the showbands until bands like Horslips and Reform opened up the circuit to rock groups in the early mid-1970's.
In mid-1975, the band was playing a regular Thursday night in Dublin's famous Baggot Inn as "Brush Shiels and the Skid Row Burlesque Show"
They released a single, "Spanish Lady" with "Elvira" on the B side on the Dude label which was described as "rocked up folk song with some nice guitar and mandolin riffs." In early 1976, Jimi Slevin left to form his own band and was replaced by Jody Pollard. Around this time, Brush also decided to expand the band to a six-piece adding Ian Anderson on percussion and Johann Brady on bass. Brush started to play electric mandolin and would eventually switch to guitar in later years.
This line-up of the band made an album of their live show in 1976 and "Alive and Kicking" is a good indication of their musical direction at the time, all covers of popular songs like "You Really Got Me," "Mr. Tambourine Man," "Satisfaction," "Summertime Blues" and others. Needless to say, this was a long way from the progressive rock days of the late sixties and early 1970's and the band was now Skid Row in name only.
Brush would bring out a solo album of original songs in 1977 which was well received but would continue to tour as "Brush Shiels and Skid Row|" for many years as we have found advertisements for the band through 1989. By this time they were considered by many to be a "pop showband" with few dancers in the 1980's having any idea about the rock legacy of Skid Row and Brush.
One of the stories which has continued to haunt Brush in recent years is the saga of the use of the name Skid Row by an American rock band led by Sebastian Bach which was founded in 1986. Despite a story that the band "bought the name" from Gary Moore for $35,000, as recently as 2012, Brush placed a video on YouTube asking Jon Bon Jovi (a financial backer of the band) to contact him about the use of the name. He had claimed the payment never happened and as the founder of the band, he was never contacted by the American band. As far as we know there has been no further movement on this as it comes down to an issue nobody can actually verify since Gary Moore's sudden passing in 2011. We do know the American band still records and tours using the Skid Row moniker.
More to come.....
click on thumbnails for full image
| | | | | |
| --- | --- | --- | --- | --- |
| | | | | |
| Uptown Band - 1967 | Brush Shiels - 1967 | Up Town Band - 1967 | Skid Row - 1967 | Skid Row - 1968 |
| | | | | |
| Skid Row - 1968 | Skid Row - 1968 | Brush Shiels - 1968 | Skid Row - 1968 | Skid Row - 1968 |
| | | | | |
| Brush Shiels - 1968 | Skid Row - 1968 | Skid Row - 1968 | Skid Row - 1968 | Skid Row - 1968 (RF) |
| | | | | |
| Skid Row - 1969 | Skid Row - 1970 | Skid Row - 1970 | Skid Row - 1970 | Skid Row - 1970 |
| | | | | |
| Skid Row - 1971 | Skid Row - 1971 | Brush Shiels - 1971 | Skid Row - 1971 | Skid Row - 1971 |
| | | | | |
| Skid Row - 1971 | Skid Row - 1971 | Skid Row - 1971 | Skid Row - 1971 | Skid Row - 1971 |
| | | | | |
| Skid Row - 1971 | Skid Row - 1971 | Skid Row | Skid Row - 1972 | Skid Row - 1972 |
| | | | | |
| Skid Row - 1973 | Skid Row - 1973 | Skid Row - 1973 | Skid Row - 1973 | Skid Row - 1973 |
| | | | | |
| Skid Row - 1973 | Brush Shiels (RF) | Skid Row (RF) | Skid Row (RF) | Skid Row (RF) |
| | | | | |
| Brush Shiels (PH) | Brush Shiels - 1980 | Skid Row - 1976 | Brush Shiels - 1978 (PH) | Brush Shiels (PH) |
| | | | | |
| Skid Row - 1975 | Coming Soon | Coming Soon | Coming Soon | Skid Row - 1969 |
| | | | | |
| Skid Row - 1970 | Skid Row - 1971 | Skid Row - 1969 | Skid Row - 1976 | Skid Row - 1976 |
| | | | | |
| Skid Row - 1971 | Bell-Brush - 1974 | Skid Row - 1975 | Skid Row - 1975 | Skid Row - 1973 |
| | | | | |
| Skid Row - 1988 | Skid Row - 1989 | Coming | Coming | Coming |
Years
Vocals/Guitar
Guitar
Bass
Drums
Keyboards
Drums
Your Father's Moustache / Skid Row I
Sept
1967
Phil
Lynott
Bernard
Cheevers
Brush
Shiels
Noel
Bridgeman
1968
Phil
Lynott
Brian
Harris
Brush
Shiels
Robbie
Brennan
1968
Phil
Lynott
Gary
Moore
Brush
Shiels
Robbie
Brennan
June
1969
Gary
Moore
Brush
Shiels
Noel
Bridgeman
Dec-
1971
Paul
Chapman
Brush
Shiels
Noel
Bridgeman
Brush
Aug
1972
Adrian
Fisher
Brush
Shiels
John
Wilson
Skid Row II
1973
Eamonn
Gibney
Ed
Deane
Brush
Shiels
John
Wilson
Dec.
1973
Eamonn
Gibney
Ed
Deane
Brush
Shiels
John
Wilson
Kevin
McAlea
Jan.
1974
Eamonn
Gibney
Ed
Deane
Brush
Shiels
Paddy
Freeney
Kevin
McAlea
Bell-Brush Band
April
1974
Eric
Bell
Brush
Shiels
Timmy
Creedon
Oct.
1974
Eamonn
Gibney
Eric
Bell
Brush
Shiels
Timmy
Creedon
Skid Row III
1975
Jimi
Slevin
Brush
Shiels
Noel
Bridgeman
Timmy
Creedon
June
1975
Jimi
Slevin
Brush
Shiels
Noel
Bridgeman
Dave
Gaynor
1976
Brush (mandolin)
Shiels
Jody
Pollard
Johann "John"
Brady
Noel
Bridgeman
Ian (percussion)
Anderson
Dave
Gaynor
Brush Shiels Band / (Skid Row name used though at least 1988)
1977
Brush
Shiels
Eric
Bell
Johann "John"
Brady
Noel
Bridgeman
Singles:

New Places, Old Faces / Misdemeanor Dream Felicity
Song Records - SO.002 - May, 1969
Saturday Morning Man / Mervyn Aldridge
Song Records - SO.003 - 1969
Sandie's Gone (Part 1) / Sandie's Gone (Part 2)
CBS Records - S.4893 - April, 1970
Night Of The Warm Witch / Mr. De-Luxe
CBS Records - S.7181 - April, 1971
Living One Day At A Time / Girl from Dublin City
CBS Records - Unknown - February, 1972
Dublin City Girls / Slow Down
Hawk Records - HASP 327 - 1973
The Spanish Lady / Elvira
Dude Records - DD1 - March, 1975
House Of The Rising Sun / Buckfast Tonic Wine / Let It Roll
Unknown - Unknown - 1981
Mr. Diablo / Bring Them Back Alive
Unknown - Unknown - 1989
Albums

Skid
CBS Records - S.63965 - October, 1970
34 Hours
CBS Records - S.64411 - 1971
Alive and Kicking
Release Records - RRL.8001 - 1976
Brush Shiels: Not much new can be written about the career of Brendan "Brush" Shiels. Besides forming the legendary Skid Row which featured future superstars Phil Lynott and Gary Moore, he has been one of Ireland's most popular rock musicians for the last forty plus years. After the demise of Skid Row, he formed The Brush Shiels band and has been touring Ireland and the world ever since. Although he originally played bass, he moved to guitar in the 70's and has been playing it ever since. His latest album, Mad Dog Woman, was released in 2009.
Noel Bridgeman: One of Ireland's premier drummers, Noel started his career on the Dublin beat scene in the mid 60's. After leaving Skid Row, he played on and off with The Brush Shiel's band and spent some time on the showband scene with bands like The Plattermen. He has been one of the country's foremost session players as well.
Bernard Cheevers: Unknown - if you have info please email us

Phillip Lynott - RIP:

Philip, of course, went on to form Thin Lizzy with Eric Bell, enjoying massive International success as the band's bass player and front man. A legend in Irish rock circles, he is definitely one of the greatest rock musician ever to come out of Ireland, along with Gallagher, Morrison and U2. He sadly passed away 4th January, 1986.

Gary Moore: -RIP

Gary left Skid Row and briefly joined with Phil Lynott in Thin Lizzy after the departure of Eric Bell. Over the next few years, he continued to do short stints with Lizzy as well as building his own solo career. Eventually, he established himself as one of the top guitarist in the world and enjoyed a very successful solo career. He sadly passed away on 6th February, 2011 while on holiday in Spain. He was only 58.
Robbie Brennan: Unknown - if you have info please email us
Timmy Creedon: Unknown - if you have info please email us
Kevin McAlea: Unknown - if you have info please email us
Jimi Slevin: From Jimi's website: After Skid Row, he formed The Jimi Slevin Band in 1977 and they recorded the Getting There album for EMI the same year. In the early eighties he took a break from bands and started working solo and experimenting with acoustic music. He recorded the album Freeflight on the Claddagh label in 1983. He also recently remastered Freeflight for CD and released his latest album, Home to the Heart. Jimi is now based in Germany and still play live regularly, as well as producing for others and working in the studio writing and recording his own music. He hopes to release a new album of original material and a solo guitar album soon
Jody Pollard: Jody spent many years as one of the top rock musicians playing with many bands across Ireland. Eventually, Jody moved to London and continued his successful career over there. He then moved on to New York for a while but decided that he had enough of big cities and headed further south. Jody always had an itch to live in the sunshine and now resides in Palm Beach County in South Florida, USA were he still plays regularly.