The Sandy Kelly (Duskey) Story (Active 1974-present)
Photo Gallery - Discography - Audio samples - Where Are They Now?
Sandy Kelly's (real name Philomena Ellis) starts in County Sligo when she was a child. It was the late 1950's and her family. the Duskey's, were entertainers who traveled Ireland putting on shows for locals. In her own words, she grew up on stage and was born to perform. When television came to Ireland in the early 1960's, the roqad show business folded and Sandy and her family relocated to Wales where she spent most of her childhood. She continued to perform in the Welsh working man's clubs and learned her craft in the toughest of conditions. As Sandy said herself, "they had no problem letting you know if they didn't like you."
In 1974, when Sandy (Philomena) was 19, she came back to Ireland and immediately put together a cabaret group called Sandy Duskey and Easy Listenin. Her stage name came from the Duskey Road Show and Sandy Koufax (an AMerican baseball player Gerry had idolised as a child). Easy Listenin was originally Sandy, Gerry Gallagher (Magic and the Kim Newport Band) on bass, Gerry Feeney (Dee Leydon & The Powermen) on keyboards, and Ballisodare drummer, Sean Savage. The band toured the northwest of Ireland and was an instant success. Before long, Sean and Gerry Feeney left the band and were replaced by Dick Lynott (Sean Gallagher & the Quarrymen) on drums and James Blennerhassett (Mary Black) on bass (both would later play with the Kim Newport Band at different times). Gerry moved to guitar and Sandy's easy going personality made her a natural for the cabaret scene. However, her powerhouse vocals soon attracted attention!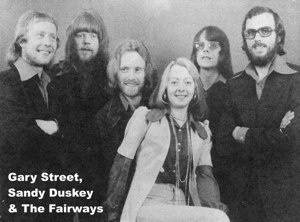 In the summer of 1974, Ballina manager Tom Kelly, spotted her and recognizing her talent, offered her a spot with his band, Gary Street and the Fairways after the departure of their previous female vocalist, Karen King. In In 1976, Hawk Records signed Sandy to a contract and her first single was released, Come Back Billie Jo, a country number and a major departure for the more hard edged Fairways whih cracked the Irish charts at number 13. Sandy had arrived.
For the next few years, Gary and Sandy shared the spotlight as Gary Street, Sandy Duskey and the Fairways. Sandy describes it as a somewhat tumultuous relationship acting as a "couple" on stage, while rarely speaking off stage. As time passed, Sandy talent showed through garnering more fans for herself and the band. Eventually, Gary (real name Joe Conway) left and emigrated to England where he continued to perform until he sadly passed away in 2003. Following Gary's departure, the band brought in Sandy's sister, Barbara, along with her cousin from Wales, Nina (real name Marian) and they became the Duskey Sisters and the Fairways.
With the continued success under the Duskey Sisters banner, the band soon dropped the use of the Fairways name and became know as just The Duskey Sisters, and they took the ballroom scene by storm. Playing bass in the band was Tom's brother, Michael Kelly and he and Sandy were soon dating and eventually married. In 1981, the Duskeys got their first crack at Eurovision when they sang, Where Does That Love Come From in the Irish National Song Contest. They came in third behind another trio of females, Sheeba.
In 1982, the band was again competing in the National Song contest singing the Sally Keating song, Here Today, Gone Tomorrow. The second time proved the charm and Sandy and the band won the contest, representing Ireland in Eurovision. Click here to see a clip of their appearance. The record went to number 12 in the Irish charts, but its success was short lived. Joining the girls for the contest, and subsequently on tour for a short time, was Danny Duskey, another of Sandy's cousins from Wales. Although they didn't win at Eurovision, the success convinced Sandy that she had what it would take to make it internationally.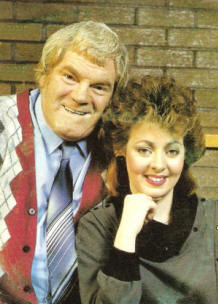 Fate dealt Sandy and the band a serious blow when they were involved in a serious road accident in 1983. The band was off the road for a period and while she recuperated, they decided to make the switch from the dying pop music scene to the growing country market in Ireland. By the mid 1980's, the ballroom scene in Ireland had been hit hard by discos and Sandy decided it was time to go back to her roots in cabaret and country music, changing to her married name, Sandy Kelly.
In 1984, Sandy and the band started back on the road with a complete change of programme. Following their sparkle pop performance in Euroivision a couple of year's earlier, Sandy partnered with the king of Irish Country, BIg Tom for her first single under her new name. If I Needed You was an instant success and broke into the Irish Top Ten at number 10, her first record to do so in eight years. Firmly establish as a country artist, Sandy continued to go from strength to strength.
Over the next few years, Sandy and her band continued to play the country circuit and in early 1989, Sandy reluctantly recorded the Patsy Cline standard, Crazy. Reluctantly because at the time she was doing country rock and original material, and she "felt that Crazy belonged very much to Patsy Cline." The record went on to be Number 13 in the Irish charts and became the country's biggest selling record of 1989.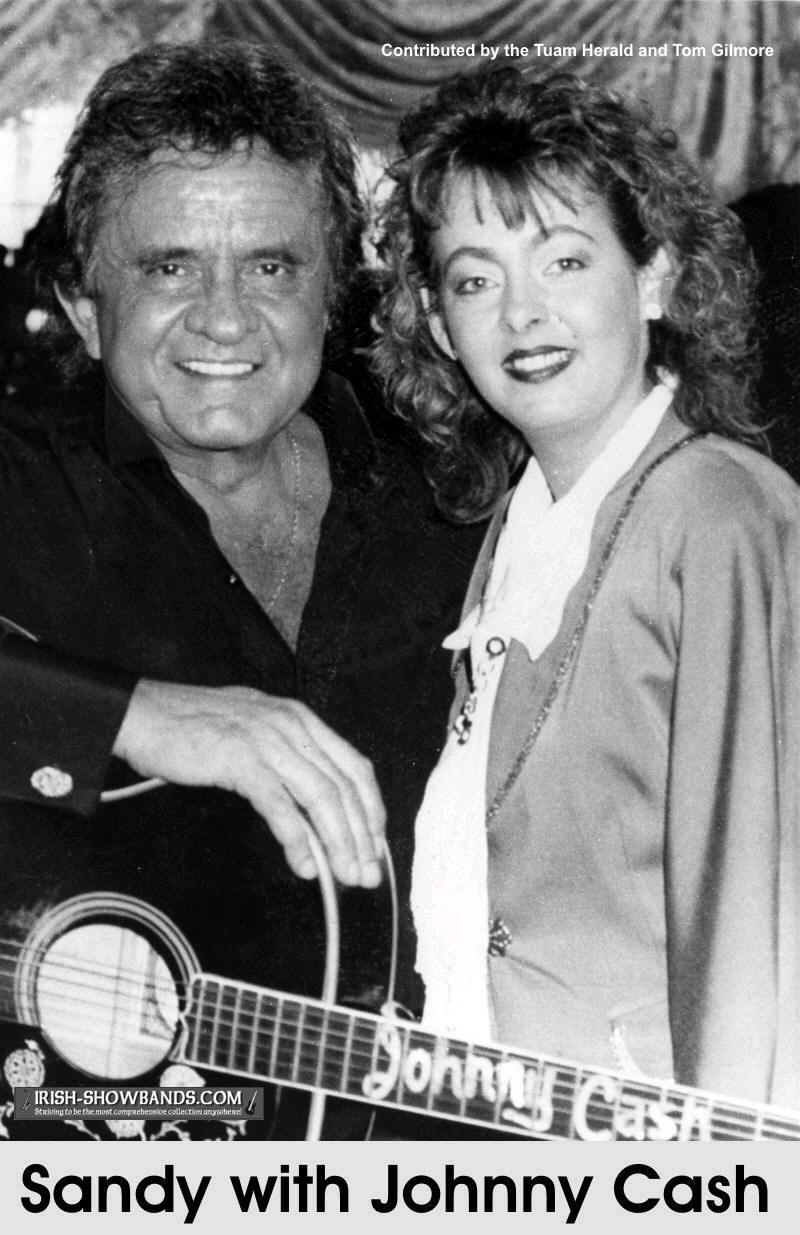 At that time, Johnny Cash was touring Ireland and he heard the record on the radio and called Sandy, inviting her to his show. During his performance, he invited her up on stage to sing. Johnny was so taken with Sandy's talent, he invited her to Nashville and they recorded "Woodcarver" together which became Sandy's second gold record in Ireland. Sandy toured the US extensively for the next few years and returned to Ireland to do her own TV series three years running and also created her acclaimed one woman show based on Patsy Cline's life.
Sandy's relationship with Johnny Cash would last until his death in 2003 and they would go on to record Ring Of Fire in 1990 which would reach number 21 in the Irish Charts.
Once again, Sandy's talent was obvious and she was asked to go to London to recreate the part in the Mervyn Conn's highly successful West End show, Patsy Cline - The Musical. The show also starred Sandy's friend, George Hamilton IV whom she had met and recorded with in Nashville. The show ran for five years, taking up all of Sandy's time. Following this, Sandy then played Tammy Wynette in another musical, Stand By Your Man, before subsequently adapting the Patsy Cline musical to create a touring version of the show, Patsy Cline, Music & Memories, with George joining Sandy once again as narrator.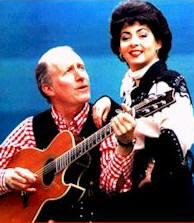 In the early 2000's, Sandy divided her time between touring Ireland and England with George Hamilton IV with a tribute to the Grand Ole Opry (George has been a member for over 40 years), touring Ireland with her own show, and frequent trips to the US where she is working on a Broadway show based on her own life story.
Towards the end of the decade, Sandy took a little break from live performing, except for her annual tours with the Patsy Cline show and became the host of her own country music show on Sligo's new Ocean FM station. For an audio sample of Sandy on the air, please click here.
Eventually, the stage called to Sandy again and after the release of her most recent CD, she hit the road again with her own show as well as regularly performing in a variety of Country Music shows which have become a staple of the Irish scene these days such as The Queens of Irish Country show and others. She remains one of Ireland most enduring stars.
New Fairways ('74) (DL)
New Fairways - 1974
Sandy Duskey - 1974
Fairways ('75) (DL)
Sandy Duskey & The Fairways - 1978 (PH)
Duskey Sisters - 1981
Duskey Sisters
Duskeys - 1982
Duskeys in Eurovision - 1982
Big Tom & Sandy Kelly (KS)
Sandy Kelly
Sandy & George Hamilton

Sandy Kelly - 1990's (BK)

Sandy Kelly
Sandy Kelly Band
Sandy Kelly with Johnny Cash
Sandy Kelly
Sandy Kelly
Sandy Kelly
Sandy Kelly
Sandy Kelly &
George Hamilton IV
Sandy and Johnny Cash Woodcarver
Sandy & Patsy Cline
Sandy as Patsy Cline

Sandy with Emmylou, Paddy & Delores

Sandy Kelly
Sandy and Danny Duskey - 1982
Sandy and Willie Nelson - Crazy
Sandy as Patsy Cline

Coming Soon
Singles:
Sandy Duskey
Come Back Billie Jo (Sandy Duskey) / Koko's Drum (Gary Street) (with the Fairways) - #13 Irish Charts
Hawk Records - HASP.378 - January, 1976
Love Me Just A Little Bit More / Can't You See I Love You (with the Fairways) - #8 Irish Charts
Hawk Records - HASP.386 - July, 1976
Not With You / I'm Alive Again (with the Fairways)
Hawk Records - HASP.418 - 1978
Hey Jude (with the Fairways)
Hawk Records - HASP -
Let It Shine (with the Fairways)
Hawk Records - HASP - May 16, 1979
Don't Feel Like Dancing / Closer Closer (with the Duskey Sisters)
Sunset Records - SUN 002 - 1980
Where Does That Love Come From / Closer Closer (with the Duskey Sisters - National Song Contest Entry)
Auric Records - AU 79001 - March, 1981
Here Today, Gone Tomorrow / Instrumental Version (with the Duskey Sisters - Eurovision Entry) - #12 Irish Charts
Crashed Records - CAR 20 - March, 1982
We Got Love / Don't Leave Baby (Duskeys)
Crashed Records - CAR.23 - 1982
Sandy Kelly
If I Needed You / Fools (with Big Tom) - #10 Irish Charts
Denver Records - DMC 1028 - March, 1984
Baby Don't Go / On My Mind (Sandy Kelly)
CBS Records - CBS 6145 - Early 1985
One Night A Week Lover / Reasons (Sandy Kelly) - #22 Irish Charts
CBS Records - CBS 6453 - July, 1985
Crazy (Sandy Kelly) - #13 Irish Charts
K-Tel Records - KTS 018 - April, 1989
Sweet Dreams (Sandy Kelly) - #19 Irish Charts
K-Tel Records - Unknown - September, 1989
Woodcarver (Sandy Kelly with Johnny Cash) - #12 Irish Charts
K-Tel Records - Unknown - March, 1990
Ring of Fire (Sandy Kelly with Johnny Cash) / Wind Beneath My Wings (Sandy Kelly) - #21 Irish Charts
K-Tel Records - KTS 057 - October, 1990
Everytime (You Need A Friend) (Sandy Kelly) - #15 Irish Charts
K-Tel Records - Unknown - February, 1991
Albums: (all as Sandy Kelly)
Paradise Tonight
CBS Records - 1985
Evening With Sandy Kelly
Prism Leisure Video - 1990
Kelly's Heroes
K-TEL Records - 1993



We Will Meet Again (with George Hamilton IV)
(Zomba) 2002
| | |
| --- | --- |
| | In the early 2000's, Sandy had divided her time between touring Ireland and England with George Hamilton IV with a tribute to the Grand Ole Opry (George has been a member for over 40 years), touring Ireland with her own show, and frequent trips to the US where she was working on a Broadway show based on her own life story. More recently, Sandy continues to entertain audiences at home taking in part in a variety of Country Stars concerts such as the Queens of Irish Country. Recently, she released her first CD in several years and has appeared on CD by other artists including Lisa Stanley. |