Folk/Traditional/Cabaret Artists
Currently listing 131 Folk/Cabaret Artists with many more to come!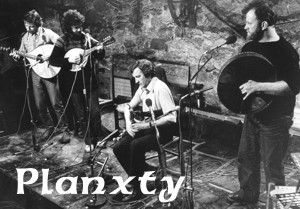 As the showband era and the legacy of the British Beat groups began to wane across the world, Ireland's slumbering folk scene was revived. Although Ireland's folk and traditional music had a long and deep history, it had been put on the back burner during the heady days of the ballrooms. Unlike Ceili music, folk wasn't really for dancing, and in the 60's and 70's there weren't many concert venues available across the country.
Folk and traditional hadn't gone away during those years, it was just relegated to the small confines of pubs and lounges where "sessions" were a regular part of life. On the national scene, the music had taken a back seat to the showbands, country, and pop groups. In fact, many folk singers were enticed by the lure of the ballroom scene and several embarked on ill-fated "showband-like" excursions into the ballrooms.
Despite this, the resurgence of Irish folk and traditional music can trace it's roots back to the late 1950's and early 1960's. Back then, Ireland had to export much of it's music to the rest of the world, especially Canada and the United States. Groups like The Chieftains, Clancy Brothers, and others, regularly toured the world with their rousing choruses, traditional reels and jigs and drinking songs.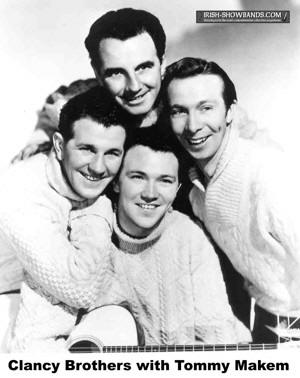 It was actually the Clancy Brothers that were first on the scene. In the mid fifties, Liam Clancy and Tommy Makem emigrated to the United States in an attempt to become actors. With Liam's brothers, they formed the Clancy Brothers with Tommy Makem and after an appearance on the legendary Ed Sullivan Show (the same show that broke The Beatles in the USA), the group was launched into stardom. They were one of the many groups that enjoyed success during the folk revival of the early sixties which included the likes of Peter, Paul and Mary, among others.
In Ireland in 1962, Paddy Moloney (an uillean piper from Dublin), met up with traditional musicians Martin Fay (fiddle), Seán Potts (tin whistle), Micheal Tubridy (flute), and David Fallon (bodhrán) to record a one-time album for the Claddagh label under the title of The Chieftains. The musicians all knew each other from playing in Seán Ó Ríada's folk orchestra, Ceoltóirí Cualann. The groundbreaking album was released in 1963 and reflected a new approach to playing traditional Irish music through interpretation and arrangement. Their contribution to Irish traditional music, as well as those of Ó Ríada, were to influence all musicians who followed.
At around the same time, The Dubliners started off in O'Donoghue's pub in Dublin under the name of "the Ronnie Drew Folk Group". Then they were four, Ronnie Drew (vocals and guitar), Luke Kelly (vocals and 5-string banjo), Barney McKenna (tenor banjo, mandolin, melodeon and vocals) and Ciarán Bourke (vocals, guitar, tin whistle and harmonica). In 1964, John Sheahan joined (fiddle, tin whistle, mandolin, concertina, guitar and vocals) forming what would be the core group. In 1967 their major breakthrough came when their song, "Seven Drunken Nights," was played by a pirate radio station alongside the Beatles and Jimi Hendrix, making the The Dubliners a major band.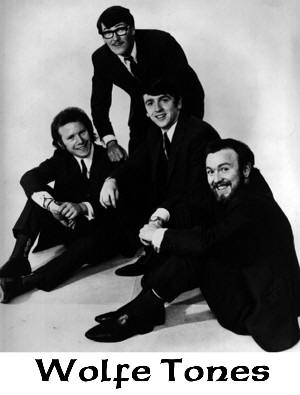 In 1963, two brothers from Inchicore, Derek and Brian Warfield teamed up with friend Noel Nagle and the Wolfe Tones were born. Playing at fleadhs around Ireland, a year later they met singer, Tommy Byrne, and the group was complete. Over the next few years, The Wolfe Tones grew from strength to strength, riding the same wave of the Irish folk revival as their better known contemporaries, The Dubliners. The Tones were a little different though, in that they mostly built their reputation on "rebel songs" and songs of protest. Today, although Derek has left the band, they continue to tour internationally. Pictured at left around 1965, the Wolfe Tones look every bit the picture of an Irish showband!
Into the early 1970's, this was "Irish" music to most of the world. However, in Dublin in the late sixties, a quiet revolution was in the making. Sweeney's Men were the first of the "modern" folk-traditional Irish groups, and had a huge impact on the Irish folk scene. In the late sixties, the band injected fresh instrumental ideas into their music. The original line up was Andy Irvine, Johnny Moynihan and Joe Dolan (not the showband singer) who was replaced by Terry Woods in 1967. Their instrumentation included bouzouki, guitar, banjo, mandolin, tin whistle, harmonica, and concertina. This combination would set the scene for the dawning of a new age in Irish music.
Around this time, Christy Moore, after attending Newbridge College in Co. Kildare, went to work in a bank for three years and during the bank strike of 1966, he went to England to work on the oil rigs in the North Sea. When the strike ended, Christy came back to Ireland, collected his back pay, and returned to England determined to make it as a folk singer. In 1970, he met record producer Bill Leader in London and together they came to Prosperous, Co. Kildare, to make a landmark album. Christy recruited Donal Lunny, another native of Newbridge, Liam O'Flynn (an uilleann piper from Kill, Co. Kildare), and Andy Irvine from Sweeney's Men. The lineup was augmented with Clive Collins on fiddle, Dave Bland on concertina and Kevin Conneff on bodhran. The album 'Prosperous', recorded in the basement of Christy's sister's house proved to be the birth of Planxty.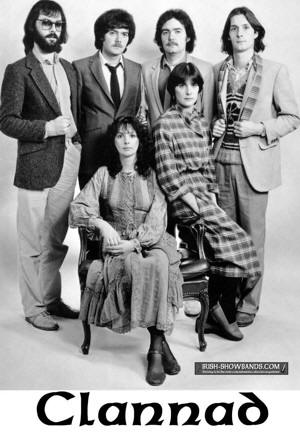 After Planxty, things were never to be the same for Ireland's folk/traditional scene. The influences of people like Christy Moore, Liam O'Flynn, Andy Irvine, Paul Brady, Matt Molloy, Donal Lunny, (all members of Planxty at one time or another) and others, would define the genre for a generation.
The rise in popularity of this new breed of folk also gave rise to the explosion of Folk Festivals that dotted the Irish countryside for more than a decade. Massive crowds migrated to places like Ballisodare and Lisdoonvarna to enjoy ample helpings of this new, exciting form of Irish music. Through the 1970's, more bands joined the folk revival in Ireland including names like The Bothy Band, De Danann, and Clannad. In fact, Clannad enjoyed international success when one of their songs, Theme from Harry's Game, became a major hit record in the U.K. Since then they have gone on to become one of Ireland's top acts, as well as their former member, Enya, who has enjoyed even more success with her approach to "new age" pop music.
The culmination of the growth of Ireland's traditional music scene came in 1994 when Bill Whelan's original composition, Riverdance, was performed during the "interlude" of the Eurovision Song Contest in Dublin. Needless to say, the performance of Michael Flatley and Jean Butler, along with Whelan's inspirational orchestrated "traditional" score took the world by storm and the rest is history. The success of Riverdance across the globe has taken Irish music to a whole new level of worldwide popularity and acceptance and continues to be a major influence on the international entertainment scene.
Meanwhile, another form of entertainment was enriched by the influences of the showband era, cabaret. As the showbands were breaking attendance records across the country in the early 1960's and the folk boom was happening, a new type of venue began to emerge, the singing lounge or cabaret room. These venues were more than just pubs and although they started in the larger cities and towns, they soon spread to every corner of Ireland, competing for the crowds that had once been the exclusive "property" of the ballrooms.
Folk acts like Johnny McEvoy and Danny Doyle were the first to dominate the cabaret landscape, but soon they were joined by former showband stars like Butch Moore and Sonny Knowles. Singers like Alma Carroll and Dana, who would never make it on the dance-oriented ballroom scene, found fame and success in cabaret. Soon all type of novelty and comedy acts (like the Rib Ticklers and Brendan Grace) found homes on the cabaret scene. Eventually, when the ballrooms died away in the early 80's, all that seemed to be left was cabaret and country and western clubs, until the theatre boom of the 1990's.
Click here for Folk/Trad/Cabaret Group photo gallery (all the photos so far in our collection).
Click on band name (if highlighted) to see photo.
Aileach [Donegal]
(Donegal based folk group from the mid 1970's)
Albany Brothers [Letterkenny] (brothers
John, George, P.J. and Jim McManus)
Alma Carroll [Unknown] (late 60's early 70's cabaret and TV star
)
Bards [Dublin] (Diarmuid O'Leary
started the band as a folk act in mid-70's, but it is now a comedy trio)
website
Barleycorn [Belfast] (formed in 1970, had big hit with "Men Behind the Wire" in 1972, disbanded in 1995)
Mary Black [Dublin] (One of Ireland's best loved and most enduring female vocalists) website
Barley Cove Folk/P2 [Cork] (Fran Kellegher, Ted and Bernie Williamson and Connie Draper)
Barnbrack [Unknown]
Big Four / P2 [Derry] (featured Pat McGeegan)
Blackthorn [Dublin]
Blarney Folk/P2/P3/P4 [Dublin] (Sixties folk group - Eugene Byrne, Mick O'Brien and Brian O'Brien)
Blondell [Dublin] (Acoustic folk quartet of the early 70's)
Bluegrass Roadshow [Dublin] (short lived bluegrass quartet formed by George Kaye from his band Real Country - 1971)
Boru [Arklow]
Bothy Band (Formed in 1974 and lasting only 5 years, one of the best of the "new" Irish traditional bands)
Boys of the Lough (Formed in 1967)
Paul Brady/P2
(originally in The Johnstons & Planxty, before breaking out a a major solo artist and songwriter)
website
Broadsiders/P2 [Unknown] (Featured Deidre Downes)
Anne Byrne [Unknown]
(Married to Paddy Roche and formed a group with Mick Crotty circa 1967)
Alma Carroll
(Cabaret singer who came to prominence in the late 60's)
Casement
(Gabriel Whyte writes to tell us the group played Dublin's folk scene from 1968-70)
Celts, The [Dublin] (3 piece ballad competition winners in 1969)
Ceoltóirí Cualann
(
Seán Ó Ríada's
folk orchestra from the early 60's)
Chieftains
(formed in 1962 from members of
Seán Ó Ríada's folk orchestra, Ceoltóirí Cualann)
Christy Moore [Newbridge] (founding member of Planxty and a major influence on modern Irish folk
)
website
Clancy Brothers With Tommy Makem
(formed in late 50's in the United States)
Clannad/P2 [Gweedor]
(the Duggan and Brennan families of Gweedore, Co. Donegal formed in 1970)
website
Coterie Folk [Unknown] (Pauline Byrne, Jacqueline McDarby & Catherine Donnelly -all girl group of the late 60's)
Craigarran Folk Duo [Belfast] (late sixties folk group)
Crescendoes, The/P2 [Dublin] (early 70's cabaret - Pat Doyle and Stephen McQuillan)
Croppies [Unknown]
De Dannan
(band formed in 1975: Frankie Gavin, Charlie Piggot, Alec Finn and Ringo McDonagh)
Dingle Spike [Kerry] (Paul Theasby, Terry Conlon, Jack McCarthy, Jimmy O'Brien & Kevin Conlon, album in 1978)
Jim Doherty Trio [Dublin] (late sixties trio)
Danny Doyle [Dublin]
(late 60's folk singer turned showband star in the early 70's)
Geraldine Doyle [Dublin]
(late 60's folk singer - Danny's sister)
Dragoons [Unknown]
(late 60's four piece folk group - Liam & Pat Lynch, Dominic Burke & Mairead Connolly)
Dublin City Ramblers [Dublin]
(formed in mid 1960's, "Dublin in the Rare Auld Times" was their biggest hit)
website
Dubliners [Dublin] (Probably Ireland's most successful and best loved folk act)
Pecker Paddy Dunne [Unknown]
Early Birds [Ardee, Co. Louth] (late sixties group)
Emeralds, The [Unknown] (late sixties folk group lead by Michael Murray)
Emmet-Spiceland [Dublin] (formed by Donal Lunny, Brian Bolger, Brian and Michael Byrne)
Farran Folk [Farranshone] (early 70's folk group: Damien Patterson, Tommy Canty, Dave Browne and Tommy Cremins)
Angela Farrell [Portadown] (19 year old who represented Ireland in Eurovision in 1971 with "One Day Love")
Fenians, The [Mayo] (late sixties folk group: Donal Benson, Terry Griffin and Eugene Owens)
Fiddler's Green/P2 [Kildare] (mid eighties folk group: John McGarrigle, Jimmy Gallagher, Noel Brady & Danny Carthy)
Foster and Allen [Athlone] (one of Ireland's best loved folk groups started in mid-70's)
Freemen, The [Northern Ireland] (four piece ballad group of the early 70's)
Furey Brothers with Davey Arthur/P2 [Unknown]
Gamblers, The [Unknown] (four piece ballad group of the late 60's)
Gingermen, The [Dublin] (four piece cabaret group featured Brendan Grace in the late 60's)
Noel V. Ginnity/P2 [Dublin] (late 60's folk singer turned comedian)
Glenfolk Four [Unknown]
Go Lucky Four* [Belfast] (folk group from the 60's)
Brendan Grace [Dublin] (without a comedy section, this is the best place for Ireland's top comic singer)
Grehan Sisters [Dublin] (three sisters folk group from the 60's)
Ritchie Harrington/P2 [Dublin] (solo folk singer around Dublin the late 60's went on to Irish Travellers)
Shay Healy
(started life as a folk singer/journalist)
Heir
[Dublin] (1973 five piece - Tony Boland, James Connolly, Terry Hanlon, George Brady and Ray Dolan)
Larry Hogan
(formerly a member of We Four)
Homers Knods/P2/P3 [Arklow] (late 60's folk trio managed by Dragoons' Liam Lynch)
Hyland Paddy [Unknown] (on the road in the late 70's and early 80's)
Irish Travellers [Dublin] (band formed in early 70's)
Andy Irvine
(originally came to prominence in Sweeney's Men and later Planxty and as a solo artist)
website
Ivy Folk/P2 [Dublin] (Tom and Mary Greally, Cecil Whitty and Billy Buckley)
Jargon/P2 [Sligo] (70's and 80's folk/bluegrass group started by Eurovision winner, Charlie McGettigan)
Johnstons* (60's folk group that at one point was joined by Paul Brady)
Jolly Tinkers [Dublin] (late 60's folk group)
Just Four [Kildare] (mid 70's 4 piece variety cabaret act)
Oliver Kane [Dungannon] (started as a folk singer)
Dolores Keane [Galway] (started a member of De Dannan in mid 70's before going solo)
Hedley Kay [Unknown]
Keltic Wine (band formed in mid 1973)
Kinsfolk [Limerick] (late sixties group featuring Eugene and Teresa Wallace)
Jon Ledingham [Drogheda] (Toured folk circuit in mid 60's. Emigrated to England and now Jonathan Kelly)
Leprechauns [Unknown]
Liffey Folk/P2 [Dublin] (late 60's 4 piece folk act)
Liffeysiders [Unknown]
(mid 60's folk group featuring Donal Lunny)
Loudest Whisper [Cork]
Lowlanders, The [Dublin?]
Ludlows*
/P2/P3/P4 [Unknown] (60's folk group which featured Jim McCann, Margaret Ludlow, Gerry Cairns)
Makem and Clancy
(Tommy Makem and Liam Clancy of the Clancy brothers)
Joe Maguire and the Northerners [Unknown]
Jim McCann [Dublin] (eventually joined the Dubliners)
Johnstons [Slane] (Came on the scene in the mid 60's and later featured Paul Brady)
Maxi, Dick & Twink/P2 [Dublin] (Ireland's first "girl band")
Brian McCollum Group [Newry] (Formed in 1966)
Johnny McEvoy [Offaly] (First Irish solo vocalist to top the Irish Charts started in the mid 60's)
Anna McGoldrick [Dublin]
Denis McGrath [Dublin]
McLoughlins, The [Waterford] (late 60's family folk group)
McLynn's Old Market Street [Sligo] (siblings Donal, Barbara and Paula McLynn with Alan Zeserson)
McTaggarts [Cork] (late 60's family folk group)
Midnight Well [Sligo] (Tom Moore's late 70's follow up band to Pumpkinhead-disbanded in 1979)
Mitchell County Ramblers [Unknown] (featured George Kaye of the Smokeys)
Mormonaires [Unknown]
Moving Hearts/P2 (created the Celtic/jazz fusion sound in 1981, paving the way for Riverdance 13 years later in 1994)
Maeve Mulvany [Dublin] (One time "Queen of the Ballads)
Mushroom
(short lived mid 70's Celtic rock group featuring Aonghus McNally on lead guitar)
Na Sultoiri [Dublin] (4 piece, Robert & Derek Harrington, Geraldine Whelan and Sean Og McKenna - late 60's)
Night and Day [Dublin] (duo that play folk clubs in 1967-68)
Nitrax [Arklow] (trio from Arklow played folk clubs in mid 70's)
Nita Norry [Dublin] (female vocalist of the late 60's)
Al O'Donnell [Dublin] (one of the early pioneers of the Irish folk revival)
Jesse Owens/P2 [Dublin] (Late 60's folk singer)
Ormonde Folk Group/P2 [Kilkenny] (Late 60's trio folk group)
Owen Roe Folk [Unknown]
Pathfinders [Dublin] (Late 60's folk group)
Pattersons*/P2 [Letterkenny] (Bill, Ronnie, Dorothy and Christine formed in 1965)
Noel Pender [Donegal] (Late 60's folk artist fronted the Peep O'Day Boys)
Planxty/P2/P3 (One of the greatest folk/trad groups of all time, formed by Christy Moore)
Press Gang [Dublin] (late 60's four piece)
Pumpkinhead [Sligo] (early 70's Sligo group featuring Tom & Cathy Moore)
Raglan Four
(mid 80's folk group)
Quare Fellas
[Dublin] (late sixties group - brothers Sean and Matt McGuinness, Patsy Watchborn, and Pat Cummins)
Ramblers Two [Dublin] (mid sixties duo of Johnny McEvoy and Mick Crotty)
Rib Ticklers [Dublin] (Gerry Daly, Brendan Byrne and Tommy Daly - 70's comedy mime act)
Roy D and the Kentucky Four [Unknown]
Saga [Dublin] (Andy Pollard, Fred Johnston and Donie Dixon - 70's folk group)
Sands Family [Newry]
Shades of MacMurrough [Wexford] (Paul Kavanagh, Josephine and Mary O'Neill)
Shannon Brothers [Athlone]
Spud [Dublin] (formed in 1973 from Thatch - had huge hit with "Wind In The Willows")
Stockton's Wing
Swinging Jarveys [Unknown] (Popular in Gleneagle Hotel, Killarney in 60's-Patrick Hoye)
Sweeney's Men [Dublin] (formed in 1966 - Joe Dolan, Johnny Moynihan, and Andy Irvine)
Thatch [Unknown] (Early 70's Terry McAloon, Lennie Power, Brendan Jameson and Dessie Flaherty)
The Tinkers [Unknown] (Folk group from the late 60's)
Travellin' Folk [Dublin] (Folk group from the late 60's)
Two's Company/P2/P3/P4 [Killarney] (Folk duo of Eamonn McRory and Mary Darcy formed in 1967)
Velvet Poetry [Unknown] (Folk group from the early 70's played Sligo Live '71)
We Four [Unknown] (
late 60's quartet - Larry Hogan, Suzanne Murphy, John Harrington and Dennis Mowatt
)
Weavers, The [Dublin] (Not sure if they are the same band as the Weaver Folk)
Weaver Folk [Dublin] (Had a minor it with "Henry My Son" in 1968 that reached number 19 in the charts)
Adrienne Webber [Dublin] (Folk singer from late 60's)
Westonairs [Dublin] (Folk group from mid 60's)
Whiskey Styl [Dublin] (Folk group managed by Cotton Mill Boy's Gerry Madigan in mid 70's)
Wolfe Tones
(Derek and Brian Warfield, Noel Nagle & Tommy Byrne made a career singing rebel songs)
More to come!
* Thanks to Liam O'Reilly for help with this list